After a few days of rather strong thunderstorm activity and poor air quality, the weather will calm down as we end the work week. High pressure is trying to clear the skies in Montreal Thursday afternoon, but a few high cirrus and fair weather cumulus clouds still prevail. Skies should clear out this evening followed by mainly sunshine for both Friday and Saturday. Temperatures will be close to normal values for late July, with highs of 26 to 28C (79 to 83F), and overnight lows around 18C (65F).
A series of disturbances will arrive by Sunday, along with an increase in humidity and the risk of showers and thunderstorms. Some of the storms may be on the strong side late Sunday in the St. Lawrence Valley. The weather will be warm and muggy Sunday, with a high near 27C (81F).
The week so far has been rather active across the country once again. Fires continue to char interior portions of British Columbia as temperatures remain very hot, with little precipitation. A state of emergency in in effect in B.C. Firefighters from Quebec are on the ground and in the air in B.C., as hundreds of fires burn.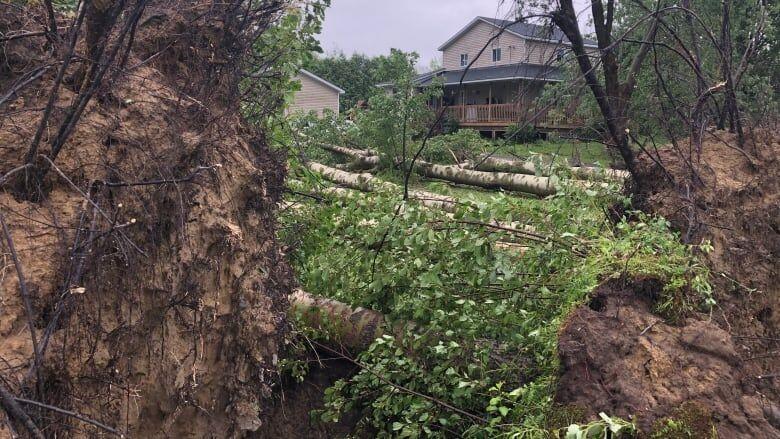 The heat has spilled into Alberta and Saskatchewan as well. Meanwhile in Ontario and Quebec, the week started with dense smoke and haze from those western wildfires. The air quality was extremely poor. That came to an end for the time-being on Tuesday afternoon, as a potent cold front pushed the toxic air south into the the northeastern US.
Lightning sparks Laval house fire
That aforementioned cold front produced lines of strong thunderstorms Tuesday afternoon. There were numerous reports of hail and wind damage from eastern Ontario into southern Quebec, northern New York and New England. Numerous trees were blown down along with some structural damage, especially south of Montreal along the US border. 
In the Fabreville district of Laval, north of Montreal, lightning stuck a Hydro pole around 6:15pm igniting a fire that spread to several homes. Two homes were completely destroyed, with damage estimates at over one million dollars. It took 50 Laval firefighters more than two hours to bring the blaze under control. Heavy rain also fell with the thunderstorms, with 26mm falling on Ile Perrot in less than an hour. Thankfully no injuries were reported from any of the storms in Ontario or Quebec.
More isolated storms occurred Wednesday afternoon, with torrential rain and small hail reported, once again from Laval through the central portion of the Island of Montreal. No damage was reported.