Hebrew Foundation School (HFS) in Dollard des Ormeaux wasn't going to let the pandemic rob their Grade 6 students and their families of a proper graduation ceremony and a chance to see their friends and teachers one last time as the class of 2020.
Thanks to the dedication of the Principal, Grad Committee and teachers, and working closely with local police to ensure a safe experience for all, a unique, socially-distant graduation ceremony took place last night that allowed everyone involved a sense of closure and accomplishment to the year.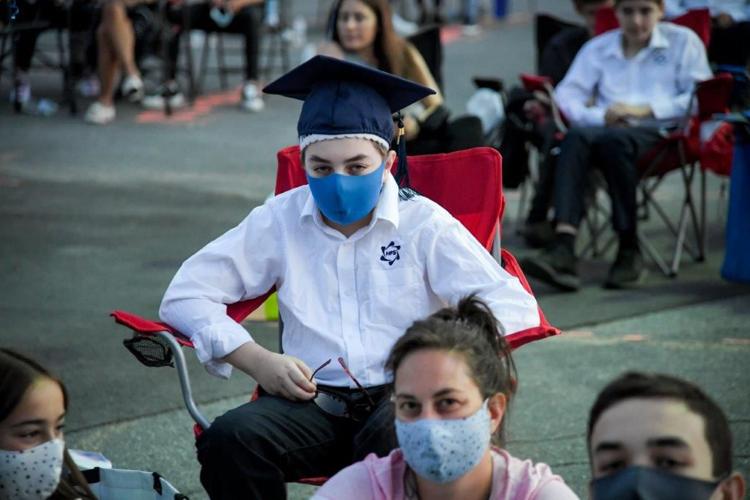 "We know how much this meant to our students," explained Principal Brian Seltmann. "They've had to give up so much because of COVID-19 – grad trips and celebrations, learning opportunities, summer plans – and we weren't going to let this rite of passage go unmarked."
Complete with assigned designated seating spaces and pre-packaged refreshments, the hour-long ceremony was an emotional send-off to the students who have grown up in the school, seemingly before staff's eyes.
"Primary school graduation is a big milestone for our children," said Caroline Dayan Petel, co chair of the 2020 Grad Committee. "But HFS did a fantastic job allowing us to celebrate the occasion while respecting social distancing. Everyone had a great time and each of the graduates got the chance to be recognized individually and have their special moment. It has been difficult for our kids to be away from their friends and teachers and normal schedule for the last few months. Being able to get together, even at a safe distance, provided them with a meaningful way to close their elementary school experience before moving on to new challenges in high school."
AKIVA ST. EUSTACHE: Akiva Elementary School in Westmount went a little off campus to mark Grade 6 graduation. Determined to give the Class of 2020 a special graduation ceremony to remember, they rented out a screen at the St Eustache Drive-In theatre last Wednesday, for a special Akiva Premiere Production – Under the Stars – a graduation movie starring the Akiva grads on the big screen. All families and staff gathered in (and on) their cars to watch the movie together and celebrate. Each grad and their parents had  pre-recorded segments. The kids were each introduced with stills of them holding their certificates. There was even a Zoom recorded musical performance.The production is superb and you can see it here: https://vimeo.com/430122304.
JNF TRIVIA NIGHT: Jewish National Fund Canada has a fun Trivia Night planned for Monday June 29 (8 pm), with all participants doing so from the comfort of their own homes. This free event provides an opportunity to win prizes such as Apple Airpods, Sony Wireless Headphones, Indigo Gift Cards and more. It is geared towards students in Grades 7 and 8 (aged 13 and 14). This will be an online, multiple-choice (Kahoot-based) Trivia Night hosted and organized by JNF Canada. The event will last approximately one hour. You do not need to attend a Jewish day school to take part. You will need two devices to play: one for Zoom and one for the Kahoot game. There is nothing to download and any device will work! Spots are limited so register at https://form.jotform.com/201555153560247
WEB SERIES ON CLIMATE CHANGE: Laura Faye Tenenbaum, an award-winning globally recognized innovator in science and climate communication, will speak at a special JNF Canada web series on climate change on Thursday June 25 (4 pm). It is entitled What Can We Learn from COVID-19: A Dress Rehearsal For the Climate Crisis. Register at https://form.jotform.com/201634296592258
Tenenbaum is the former Senior Science Editor of NASA's Global Climate Change website at NASA's Jet Propulsion Laboratory (JPL) where she reported on sea-level rise, ice mass loss, and regional climate impacts. She traveled to Greenland multiple times with a NASA suborbital campaign to report on the rate of ice mass loss around Greenland's coastline. She combines personality, emotionality, and a sense of humour with scientific expertise and can translate complex scientific jargon into language the public can comprehend without compromising scientific accuracy or nuance. She works to broaden the scientific community and foster a motivated and enthusiastic science-literate society that will be ready to take on the huge environmental challenges we face. Tenenbaum currently writes for Forbes.com and Weather.com and her own book, SCI-CURIOUS: How Anyone Can Be a Citizen Scientist in an Age of Climate Change Denial & Internet Hoaxes. She was an adjunct professor in Physical Science and wrote, produced, and edited an oceanography video series to accompany Pearson Higher Education's Essentials of Oceanography textbook.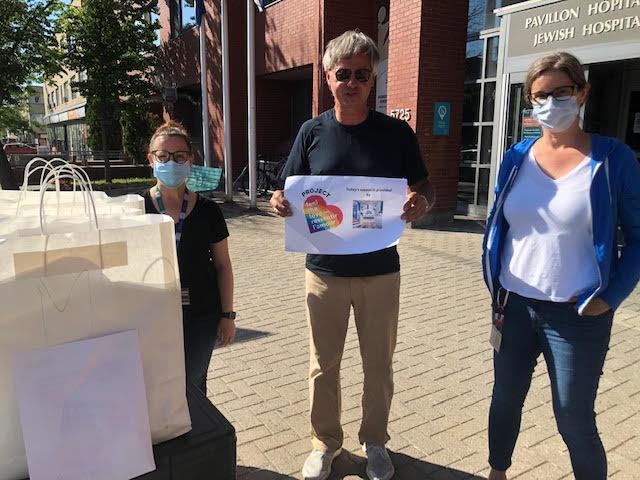 PETROS STEPS UP: Ted Dranias has always been a community-minded businessman. The owner of Petros Taverna has been busy getting his Westmount (4785 Sherbrooke Street West) and Mile End (234 Laurier Street West) locations up and running for take-out and delivery during this COVID-19 pandemic. This week, their dining rooms open as well, following the strict measures enacted by the Quebec government. His Griffintown (1613 William Street) spot reopens too while a new place in Little Italy might not be too far behind. Petros Taverna has a strong and loyal clientele. Dranias and his partner on Laurier Avenue, Peri Kalivrousis, have devoted a lot of time and energy in recent months to donating meals to front-line workers. Last week they delivered 120 meals to staff at the Donald Berman Jewish Eldercare Centre. A few weeks earlier they did the same for the Donald Berman Maimonides Geriatric Centre. Bravo Ted!