UPDATE: At 2:20pm, strong thunderstorms are crossing the Montreal region. The biggest threat with these storms appears to be some much-needed rain. Just over 12mm fell at my weather station on Ile Perrot as the storms passed.
Strong thunderstorms are expected this afternoon in Montreal as a very hot and humid tropical air mass remains in place across eastern Ontario and southern Quebec. Many locations in Ontario and Quebec including Toronto and Ottawa have been above 30C for daytime highs since July began. Montreal has exceeded 30C each day except once when we hit 29C.
The heat is expected to intensify as we end the week, with all-time July monthly records expected to be challenged on Friday. On Wednesday, a few pre-dawn thunderstorms rumbled around the Montreal region, before skies cleared somewhat and the heat and humidity built. Tropical humidity levels are present in Montreal Wednesday afternoon, and more thunderstorms are likely over the next few hours. Some of the storms may be rather strong, with heavy rain and gusty winds the main threat. High temperatures will reach into the low 30s once again.
Thursday and Friday will feature very warm, humid air, with hazy skies and temperatures into the middle 30s. The high on Friday is forecast to be 36C (97F), which would be the warmest July temperature on record for Montreal, surpassing the high of 35.6C (96F) set on July 17th, 1953.
The warmest temperature ever in the city was set on Friday, August 1, 1975, in the middle of a 5 day heatwave, at 37.6C (99.7F). We have an outside shot at the all-time record. I remember the 75 heatwave well, my dad finally gave in to the kids and mom, and we purchased our first pool.
Relief will arrive in the form of showers and thunderstorms by Saturday. A tropical system is expected to develop along the eastern seaboard and move northeast towards New England. The system may push enough moisture northward for some decent rain over the weekend. If the storm develops, it will be named Fay, the sixth system of the young hurricane season. Already, this is the earliest in any season on record that the Atlantic basin has reached the "E" named storm.
The heatwave is extensive, reaching from the middle portion of the US into the Great Lakes and northeast. Heat warnings and advisories are widespread, including a large portion of eastern Canada form central Ontario into Quebec.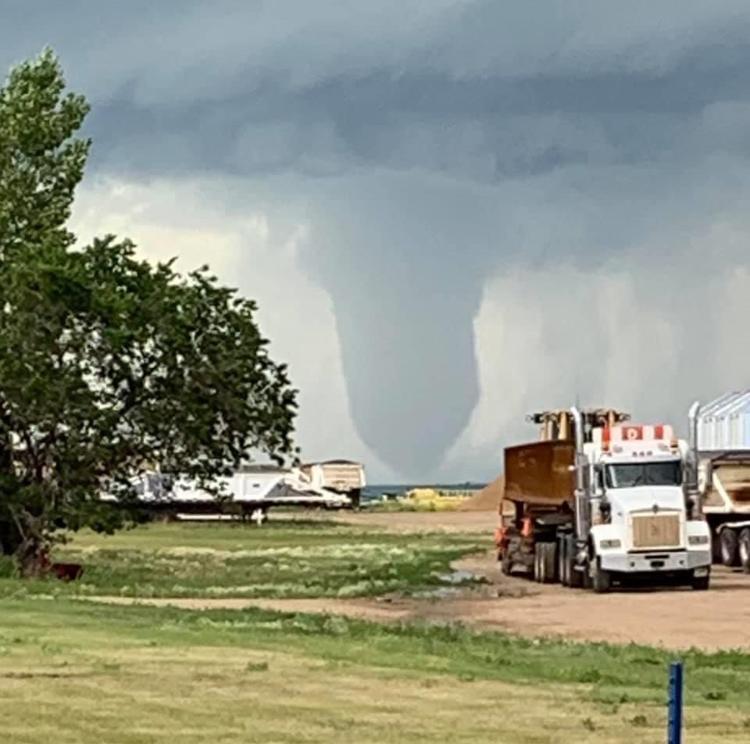 Saskatchewan Tornado
One final note, on Saturday afternoon, strong thunderstorms produced several tornadoes in southern Saskatchewan, very close to where I lived from 1997 to 2000. The strongest tornado occurred south of Gravelbourg and east of Glenbain, damaging a farm and some silos as well as several vehicles. Two other tornadoes associated with the same supercell thunderstorm were reported near Kincaid and Assiniboia. Large hail also accompanied the storm. Environment Canada is still investigating the strength of the storms. Thankfully no injuries were reported.