It has been four years now since Voiles en Voiles made its debut in the Old Port and for young families in particular there may not be a more exciting attraction in town. Not only do the kids go wild, but the older crowd gets pretty pumped up as well.
Voiles en Voiles Adventure Park (which translates into Sail to Sail) allows young and old to board life-size replicas of pirate and royal ships over 100 feet long situated right across the street from the Marché Bonsecours. These serve as the base for people to enjoy rope and aerial courses (hebertism), zip lines, inflatables, and wall climbing. This is all the brainchild of Groupe Écorécréo, which also rents pedal boats, quadricycles and Segways in the Old Port.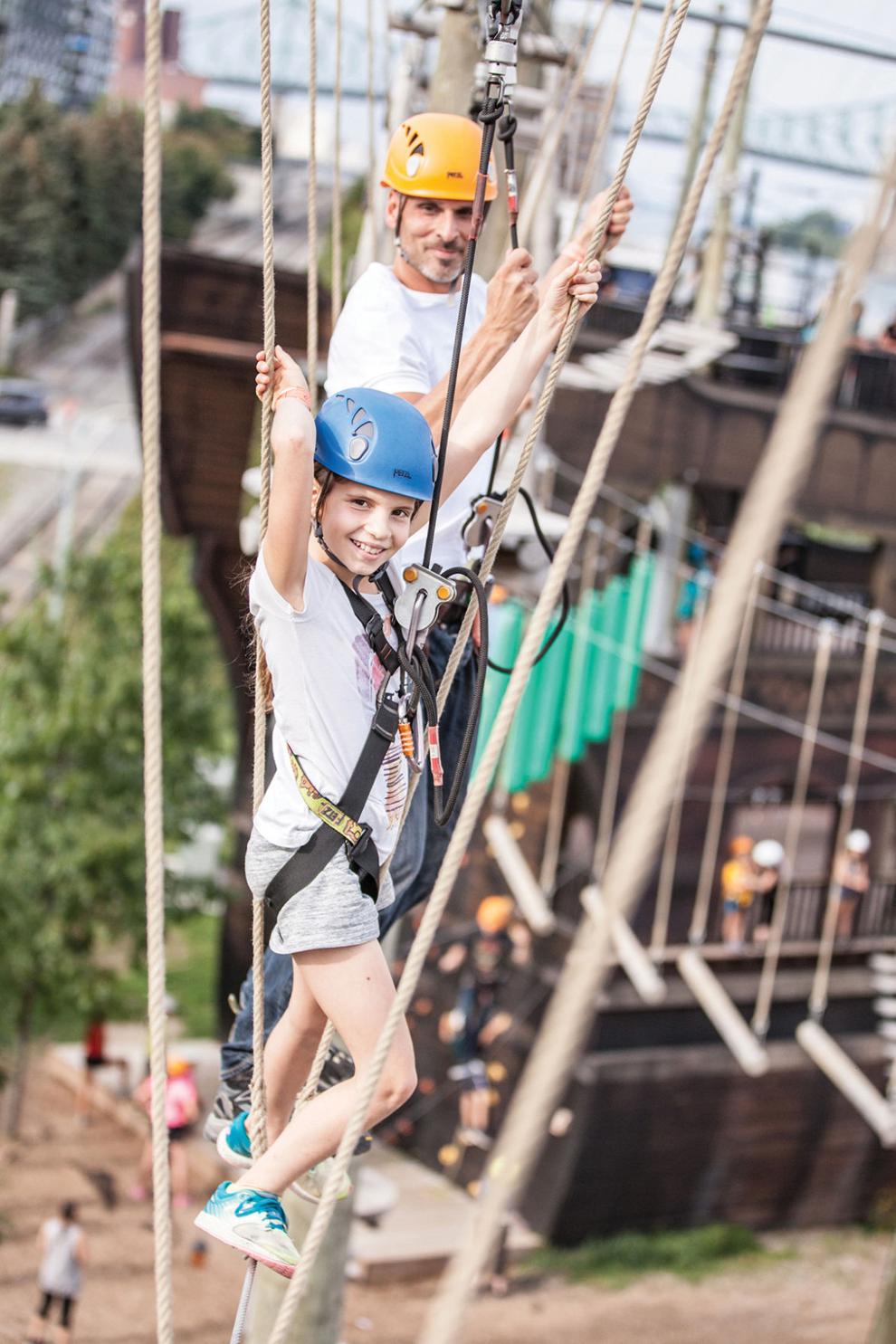 New, starting this summer, are small escape rooms, an extraordinary 16-seat, 3D pirate    cinema presentation and an arena for archery tag.  Of the escape rooms, one represents a prison, another an artillery room and finally the third is a cabin.
The royal ship transports you to the King's universe. Its large sails allow participants to throw themselves in the air towards the pirate ship. Meanwhile, with its three sails, three floors and an impressive climbing wall, the latter is quite majestic and it serves as a starting point for many of the courses.  
"It is really for everybody," says owner Jean-Phillippe Duchesneau. "We have different heights and difficulties. We have a course at two feet high for small kids all the way to 35 feet for those who are fit and can do it. This is designed kind of like skiing in terms of levels of difficulty.
Duchesneau said that this attraction has been a really good fit for Old Montreal.
"During the day we see everything, notably families with young children," he says. "Then at night we see a lot of couples. Our popularity has certainly grown, especially with many new season pass holders. We have had families here as tourists who liked the place so much they bought season passes so they could come here each day of their stay."
In order to ensure safety, the company uses Saferoller from the company Kanopeo. Their lifelines make it impossible for a participant to become detached during the course. If a problem or sudden feeling of dizziness happens to occur during the course, one of the team members trained for this purpose can quickly intervene at any time. Anyone who wishes to try one of the aerial courses must be equipped with a harness and helmet.
Voiles en Voiles is located in Place des Vestiges (Quai de L'Horloge) in the Old Port. Online booking is highly recommended via their website at www.voilesnvoiles.com and group rates are available for schools, camps, parties, corporate gatherings and team building. Food and a place to eat can be provided on site. Hours are subject to change depending on weather conditions. They only close in the event of storms, strong wind or pouring rain. In the event of light rain, they stay open but you can change your reservation at no cost. They facility is open from mid-April until October 22. For more information call 514-473-1458 or visit www.voilesnvoiles.com