ALBANY -Despite the value of our Canadian dollar versus the American greenback, Montrealers nonetheless always enjoy an opportunity to head to the States. Sure, Plattsburgh and Burlington represent the easiest drives in terms of places with hotels, shopping and dining choices. Unquestionably, though, Albany   has always been number one in my books.
The capital of the state of New York is an easy three and half hour drive from Montreal. It represents a good standalone getaway for a few days or even better a great place to stop en route to or upon return from New York City. And that is just what we did over the recent Christmas holidays. We were headed to the Big Apple and wanted to avoid being there for a New Year's Eve. In order to start the trip a bit early, Albany popped up on our radar screen so we booked two nights. When the weather forecast called for freezing rain the day we were to drive we made a quick executive decision to depart earlier. After a quick stop at the factory outlets in Lake George, we arrived safely and relaxed at our destination.
Finding a New Place to Stay
When seeking a place to stay our search stopped at Trip Advisor's number one ranked hotel in town: the Staybridge Suites Albany New York, Wolf Road Colonie Center. Opened in 2014, this spot still looks spanking new and I would strongly recommend it. Not only is it exceptionally affordable, but it really does have all of the comforts of home.
Look at a good hotel and you will find a clever general manager. Enter David Heckman, who goes out of his way to interact with guests. I met him at the front desk and struck up an immediate conversation with him. This extended stay hotel is located near the crossroads of Interstate 87 and Interstate 90, at Exit 2 of I-87, the Adirondack Northway. It was built just at the rear of the Colonie Center Mall, which is extremely convenient. Heckman told me that some visitors come stay there just to be close to Macy's. In fact, with that in mind, the Staybridge Suites recently completed a special promotion whereby for $20 more on your booking guests received a $25 gift card to Macy's, two free movie passes and a snack pack. Heckman plans to make this an annual October 1 to January 1 special. From January 1 to June 1, for $10 more you will receive two movie passes (valued at about $27) and a snack pack.
Only 1.5 miles from Albany International Airport, four miles from Downtown Albany and indeed walking distance to the Mall and popular Trader Joe's, this location offers free parking and a complimentary shuttle service. The Mall is also home to two of my favorite restaurants: The Cheesecake Factory and PF Chang's.
This is an all-suite hotel, featuring 112 rooms over six floors. Each suite includes a full kitchen with all the supporting utensils to prepare food, complimentary high speed internet, in-room safes, flat screen televisions with a variety of programming options and daily housekeeping. There is a stove, microwave oven, toaster, full refrigerator, dishwasher, pots and pans, serving dishes, plates and glassware, silverware and a dining table. I appreciated the flexible work space: a work desk with a lamp, a desk level electrical outlet and a spare electrical outlet on the desk. We had a spacious suite, featuring a king bed and a very comfortable sitting chair in the main bedroom with a door that closes towards the pullout couch and kitchen. It could not have worked out better for our family If I could find a place like this in every city I visit I would be very happy!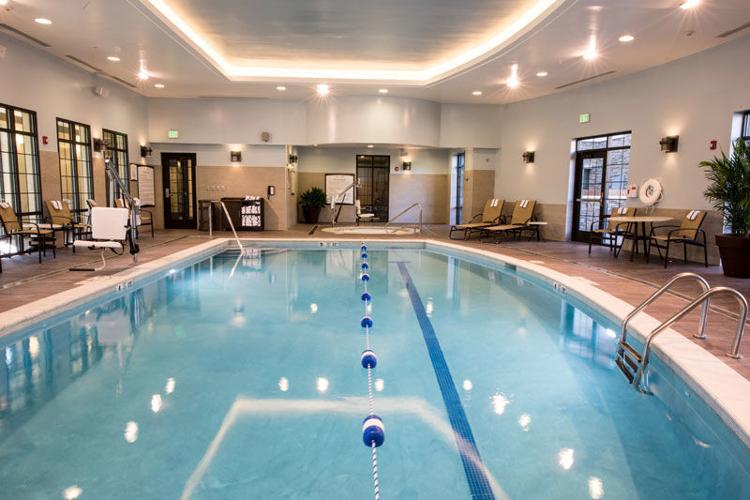 The on-site business center is open 24/7. There is also a laundry room and a fitness facility with three treadmills, two ellipticals and one stationary bike. All of the equipment is equipped with personal viewing screens. Free weights, stretch equipment and floor mats are also included. I loved the indoor pool, open from 7 am to 10 pm and spent some time each day of my stay in the whirlpool. There are handicapped lifts on-site. In the summer, the doors open up to a beautiful patio featuring picnic tables, barbeque grills and comfortable places to sit.
I took advantage of the complimentary hot and cold breakfast every morning, including, a selection of both traditional breakfast foods, as well as a variety of fresh fruits, yogurts and healthy cereals. There are complimentary dinner receptions as well Monday, Tuesday and Wednesday evenings (5 pm to 7:30 pm), including several choices of wines.
The hotel is located at 39 Wolf Road. You can call directly at 1-518-438-3300 or log on to their website. There is now a special Canadian government rate, so if you qualify please ask about it.
The Best Place to Dine
When the Cheesecake Factory is literally across the parking lot of your hotel, it is pretty tempting to dine there on more than one occasion. Such was precisely the case for us. The Albany location opened on August 29, 2006 at the Colonie Center. This 10,800 square foot locale seats 300 diners and you can always expect a lineup at the door. You will be handed a beeper and an estimated wait time.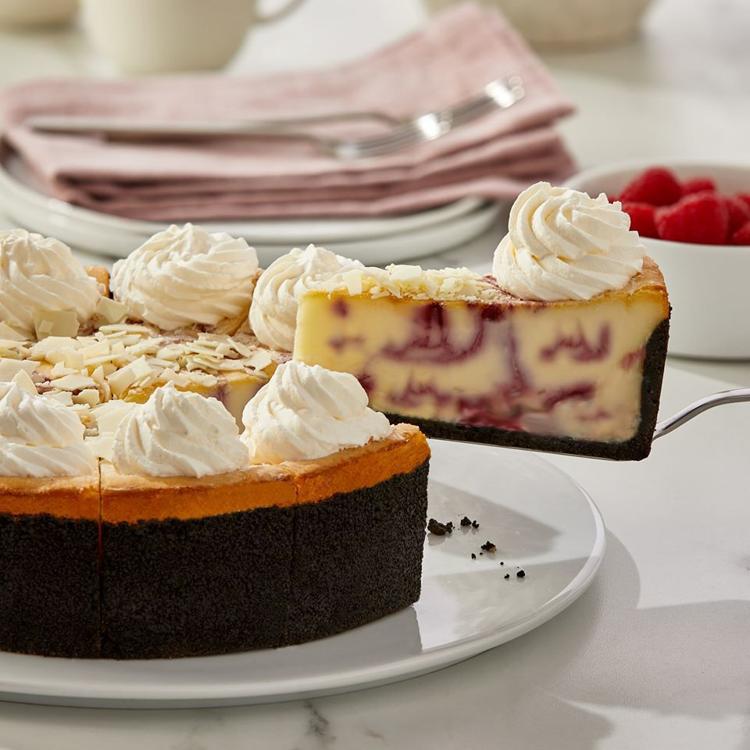 In Albany, General Manager David Albert runs a well-oiled machine. The service here is always impeccable and the food superb.
The Cheesecake Factory is known for its extensive menu, generous portions and legendary desserts. In fact, there are more than 250 menu selections and this includes more than 50 lower calorie "SkinnyLicious®" selections- all handmade, in-house with fresh ingredients – and more than 50 signature cheesecakes and desserts. Favorite choices include appetizers, pizza, seafood, steaks, chicken, burgers, pasta, specialty items, salads, sandwiches, omelets and the desserts.
This is the closest Cheesecake Factory to Montreal and I know many people who stop here on purpose just to enjoy the experience. Toronto has one too now and while we keep hearing rumours that Montreal might not be too far behind, I can get no confirmation on that.
We had lunch and supper at this spot on the same day. Frankly, I could eat here several times a week as the menu has so much variety. For the lunch stop there was not a long wait for our table and we ate light, enjoying some breakfast items. At supper, we started off with some quenching red raspberry cocktails. I ordered a small Caesar salad, which was more enough for two of us to share.
While the Southern Fried Chicken Sliders are listed as an "appetizer," they more than serve as a hearty meal. This is actually my absolute favorite on the entire menu. For only $11.50 you get four sliders with toppings and some vegetables. I love the mashed potatoes at Cheesecake, my preferred side. Then there are the SkinnyLicious offerings, notably the turkey burgers which we can report are out of this world. There are multiple fish, pasta and beef options, meal-sized salads and a whole lot more. Give the menu a look online.
As for dessert, well this place is called The Cheesecake Factory. The window display of pies kind of knocks your socks off when you enter the premises. After dinner you can review the menu one more time, which includes a calorie count. We settled on the Italian Tiramisu Cheesecake split three ways and it was beyond decadent.
This Cheesecake Factory remains a real winner in our books and I highly recommend you stop by. You can call them directly at 518-453-2500. There is a large Barnes & Noble bookstore in the mall, a great pre or post dining stop and movie theatres.
There are a few other favorites to dine at, restaurants that we in Montreal do not have access to: Ruby Tuesday, The Outback Steakhouse (which we had very briefly more than a decade ago in Dollard des Ormeaux), Denny's, IHOP, Olive Garden and Red Lobster.
Fun and Games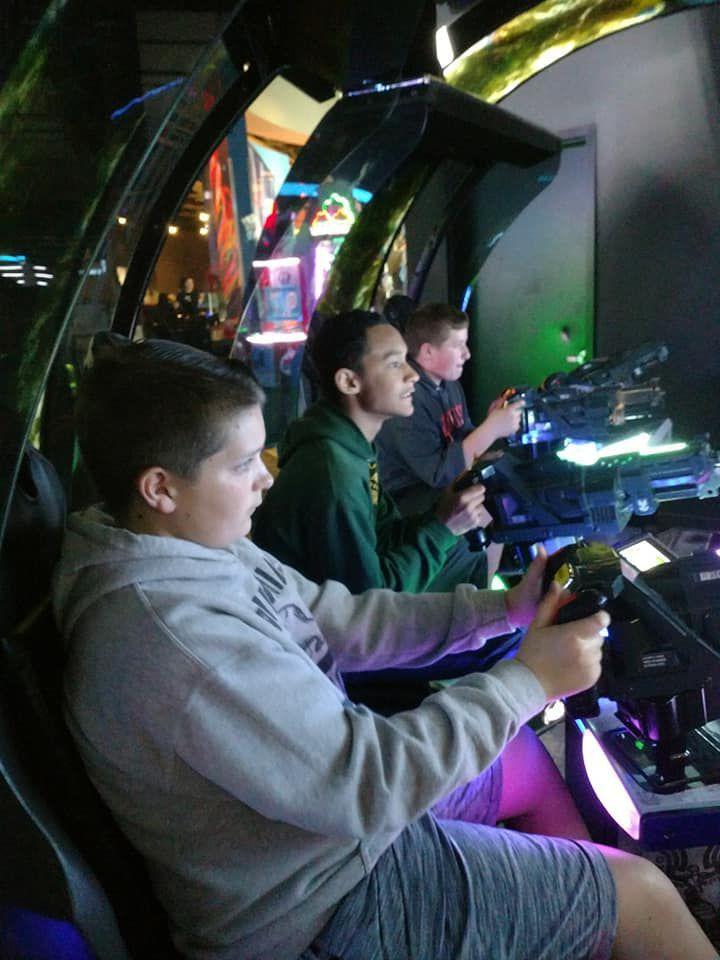 Besides some great shopping opportunities at Colonie and the Crossgates Mall, Dave & Buster's  remains a must stop for us. Recognized as America's leading venue, combining dining and entertainment, the 33,000 square foot restaurant and game room opened on August 24, 2013 at the Crossgates Mall and it has served as a magnet for visitors ever since. My family has also enjoyed visiting the Toronto locale.
The company itself was founded in 1982 to provide a high-quality, high-energy venue where families and adults can "Eat Drink Play®" all in one location. Currently, Dave & Buster's is the largest national chain offering a full casual dining menu and a wide selection of non-alcoholic and alcoholic beverages together with an extensive assortment of entertainment attractions, including skill- and sports-oriented games, video games, interactive simulators and other traditional games.
The restaurant, game and special event areas are open seven days a week Sunday to Thursday: 11 a.m. to midnight and Friday and Saturday: 11 a.m. to 2 a.m.
We did not dine there on this night, but it is good to know that there is a special eat and play option. When choosing selected items you can add $10 or $20 power cards to your order, which represents an immediate saving when you hit the games area.
Guests can play to win tickets in the arcade for a variety of prizes, including iPods, Nintendo games, grills, sports items, stuffed animals and even an electric guitar. Traditional games like bowling, shuffleboard, skeet ball, air hockey and billiards are combined with others such as zombie snatcher, Dance Revolution and Big Bass Wheel. We favor Deal or No Deal, the basketball and football tosses and the different slot machine-like games which give you a bit of a Las Vegas feeling. I was impressed with the gigantic Rock 'Em Sock 'EM robots. We spent over two hours there and enjoyed every second of it. The power card is rechargeable and keeps track of the number of points you have earned instead of the old format of printed tickets.
More than two dozen large-screen, high-definition televisions provide the perfect backdrop for everyone's favorite college sporting events and professional games. The Albany location is also available for private parties, birthdays and corporate functions. Structured team building activities, company challenges and the ultimate quest are popular programs to help build corporate camaraderie. We had a great time. The locale is fully wheelchair accessible. You can call them directly at 518-313-4500 or log on to their website.
Attractions
Albany has attracted visitors for 400 years with historic sites, fabulous attractions, family-friendly amenities, and entertaining events. World-class museums, unique galleries, stunning architecture, those enticing restaurants, and welcoming accommodations can indeed keep you busy for days. Enjoy everything from boating to skiing and biking to snow-shoeing. Albany lies at the foot of the Adirondacks and Catskill Mountains and is at the tip of the historic Hudson Valley Region. Within a short ride are neighboring Cooperstown and Saratoga Springs.
Be sure to check out the Million Dollar Staircase, the awe inspiring "Egg" at the Empire State Plaza and many diverse examples of historic house sites and public spaces such as the Pruyn House and the first Shaker Meeting House. You can visit the magnificent Gothic structure, now the Administrative Center of the State University of New York, the Delaware and Hudson, and the Albany Evening Journal Buildings, located at the base of State Street.
There is an abundance of professional theatre, music, dance, sports, and a backyard full of recreational splendors. As the crossroads of the northeast, Albany is easily accessible by car, train, and plane and is located less than three hours from New York and Boston.