A decade before Israel and the United Arab Emirates announced plans to sign a historic peace agreement, Rabbi Yehuda Sarna had already established ties with Abu Dhabi's Jewish community.
With the countries' signing of the Abraham Accord at the White House on Tuesday, the executive director of New York University's Edgar M. Bronfman Center for Jewish Student Life is increasingly making headlines due to his position as Chief Rabbi of the UAE, home to 1,000 Jews.
"Ten years ago, I began assisting NYU's efforts in establishing a campus in Abu Dhabi, the capital city of the United Arab Emirates," said Rabbi Sarna, 42. "I would go once or twice a year for the Candidate's Weekends, when high school students from around the world would come for their interview. For most, our encounter was the first time they had ever met a Jewish person, let alone a rabbi. I also met a few individual Jews who were looking to gather on a regular basis, so I did what I could to help. In February of 2019, the Jewish Community of the Emirates was established as the first new Jewish community on the Arabian Peninsula in centuries. Now volunteering as the inaugural Chief Rabbi, I have begun meeting religious and educational leaders from all over the region and seeing the new realities of the Middle East through Emirati lenses."
Beginning in 1995, Rabbi Sarna attended Yeshivat Har Etzion for two years followed by Yeshiva University. He earned a B.A. in English Literature and Judaic Studies from Yeshiva College and Semicha from Rabbi Isaac Elchanan Theological Seminary. He married school psychologist, scholar and community leader, Dr. Michelle Waldman, and they are the proud parents of six children.
"Family is my main joy," said Rabbi Sarna. "We live in an NYU residence hall, so our neighbours change every year and it is hardly the typical Orthodox family lifestyle!"
Yet it is a lifestyle the Sarnas fully embrace in the spirit of multifaith bridge-building.
In addition to serving as the Center for Jewish Student Life's executive director, Rabbi Sarna is a university chaplain and adjunct assistant professor of Public Administration in the Robert F. Wagner Graduate School of Public Service. He also founded the Jewish Learning Fellowship, which offers intensive courses for students without yeshiva backgrounds.
"The most rewarding part of my career is seeing young people become aware of their promise, and then seek to actualize it," he said.
As part of his work to strengthen interfaith relationships on campus, Rabbi Sarna began working on the award-winning Of Many documentary in 2012 with Chelsea Clinton, Dr. Linda Mills, vice chancellor and senior vice provost for Global Programs and University Life at NYU, and Imam Khalid Latif, executive director and chaplain at NYU's Islamic Center.
"We bonded through circumstance, chemistry, humor, and a belief in humanity," said Rabbi Sarna. "I am grateful that we have remained a 'squad', continuing to celebrate holidays and lifecycle events together."
A multiple award-winner, Rabbi Sarna was listed as one of the "36-under-36" by The Jewish Week in 2009 and named "Alumnus of the Year" by Yeshivat Har Etzion in 2013, among other honours.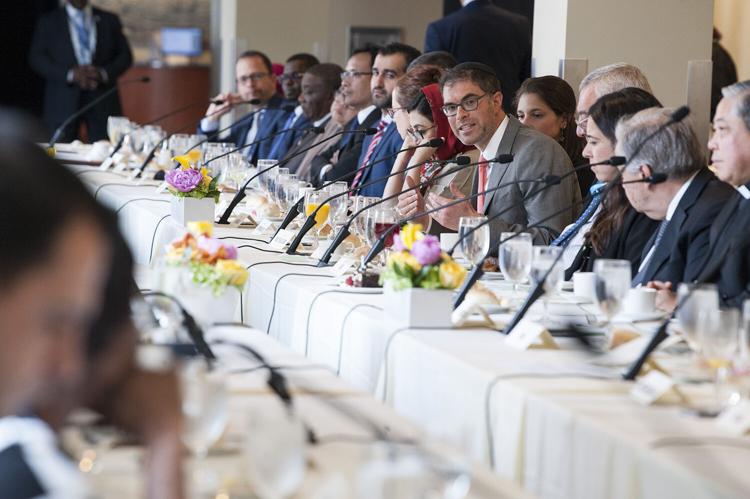 A native of Montreal, Rabbi Sarna fondly remembers his years as a student at the city's Modern-Orthodox Hebrew Academy and cherishes the "countless memories which provide ongoing inspiration for my work", including the privilege of learning directly from the late chief rabbi of Montreal, Rabbi Avrohom Dovid Niznik.
"For three years of high school, Rabbi Niznik gave us our daily Gemara shiur. Rabbi Niznik had studied with the luminaries of Poland and Vilna, narrowly escaping the Nazis with the Mirrer Yeshiva. I try to channel his stories, words of Torah, humility, and optimism as often as I can."
For their part, Hebrew Academy administrators and educators recall Rabbi Sarna with equal warmth.
"To see one of our very own graduates contributing as immeasurably to society as Rabbi Sarna does fills us with tremendous pride," said Hebrew Academy Executive Director Linda Lehrer. "In his roles at NYU, and most recently, in his capacity as chief rabbi of the UAE, Rabbi Sarna is a leader and change maker who lives his life according to our values of Torah, derech eretz and maasim tovim. He is an example for all to follow."
Hebrew Academy High School Bible Studies Department Head Vicky Szyf remembers Rabbi Sarna as an excellent student. "He was highly bright and showed exceptional interest in his studies," she said. "I taught him The Book of Job, which is a very hard book, and I remember his interest and curiosity – he asked a lot of questions. What was outstanding about him was that he was also very kind to others and had nice midot; he integrated both his intellectual and social skills when relating to others, which is something that makes him ideal for his position as chief rabbi of the UAE. He can relate to many people on many levels. I also heard him speak once in Maryland for Tikkun Leil Shavuot. It was around 2:00 am but he kept everyone engaged!"
Reflecting on his extraordinary experiences to date, Rabbi Sarna wrote in a recent Times of Israel blog, "I can hardly believe the things that have happened to me. But these stories are not about me, not just about the Jews in the UAE, but also about global Jewry and the world. With the Abraham Accord, we are not commemorating the cessation of hostilities; we are celebrating a family reunion, a bond of trust, and a shared mission to the world."
— By Aviva Engel
— AB