Kat Maheu is an angel on earth. A Lasalle resident who has been on her own since she was just 12 years old, this single mom of four has endured many struggles throughout her life but has used these hurdles to inspire her charitable work today. "I grew up very poor and there were many nights that I went to bed with a hungry tummy," she said. "I couldn't concentrate in school with an empty stomach. It was really hard. So I know what it's like."
Maheu started to find innovative ways to support herself and her growing family from a young age. When she was 19, she started collecting recyclables, like glass bottles and cans, for refunds to help supplement her income. "One day I picked up a can and looked at the top and saw a 5-cent refund, so I asked at the dep what it meant, and the cashier handed me a nickel," Maheu explained. "So, I started collecting recyclables on top of working."
She also found out about the Pull Tab Program from Ronald McDonald House - they collect aluminum soda can tabs to melt down, and then they use the money from the metal to finance various programs including purchasing wheelchairs for needy children. Today, she continues to collect cans and bottles as well as accepts them as donations. She takes all the tabs off the cans and brings them to the Montreal Ronald McDonald House once a year. "I just thought, this is a way I can show my friends and the whole world that, yes, you can help to save kids' lives."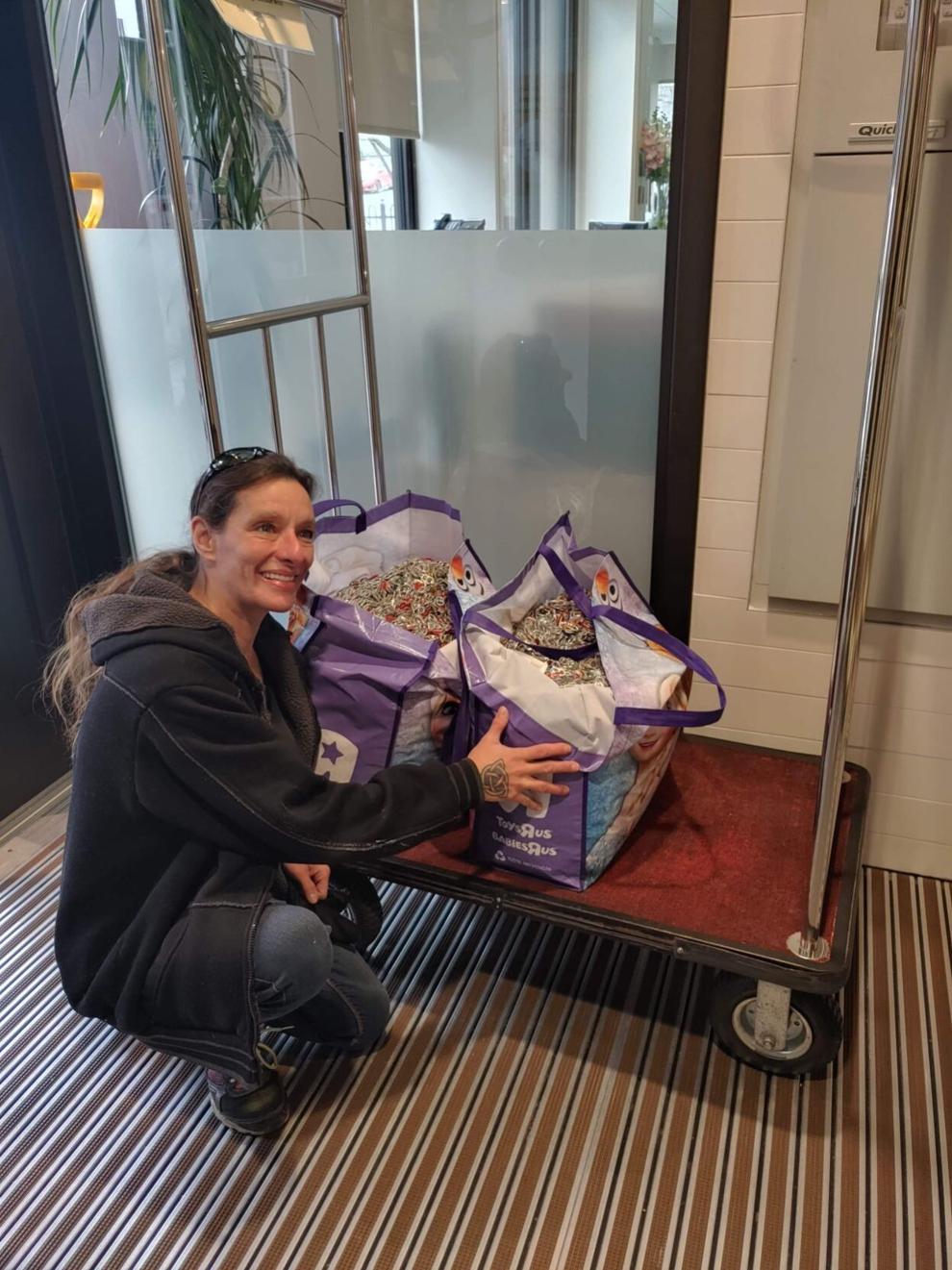 Even though Maheu preferred to remind anonymous when dropping off the tabs in her signature cartoon-themed bags, she said she got caught this past December at her annual donation drop-off. "The man there recognized the bags, and he said, 'it's you who has been coming all these years,' and they asked me to come inside, they took a picture of me, and I received a Most Selfless Act of Kindness of the Year Award."
Because of the award, Maheu said she received letters, gift cards and food donations, which led her to her next charitable venture. "I thought, I can make $5 boxes of food for single moms that are in need. I started to take 10% of my can money, which is my only income, and every week I buy milk, bread, meat, produce and non-perishable items for the boxes," she explained. On the day of the delivery, she goes to buy perishable items like produce so it's fresh, and she takes a taxi home, a cost that is offset by the minimal $5 fee food box recipients pay for the service. The recipients of the boxes are single mothers who have reached out to Maheu to express their need.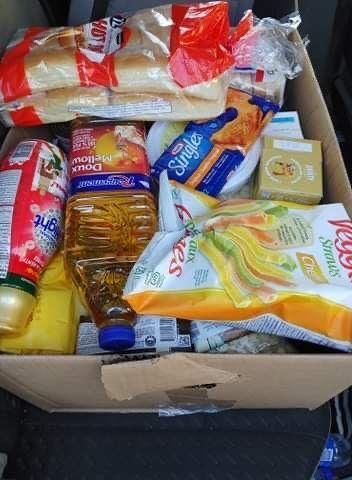 Maheu wanted people to know that she isn't working alone. One of her daughters, Melissa, helps with wintertime can and bottle collections, and another friend, Gordon Gravel, delivers the prepared food boxes. "If it wasn't for Gordon, the food would not get delivered, and if it wasn't for my daughter, I wouldn't be able to pick up the cans and bottles at people's homes."
Boxes are delivered all over, from Verdun, Lasalle and Ville-Émard all the way to Pierrefonds. Maheu makes up an average of four boxes a week, and since January 1st she's donated approximately 40-45 boxes of food to needy families. She's had some help along the way, too, from members of her community: Donors have given non-perishable food as well as money to buy food, or they sponsor boxes and pay the $5 fee so recipients who are in the most need get their boxes free of charge.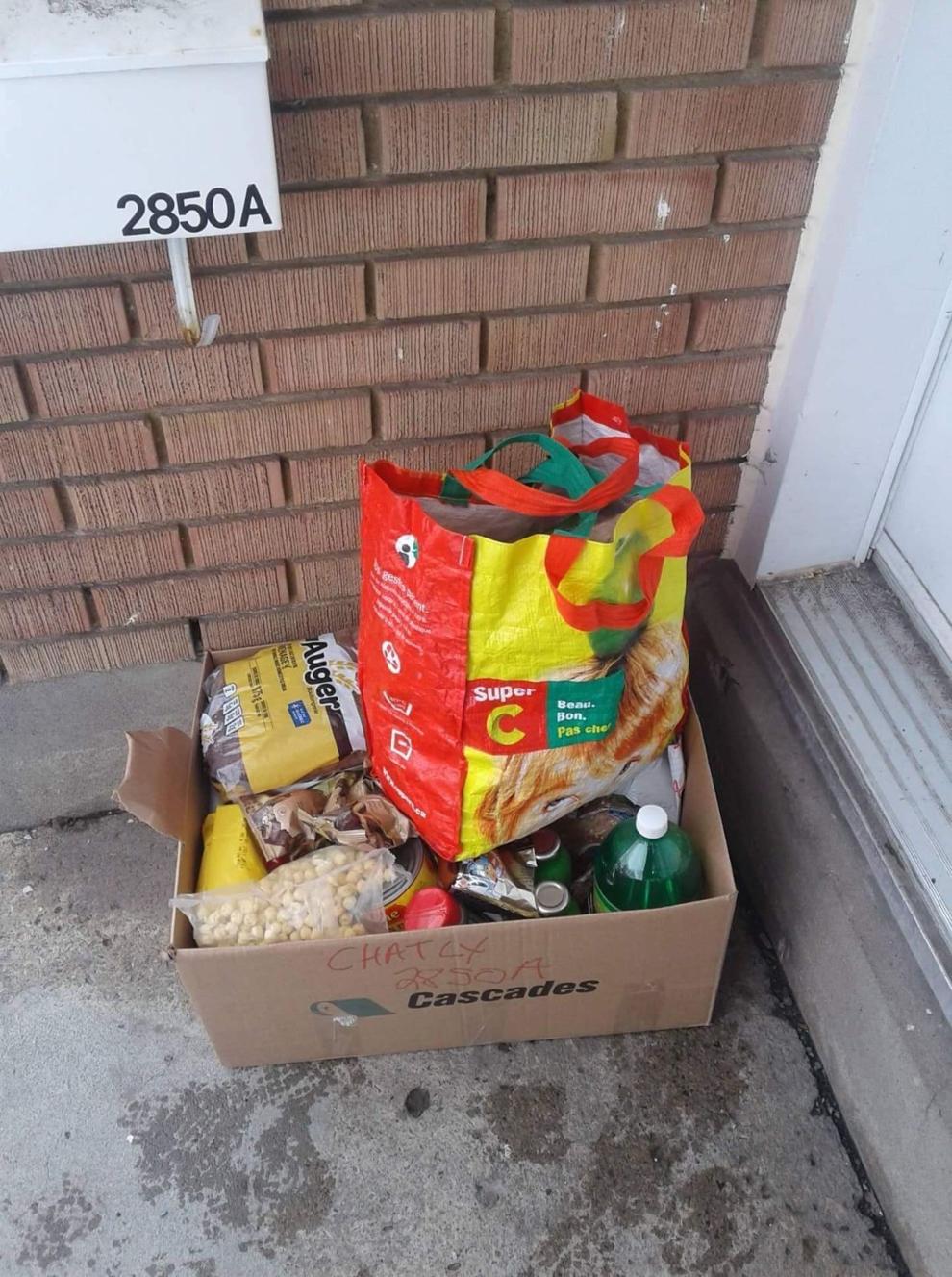 "This is something I've wanted to do for many years," Maheu said. "Reaching out for help is not the easiest thing to do and a lot of people are struggling. I'm hoping what I'm doing will be contagious."
To reach her email Msghostrider2010@gmail.com