The Montreal Airport Marriott In-Terminal Hotel / Bijou Resto Bar is certainly not your typical hotel dining establishment. Besides attracting guests who are staying at the hotel or those either catching a flight or picking someone up, the trendy locale has become a stand-alone destination since it opened in 2009.
"We are very pleased with the following we have attracted," said General Manager Brenda Rodricks. "A lot of people who live on the West Island take advantage of our fine cuisine as a distinct destination and we are proud of that. And if you do have to pick someone up, arrive early and enjoy a nice meal."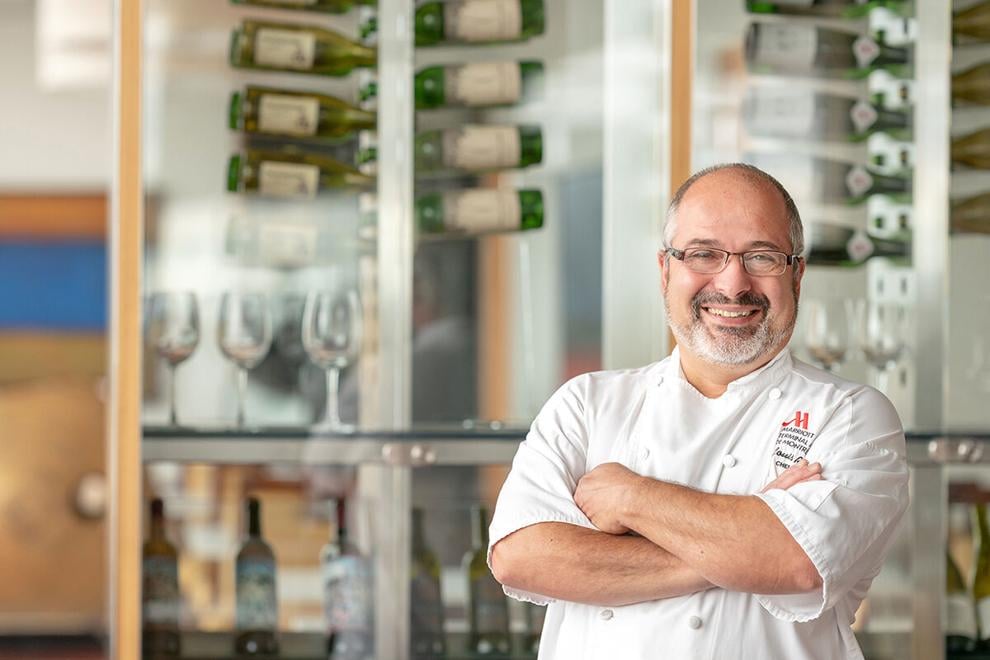 Featuring large windows, the bright and elegant restaurant is connected to the U.S. terminal of Pierre Elliot Trudeau Airport in Dorval, and the kitchen is overseen by executive chef Louis Rodaros and his team. Rodaros has been at the helm since 2017 and he is consistently working on adjusting the menu with new features. Here, natural meats and fresh produce get transformed into thoughtfully-crafted dishes. "We put a lot of emphasis into providing meals with fresh ingredients," said Rodaros.
A new summer menu is about to debut. It will include such items as grilled salmon with mango sauce; a chicken supreme with celery root puree, candy radishes, grilled cauliflower and asparagus; seared scallops with braised pork belly with crispy fennel salad, pickled red onions and roasted dates; braised beef ravioli; beef tartare; grilled octopus with tarama sauce; a burrata cheese with heirloom tomatoes; and much more.

There is also a separate lounge menu in which Rodaros wishes to introduce more sharing plates. Favourites include the smoked meat and charcuterie plates, lamb chops, the traditional hamburger with Brussel sprouts slaw between the buns, cheese platters and more. For lunch, a table d'hôte menu changes every week and there are also some decadent homemade desserts.
"We are not offering the classic hotel menu," said Rodaros, who treated me to a delicious breakfast of eggs over easy with toast, potatoes and a side of bacon. "Our selections are always evolving, which is why we have a clientele other than those who have to be at the airport."
The restaurant and bar can accommodate 170 people. There is a private room, with the capacity for just over 20 individuals. Larger groups can reserve a section of the restaurant.
With pandemic protocols over and business returning to normal, the hotel has relaunched its calendar of special events. For Mother's Day the restaurant will host a brunch buffet from 11 a.m. to 3 p.m. This will include a welcome cocktail, appetizers, salad bar, sushi station, breakfast items, cold cuts and fish, main courses (roast beef, rabbit, arctic char, etc.), and a sweet table with a chocolate fountain. It's free for children under the age of six. A local live band (La Gioventu), which is normally on the schedule Thursday evenings, will also be on tap.
The hotel and restaurant is located at 800 Place Leigh-Capreol. There is simple access via Blvd. Roméo-Vachon. You can find the menu at www.opentable.ca . For more information call 514-828-5117. Parking is complimentary when eating at the restaurant.