From hundreds of kilometres of bike paths to fleets of thousands of rental bikes, it should come as no surprise that Montreal is a city that's increasingly designed for biking. Every year the city adds to its network of bike trails, encouraging people to pedal their way to work and for fun. May is National Bike Month, and in honour of this pastime, we're sharing some information on Montreal's cycling scene as well as important safety tips you should follow when going for a ride.
"Montreal is a very bike-friendly city," said André Giroux, owner of Ça Roule Montreal, a company that rents pedal and electric bikes as well as offers unique bike tours around the city. Eighty-five percent of his clientele is usually comprised of large school groups and tourism, which obviously started to decline last year. However, the spirit associated with biking here hasn't dimmed. "Our customers are from all over the world, and whenever they do bike tours here, they say what a great city it is to see by bike. There are paths and bikes everywhere."
In fact, there are more than 3,000 km of bike paths in the Greater Montreal and surrounding areas, including the Sentier cyclable et pédestre Oka-Mont-Saint-Hilaire and the Route Verte network. Our city's bike path network is over 500 km long, and new km are being added almost every year. These paths are classified according to the level of the road-sharing with cars:
Shared street: A street shared by cyclists and motorists. It is indicated by a sign or marking.
Bike lane: A lane set up to the right of traffic lanes and bounded by a line of separation or color coating. It is identified by a sign and a lane marking.
Bike path: A path that is physically separated from car traffic. It can be laid out on the street or level with the sidewalk.
Not only are people pedaling their way around the city, electric bikes, or E-bikes, have also grown tremendously in popularity — especially starting last year when the pandemic hit. "The E-bike market is way up, and we saw a lot of locals last year rent one of our electric bikes before buying one, so they could try it out before making such a purchase," Giroux said, adding that E-bikes are getting better and better and they recently increased their own fleet to answer the increased demand.
With a summer that will likely mean continuing to adhere to social distancing measures, biking can be a great activity to do solo or to participate in safely with a group. Not only is Montreal outfitted for a great cycling season, but so, too, are local bike rental companies that are excited to show locals a little piece of their own city.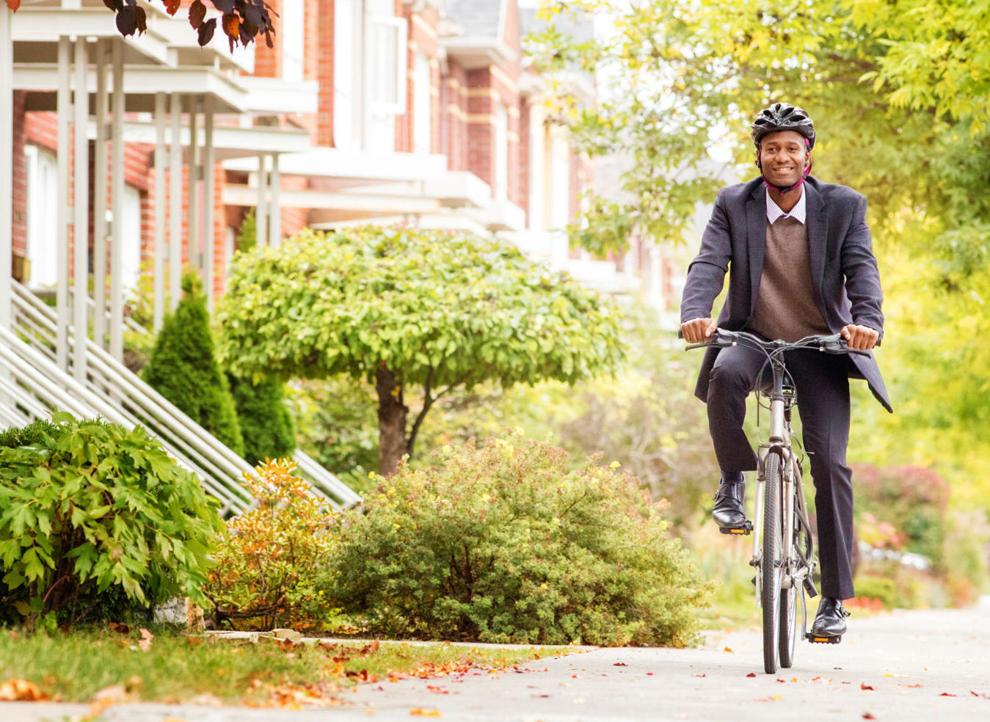 Rules for safe bike riding
Ensure children wear properly fitted and secure helmets (studies show children between ages 10 and 14 are the group least likely to wear a helmet)
Use reflective stripes on clothing and bicycles, and use flickering lights (even during daylight hours) to make cyclist more visible to motorists
Keep away from busy streets and parking lots
Know and obey traffic rules when cycling on the road
Bike with a buddy. If children or youth are cycling any distance without parental
supervision, bike with a buddy, agree in advance on a return time and stick to a route that's familiar, illuminated and avoids secluded areas
Have first aid training to have the skills and confidence to provide emergency treatment for common cycling injuries like falls, fractures, or bleeding
Information courtesy of the Canadian Red Cross