As a section editor of a local newspaper, sifting through hundreds of emails that contain press releases, story suggestions, and queries is a time consuming part of my daily schedule. When I recently received one from a known publicist about a novelty store that houses Canada's largest collection of rubber ducks, I rolled my eyes and moved on. But a few minutes later, intrigued by the sheer preposterousness of the idea, I circled back for a deeper look, was stopped in my tracks by something I saw and immediately replied to the publicist. "Hi Catherine. Well, at first I thought this was a joke. I thought I had seen it all. Then I saw the Mister Spock duck and said, "I want that!" Now I'm taking it seriously. Please hook me up for a short telephone interview."
This insufferable, long time Star Trek fan recounted that story a few days later to the owner of Le Petit Duck Shoppe, located on Saint-Paul W. at the corner of Marie-Morin in Old Montreal.
"That's the best part of this store," said Pam Petropoulos. "It's people's reaction to the place. Some people walk in and they are at a complete loss, asking themselves, 'Is this place for real?' And then others walk in and say, 'Oh my God, it's nothing but ducks!' And they are like little kids. Adults become children."
The independent boutique is the only one of its kind in Canada, said Petropoulos, adding that she came across a similar store during some recent travels in Europe,
"I was with my husband and we walked in and I immediately fell in love with the ducks," she explained. "I bought a bunch of ducks for all my friends and family and thought, 'You know what? This would be a great shop to have in Montreal.' When I told my husband that I think I'm going to open a rubber duck store he said, 'Yeah, sure, whatever,' and a few years later here we are."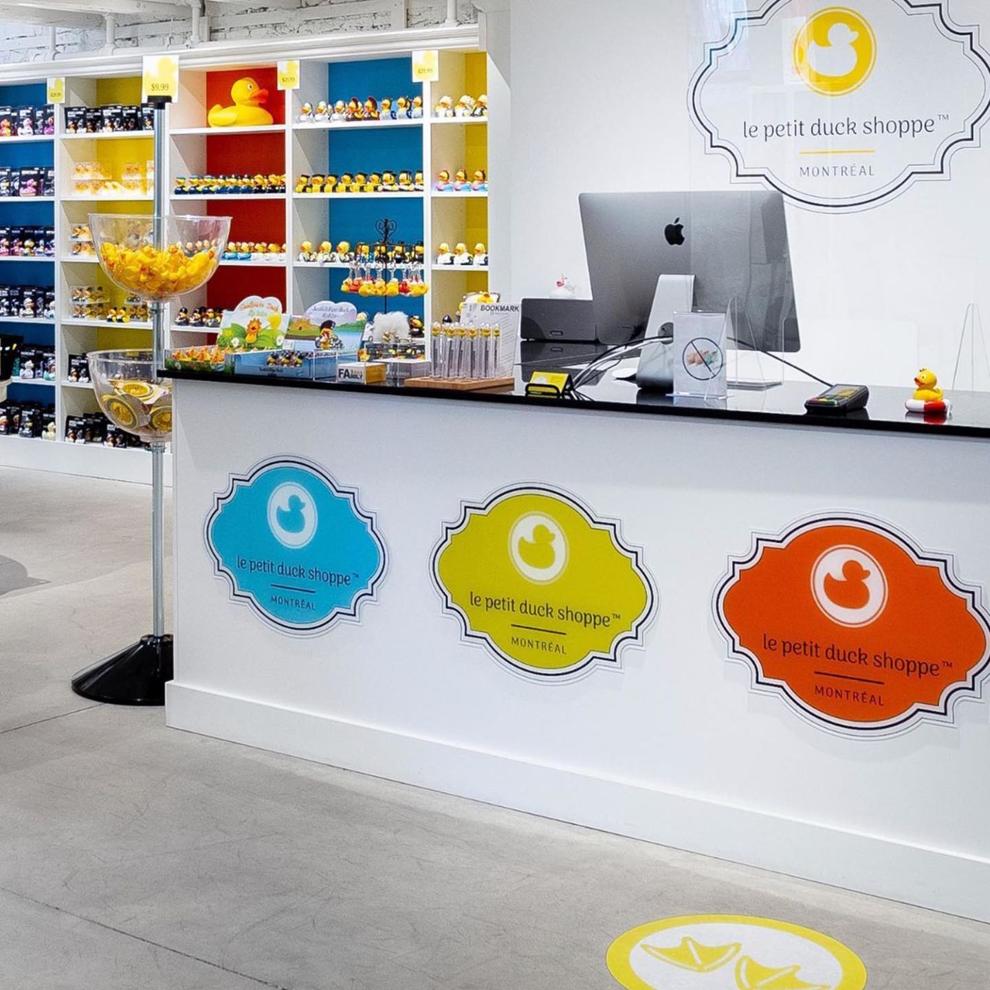 Petropoulos figured that if the concept worked in Europe, it might also work in her hometown. "I thought if I found a great location down by the Old Port we would probably be swamped with people who were looking for an adorable souvenir from Montreal or a gift idea for someone. And if everyone reacts to the place like I have, we have a winner.''
Not only is the duck shop a first of its kind in the city, it's also the owner's first time selling retail after leaving her career in high tech product marketing, working for different software companies. "I left my corporate job and took the plunge, saying, 'I want to do something fun.' And I couldn't think of anything more fun then having a rubber duck shop," said Petropoulos with a laugh.
Everything was ready for the spring of 2020. The planning had been going on for a couple of years, the location was found, a lease was signed, the renovations were underway and then the pandemic hit. But despite missing out on the expected tourist traffic, Petropoulos said she has been pleasantly surprised by the support she has received from the local community.
"The tourists haven't returned but I'm just really grateful for the way people have embraced the shop," she said. "I've got repeat customers who just love the place and tell everyone about it."
The shop carries a wide variety of rubber ducks in a wide variety of themes, from celebrations and holidays to occupations, sports figures, politicians, celebrities and more. Petropoulos also sells duck-themed accessories, apparel, home décor items, pet toys, key chains and jewellery. Fore serious collectors, featured in a display case is a Swarovski crystal encrusted Diamond Duck that sells for over $1,000.
"I like to say that when someone walks in, the duck will find you," said the owner. "Like if you're a fan of classic rock and you see the Floating Stones or Bohemian Quacksody, you're like, Oh my God, Mick Jagger in duck form. Must have him!"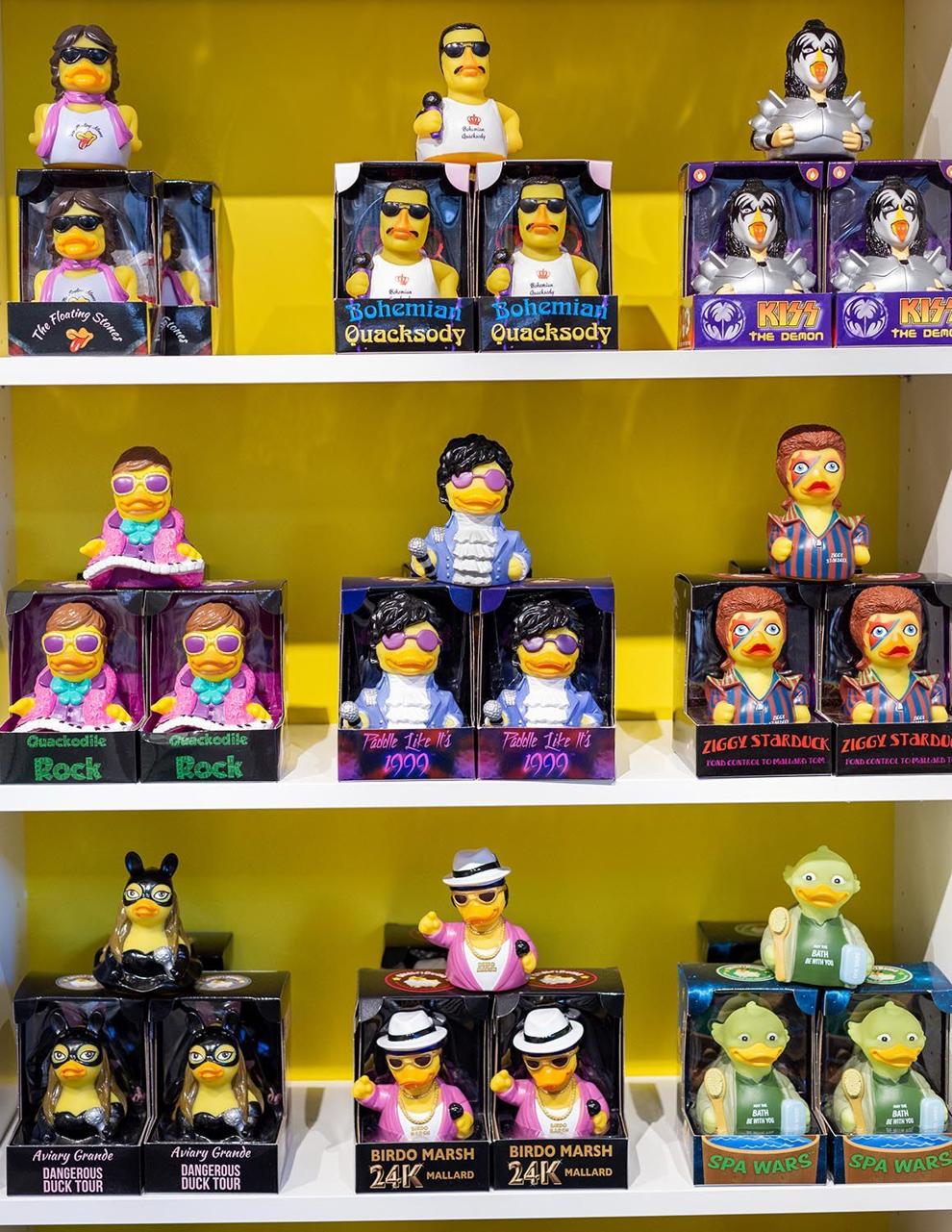 Like her ducks, the shop's clients come in all shapes and sizes.
"My customers are everybody," she exclaims. "There are families who are strolling around the Old Port on the weekend and stumble upon it with their kids, and adults in the neighborhood who are looking for cute gifts…. Nobody knows they need a duck until they see the store and go, 'Holy crap, I need that duck!'"
And that's exactly how I felt when I first laid my eyes upon that Mister Spock duck … I mean Mister Squawk.