Spring is a pretty common time of the year to give our yards a little TLC. After another brutal winter has passed and once the snow has melted, our lawns, trees, shrubs, and garden beds need a good cleanup. Experts say this is the ideal time to do some outdoor work as it will help ensure optimal growth of plants throughout the summer months. "Following some simple garden and lawn tips will allow a great kick-start to a healthy landscape," said Alanna Roszkowski, Chief Operating Officer at Kirkland-based DLC landscaping company.
Roszkowski helped prepare a simple checklist of things you can do to help your landscape thrive this season.
Lawn
We all know, after being packed under layers of snow and sometimes other plow-offshoots like gravel, our lawns are starving for some much-needed nutrients. Roszkowski suggested, "A good aeration is important to alleviate compacted soil from the harsh winter months. A spring clean-up of the lawn, which includes dethatching or power raking, is also important to allow new growth to push through healthily and remove all dead grass."
A thin layer of soil and grass seed can help fill in thinner parts of the lawn, and a fertilizer can help existing grass thrive.
Trees
If you have larger trees on your property, they'll need to be given a little time and attention. After heavy snow, branches could become lose or have fallen, so inspect and prune your trees thoroughly. If you plan on planting new trees, spring is also the optimal time to do so.
Hedges and shrubs
While certain elements in your landscape will need cutting and pruning, our expert said this is not the time of year to start cutting back hedges or shrubbery. "You don't want to trim your hedges in the spring, as they are growing and this could stunt their growth or damage them quickly," Roszkowski warned.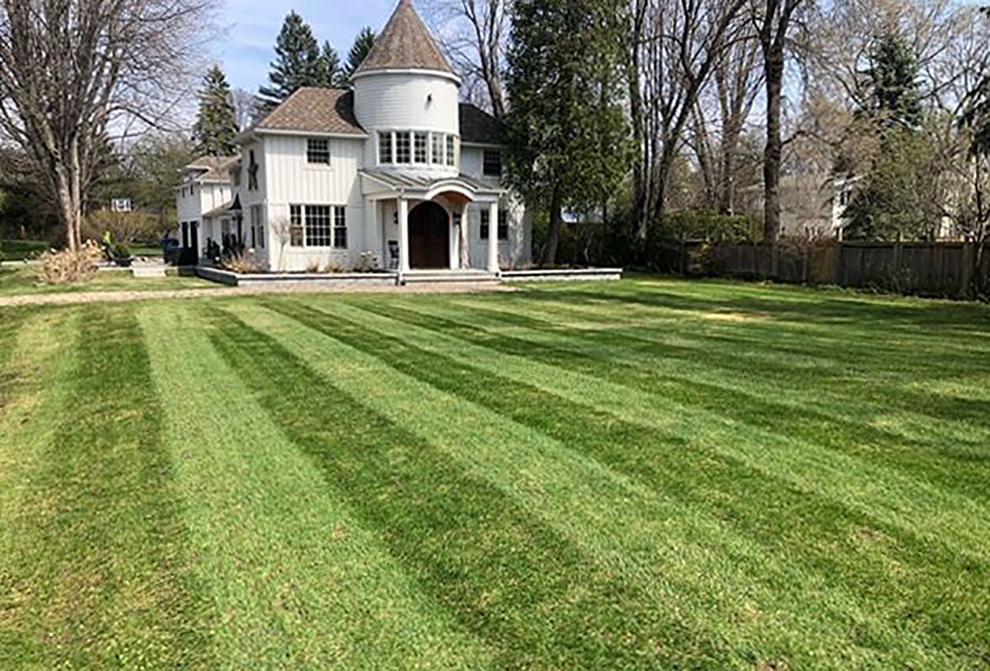 Pathways/walkways/driveways
Stone or cement paths can shift or move with snow and ice build-up. Be sure to closely inspect all pathways and walkways, looking for any loose or cracked stones that need to be replaced. Driveways may also experience more deterioration after the wintertime, and you can hire a professional company to help with sealing or patching up any larger damaging cracks or holes. Make sure to thoroughly sweep and clean up these transient areas to ensure the safety of those who use them.
Flowerbeds
If you want flowers to grow this summer, you need to give some attention to the beds now. Turn the soil and/or mulch to allow airflow. Then, "remove all dead plants from the winter if you didn't do it in the fall," Roszkowski said. "Put down more soil and/or mulch. For low-maintenance garden beds, it is advised to put down mulch early, which will limit weed growth and create less manual weeding."
Other garden beds
If you grow fruit, veggies or herbs, turn the soil of these gardening beds and add in some new good-quality potting soil. You can also turn in some compost material or peat moss to help aerate the soil. If you're growing edibles from seeds, read the back of the seed packages to see where you should plant them. Some will need to start in pot plants, while others are planted right into the ground.
Take advantage of everything spring has to offer and use the mild days to give your yard a quick overhaul. Put the time in now and you'll reap the benefits until fall.