With everyone trying to stay close to home, virtual tastings are becoming more popular and accessible as they are an innovative way of staying entertained and remaining socially connected given our current reality.
Virtual food, wine, and cocktail tastings can be a great outlet to connect with friends, family or even potentially meeting new people while learning at the same time! Lucky for us, there are loads of online events taking place in Montreal that offer a plethora of gastronomic experiences, allowing us to satisfy our cravings for going out, by actually staying in.
Here are a few events taking place in the next coming weeks in and around the Montreal area.
RASPIPAV
Presented by the SAQ and organized by RASPIPAV (Regroupement des agences spécialisées dans la promotion des importations privées des alcools et des vins), this is a private import wine show that, unlike previous years, will take place online. There will be over 200 private import products available that customers can purchase online through their virtual catalogue at www.importatation-privee.com .
Simply navigate your way through the list, make your purchase and deliveries can be made to an SAQ outlet of your choice just ahead of the holiday season! Deliveries are free with any order over $75 or more, and you will be contacted once the bottles are at the SAQ!
RASPIPAV has always been a very exciting event for consumers and wine professionals alike and this is a great way to obtain exclusive products that you won't find at the SAQ!
Virtual Food and Wine Pairing Consultation
November 6th, 20th, 27th and December 11th
This is a super exciting bespoke event that I am very excited to personally organize and host!
Treat yourself to a virtual food and wine pairing in the comfort of your very own home. This carefully curated series of events will offer two bottles of wine with delicious food pairings created by a professional chef. This event is a gastronomic and interactive experience for anyone who is looking for a new and fresh approach to wine tasting.
It's a great destination for wine experts and novice drinkers alike. Gourmet boxes will be delivered right to your door, depending on your location. The virtual tasting will last between 60-90 minutes through a Zoom invitation. This is where we will taste, discuss, and ask questions about the wine itself, the producing region, and even the 'how-to's' of food pairings. Most importantly, it will be help in a relaxed, approachable and FUN environment.
Prices include a package for two people, but there is an opportunity to design the tasting to your household of those who are 18 years and older.
For more info, head to: www.awalkonthewineside.ca/blog/events/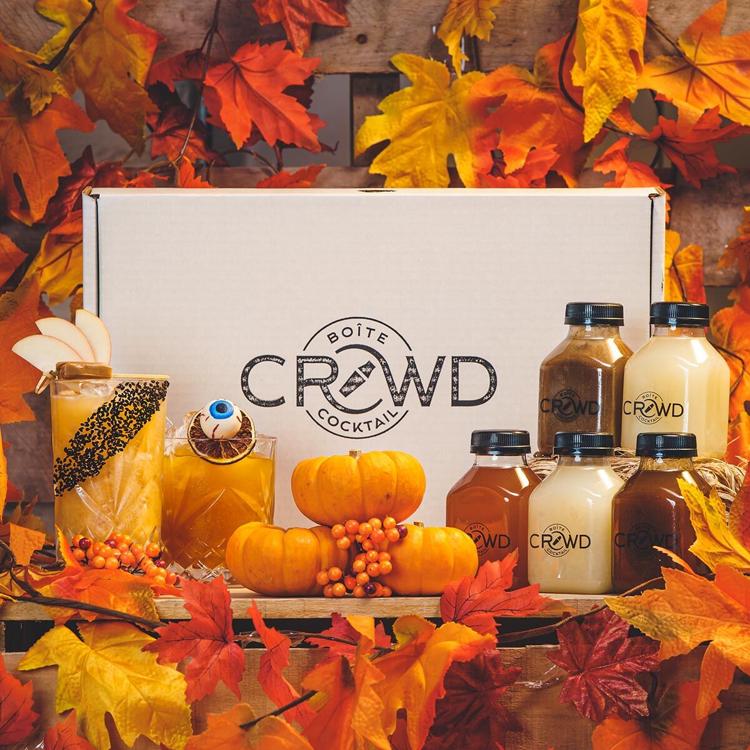 Crowd Bar & Flair
This is a new concept designed by Crowd Bar & Flair, where all the ingredients (except the booze) to build your very own cocktail will be delivered right your door! In addition, an invitation to follow a virtual workshop also comes with the purchase of any box. All you have to do is follow the instructions of a mixologist to recreate two delicious cocktails. Whether it is with a spicy pumpkin syrup or a decoration in the shape of a bulging eye, it's sure to make for a memorable evening!
The Halloween boxes in particular are sure to be a hit! There are three different boxes you can chose from: Boo! Box, Gin-Gin Box, and the Tiké-Toé box. Prices vary anywhere between $35-$50, depending on the number of people in the household.
Created by Isaac Bédard, a well-known mixologist on the cocktail scene in Quebec, the recipes are the result of months of tasting research in order to please all sorts of different palates.
To purchase tickets and more info, head to: www.crowdbarflair.com
Mandi Robertson earned her Sommelier Attestation (ASP) from Pearson School of Culinary Arts then worked as a Sommelier in Melbourne, Australia. Upon returning to Canada, she is now completing her WSET Diploma. Besides having extensive experience hosting private tastings, her passion for all aspects of the wine industry is furthermore demonstrated on her website, 'A Walk on the Wine Side'. She is also the wine contributor for CJAD800 'Weekends with Ken', Global News Morning.
Facebook: @mandiwineside
Instagram: @mandiwineside
— Mandi Robertson
— AB