Last week we told you about a pair of excellent graduation ceremonies presented by Hebrew Foundation School in Dollard des Ormeaux and Akiva School in Westmount. Here are three more to share.
Solomon Schechter Academy (SSA) creatively re-imagined the traditional in-person Grade 6 Graduation ceremony with a feature-length YouTube premiere followed by a drive-through diploma collection.
Each of the 73 graduating students and their families were featured in the online ceremony, together with messages from administrators and past teachers. The graduates and their parents were each involved in the creation of two custom music videos, the latter a surprise for the kids!
The most special moments included a graduation montage, where each family was professionally filmed on the steps of the school along with their graduates, who shared special memories from their time at SSA with the audience in English, French, and Hebrew.
Following the online premiere, a drive-through diploma collection was held, so each child and their family could experience their teachers cheering for them and receive their diplomas - a beautiful end to a memorable night!
Grad Jacob Wolfe's mom Lauren wrapped it up nicely: "With all of the uncertainty and newly imposed COVID rules, as a family we were feeling sad about the fact that our kids would not have a proper SSA graduation. How wrong we were! What ended up taking place was remarkable! Communications Director Anthony Davis planned and worked tirelessly to deliver something really special. We were blown away with a graduation to remember! Every student was hand-delivered their own graduation hoodie, a gift bag, including all kinds of goodies and a huge personalized graduation banner to showcase on our front door. A virtual graduation ceremony was put on YouTube for all our family and friends to watch. The video was professionally edited and showed the students singing and dancing to the song 'Don't Stop.' There was a surprise video of the families lip-syncing to, 'I'll Be There For You' for the graduates and an emotional slideshow as the grand finale. Families then drove through an assembly line of socially distanced faculty/staff clapping and cheering for the graduates as they were handed their diplomas by Head of School Steven Erdelyi. There was not a dry eye in our house watching our son Jacob graduate with a big smile and so much pride."
Following the online ceremony, graduates were invited to a drive-through diploma collection and final celebration with teachers and administrators.
HERZLIAH'S DRIVE-IN: It was a first for both Herzliah and the Royalmount Drive-In Event Theatre! On June 22 , Herzliah High School held its graduation ceremony at the drive-in event theatre, where students and immediate family celebrated this milestone year. Students arrived on-site, received a bag of treats for the night ahead, and were ushered to their parking spot for the evening. Photographers took photos of the students and their families to document this very important occasion. The event was live-streamed so that extended family, from near and far could watch the graduation in real-time. Family members in attendance were able to listen to the proceedings, speeches, songs, and awards throughout the evening. There was even a retirement dedication for a teacher who has been on staff for 40 years, Morah Yosefa Lazar.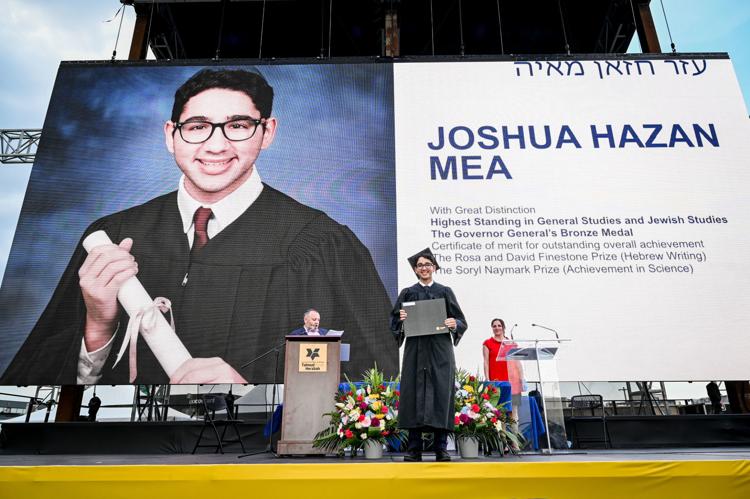 S
Students were able to cross the stage, pick up their diplomas, and take that memorable photo. "I'm so grateful for this experience of being able to graduate with my class. This was an impactful final experience for our grade," said grad Lindsay Hayes. 
"While on stage, time seemed to come to a standstill, allowing me to fully relish this momentous instant," added grad Joshua Hazan-Mea  "As I looked out at the sea of cars, I heard my family, friends, and teachers cheer me on, filling me with a feeling of immense pride as I am about to become a newly minted Herzliah alumnus.
Just as hints of darkness began filling the skies, we all moved our tassels from left to right in unison, symbolizing our progression from high school to college. We then threw our graduation caps into the air and watched in awe as they rained back down on us."
This was a lovely way to celebrate "together," all the while respecting social distancing. It was the perfect time for Herzliah to get together as a community and celebrate what the students have accomplished.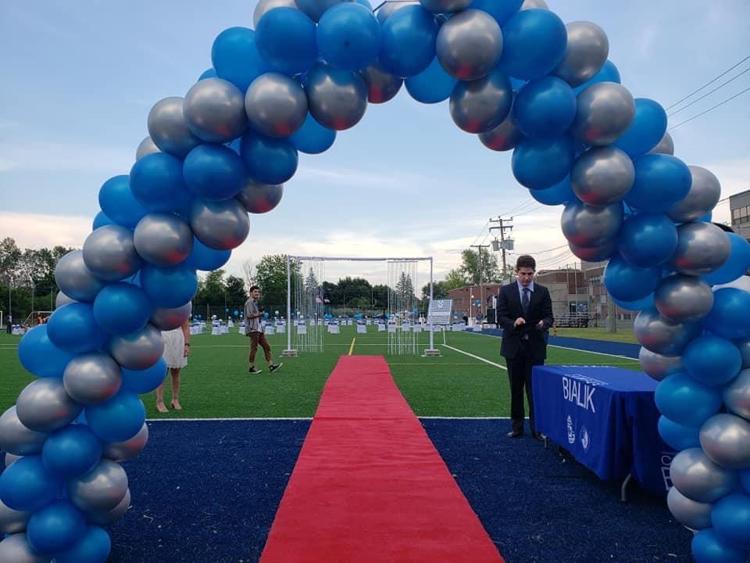 BIALIK'S FIELD CEREMONY: The Bialik Class of 2020 celebrated graduation under the stars in the first outdoor ceremony in its history. I watched a bit of it through the fencing as veteran popular teacher Andrew Trager ushered students in. It was very impressive. Bialik principal Avi Satov welcomed 72 graduates to a unique celebration on the Cons Family Sports Field, all the whole respecting social distancing protocols. Staff and parents watched the celebration streamed live onto the school's YouTube channel. The celebration included valedictorian speeches in English, French and Hebrew, singing and video message from the staff and students' families.