At the end of April, the Greater Montreal Indian community and Team "Hindu Mandir" launched multiple COVID-19 relief efforts assisting the Lakeshore General Hospital, West Island Food Banks, seniors, and international students.
Dollard des Ormeaux entrepreneur Subhash Khanna — well-known in Quebec's Indian community as a leader of philanthropic causes, including building one of Quebec's largest Hindu Temples (www.Hindu-mandir.org) — sprang into action with "Team Hindu Mandir" colleagues Rajesh Kapoor, Vinod Verma and Kul Khurana to quickly strategize and lead some critical support initiatives when the COVID-19 crisis arrived.
Early on in the pandemic the team organised volunteers from their temple to begin a grocery home-delivery service for seniors in their congregation. Soon after, many other members of Montreal's Indian community came forward with a desire to broaden charitable efforts to the West Island community at large.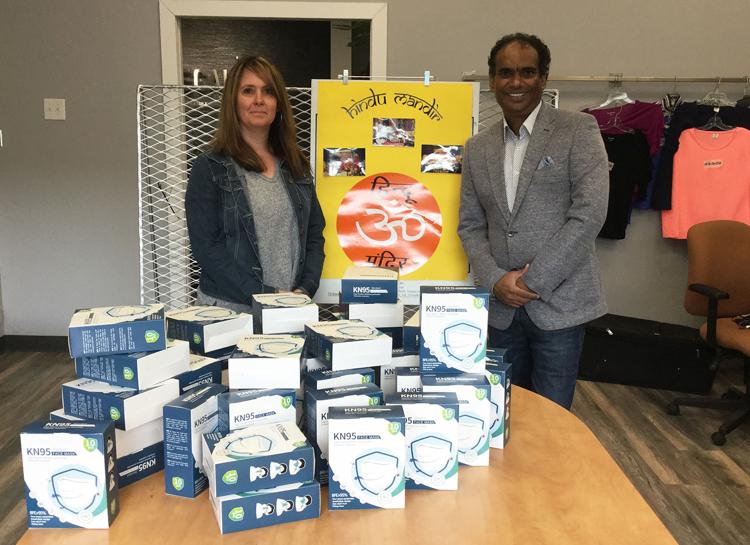 One of their first projects was to aid international students facing many hardships including financial duress. On March 30 they started an on-going food collection and distribution program, giving out food baskets to students in need.
On April 10 they delivered 450 KN-95 masks to the Lakeshore General Hospital for front-line staff with another 500 masks recently delivered. Finally, they started yet another fundraising campaign and have collected a considerable amount of funds that will go to assist the On Rock Food Bank in Pierrefonds and the West Island Mission Food Bank in Point Claire.
Like many other food banks, these organisations are facing a huge demand as an increasing number of West Islanders struggle to feed their families. On Thursday May 1, Team Hindu Mandir delivered $5,000 worth of food to each of the food banks.
— A. Bonaparte
— Team Hindu Mandir
— Subhash Khanna
— Vinod Verma