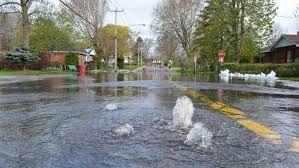 Nine mayors from the off island municipalities, including Rigaud, Hudson and Vaudreuil-Dorion, wrote an open letter to Premier Francois Legault and Prime minister Justin Trudeau seeking immediate help for their residents affected by the May flooding.
The sub title of the document was "the cameras have gone, the government too."
Written last week, the letter noted that "on this 37th day of the flood, even if the media are less present, those flood victims and municipalities still need help from both governments."
Costs for housing and feeding displaced flood victims was an issue raised noting that in the flooding of 2017 "your predecessor had borne all of these costs" and with the CAQ government's announcement of "the new terms and conditions of the general compensation and financial assistance program for real or imminent disasters" has placed some of the nine municipalities in a financial situation where one unfortunate option could force "some municipalities have to make difficult decisions and take the heinous step of reducing food aid and reviewing the accommodation of those affected. In addition to this uncertainty, the Department of Public Safety unfairly treats the municipalities as it does not give them the same information and forgets to contact some of them."
As of press time, Quebec's Public Security Minister Geneviève Guilbault was scheduled to meet with several of the signatories of the letter in person to discuss the concerns raised.
The mayors are also asking the federal government to get help from the Canadian Armed Forces for the eventual clean up pf the thousands of sand bags and improvised dykes made to hold the rising waters back.
The letter stated that "on May 13 that a second mandate was given to the Armed Forces to help municipalities in the restoration of municipal infrastructure" and that the federal government had promised military assistance to the municipalities of Vaudreuil-Soulanges but "we are still waiting for them."
The signatories of the letter, Pointe Fortune Mayor François Bélanger, Rigaud Mayor Hans Gruenwald, Hudson Mayor Jamie Nicholls, Vaudreuil-Dorion Mayor Guy Pilon, Vaudreuil-sur-le-Lac Mayor Claude Pilon, 'Île-Cadieux Mayor Daniel Martel, Terrasse-Vaudreuil Mayor Michel Bourdeau, Île-Perrot Mayor Pierre Séguin and Pincourt Mayor Yvan Cardinal, concluded with asking the two governments who will be able to help those who have been affected by the flooding who are both mentally and physically spent, get rid of all the " hundreds of sandbags that had to be put in place for the protection of their property?"