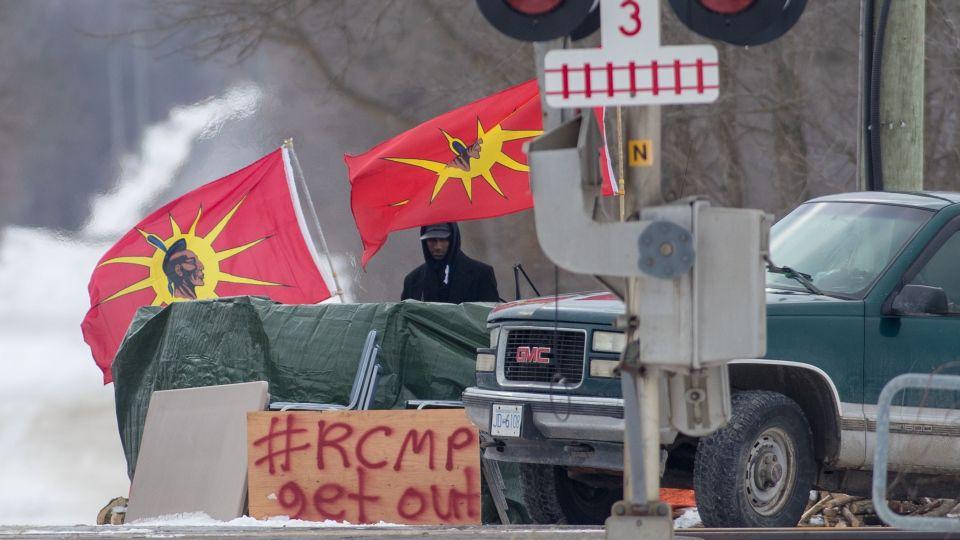 Last Friday at a press conference, Prime Minister Justin Trudeau said that the blockades that have been paralyzing the country's railways have to come down.
It has been more than three weeks since a blockade in British Columbia by supporters of the dissident Wet'suwet'en hereditary chiefs regarding the work being done on their lands as part of the court and elected band councils approved Coastal GasLink project. Consequently, other blockades have appeared across the country, including one in Candiac as well as one in St. Lambert that was taken down last weekend.
The situation has caused economic turmoil across the country with some railways backed up for kilometres waiting to move stock, CN workers being temporarily laid off, farmers concerned about lack of propane stores to keep their livestock from freezing, backups in Montreal's port and soon consumers will likely see missing items at grocery and retail outlets.
Both sides of the situation note that communication and attempts to resolve the conflict have reached an impasse.
The Suburban spoke to Lac St. Louis MP Francis Scarpaleggia about how this is affecting all Canadians.
Scarpaleggia acknowledged, as he had heard from constituents who are in retail, that the blockades have "been wreaking havoc on the logistics side for business owners."
As of press time, Ontario Provincial Police had moved in to remove the blockade in Belleville while the Mercier Bridge was blocked by protesters. Reiterating that the blockades had to come down, Scarpaleggia said that the OPP "are trained professionals informed by history and events like Oka.
"They have recommendations on how to handle these kind of protest situations and an injunction had been given a while back to disperse and because it was not respected, the officers had to make some arrests."
When asked how to ensure that blocking rail lines could set a precedent for future protests, Scarpaleggia said that "the government has made it clear that it is not acceptable to engage in illegal activities that causes harm to local businesses" and the Canadian economy at large.
The MP for Lac St. Louis added that the government will continue to work on its "reconciliation agenda and economic development is part of reconciliation."
Scarpaleggia noted that despite the protests for the Coastal GasLink project, "many indigenous bands had already agreed to the route. This includes five of six elected bands in the traditional territory of the Wet'suwet'en. The hereditary chiefs, who claim to have sole jurisdiction over decisions affecting the territory, believe they should also have been consulted. They claim the agreements signed between Coastal GasLink and First Nations bands do not apply to traditional territories — that the elected chiefs and councils only have jurisdiction within the boundaries of a given reserve.
"The federal government's role in the current crisis is crucial — maintaining dialogue around larger issues affecting Canada's Indigenous Peoples and the reconciliation agenda," said Scarpaleggia.