I'm patiently waiting… Actually, I'm trying to be patient. Tap, tap, tapping my shoe on the ground. To be honest, I'm impatiently waiting. I've been waiting many months for the city to plant a new tree on my front lawn. Last summer, a city tree on my front lawn was diseased. The Emerald Ash Borer invaded our tree and it was no longer healthy. So, the city took the tree down and left a hole. Of course, the loss upset all the surrounding spaces.
Mostly a special space in my life, as I looked and loved this tree daily.
Almost a year later, I was impatiently waiting for the next tree to be planted. The fall and winter passed. It was spring, the best time of year to plant everything! April and May came and went. WHERE IS MY NEW TREE???
I had selected a Japanese Lilac Ivory Silk tree. A perfectly beautiful tree to be planted among my specific annuals and glorious perennials.
Suddenly, my waiting and wanting was irrelevant.
The month of June presented itself with a tragic loss to our family. Our kind and loving Patriarch had passed away. A new sadness blanketed our space.
Our loss was a much deeper hole than the current empty hole in our front lawn.
Although seemingly paralleled in a unique universal kind of way…
On the same day our Patriarch was buried, our new Ivory Silk tree was planted. Both entered the earth in a peaceful way. One at the end of a life time and the other at the beginning.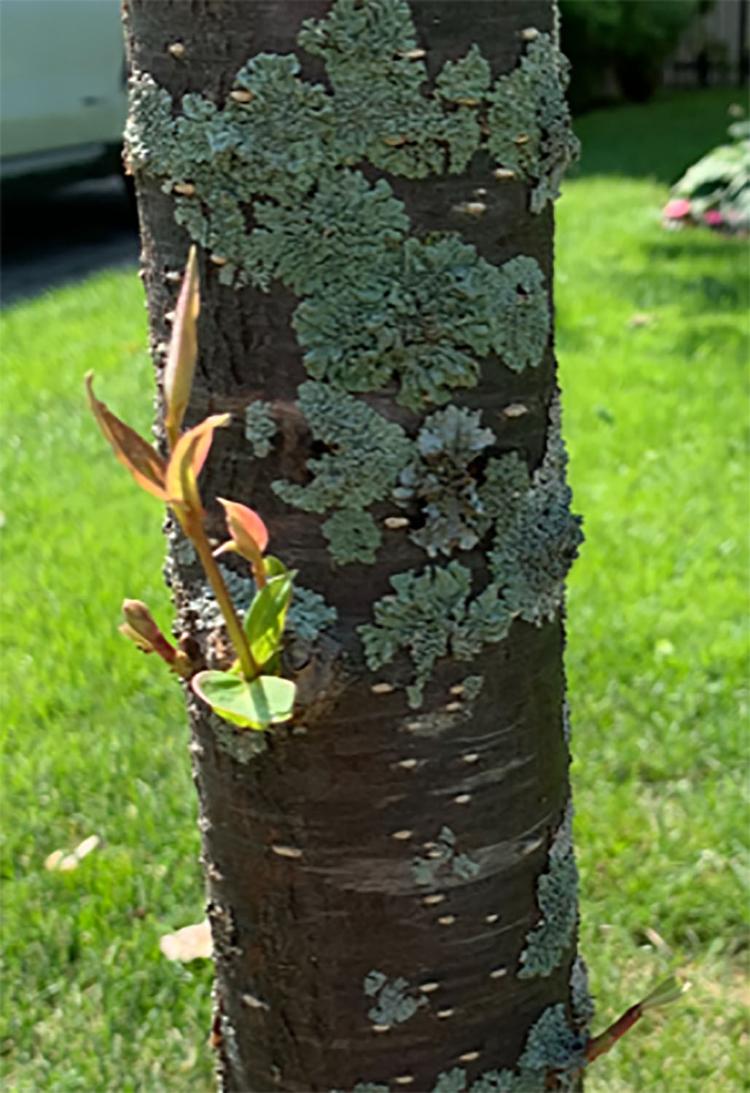 On that day, our family had his monument placed in the front of our home.
We named the new tree Bobby.
The empty space was filled, but it had a whole new meaning. It was a precious young tree which held so many family memories and love.
As the new tree adapted to its environment, it needed some TLC. I also noticed that the tree had growth only on one side. This tree must have been leaning against something all winter to cause this to happen, or it was in a windy zone.
I visited the tree every day. I watered it and spoke to it. I even touched its bark. I would say, "Hi Bobby. How are you today? Are to adjusting to your new home? Do you love it here? We love you. You are family."
Some people might find this strange to talk to a tree… I don't. I find it therapeutic.
A month passed and there was no new growth on the tree. I worried. I kept on doing the same things: watering, talking and touching the tree.
I was also able to mourn my loss when engaging with the new tree. In my mind, this is where the soul was. Bobby the tree housed his soul, for now.
Mid-July set in with surrendering heat. More water please! Much more water, please!
Each day I looked for a hint of new growth…Nothing.
"Come on, you can do it! BREAK THROUGH THE BARK!"
All I needed was one new leaf or a little break in the bark to show some potential.
Still nothing.
Once again, I found myself impatient. Tap, tap, tapping my shoe on the ground. This time it was more like the scene from the movie, Legally Blonde. "Don't stomp your little last season Prada shoes at me honey." https://www.youtube.com/watch?v=4VRZRQGpkW0
Will this new soul infused tree make it? Will our family's monument take hold and be our everlasting love? Was the purpose in waiting for this specific tree, planted on this specific day be a divine sign? If so, SHOW ME A SIGN!!!
On a warm summer morning, I was walking my adorable dog. So early, I was vertically sleeping, only noticing the dew on the ground.
Just then the morning light hit the tree at an angle and there it was. A sign of life! Rejuvenation! The roots have taken hold, it was feeding off our land, it rebirthed.
A leaf had broken through the bark. I was quickly woken to find many spots along the branches with new growth. The soul infused tree was one with our world now.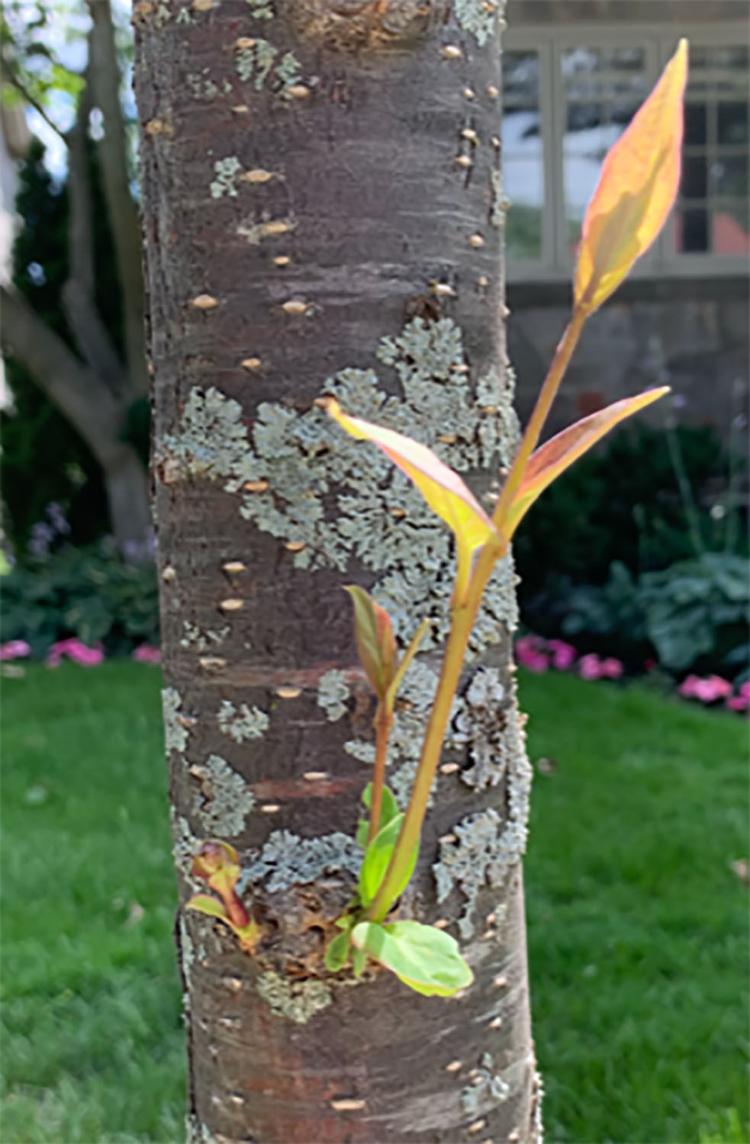 Hope was found. The once empty space was now filled with potential.
Each day I look for more growth. It's slow, but it's there.
Ya know, it's not easy to break through a hard outer shell to find a new growing spirit. This somewhat resembles people who have hard outer shells, but are soft and kind in the inside. It takes a lot of love, perseverance and determination to find the true interiors of hard shelled people or trees.
In light of this new lovely tree, we are blessed. The long wait was worth the moment of having this unique, gifted, growing beautiful tree. I will call this moment, One of Life's Little Happies.
It's in the simplest of forms, where you will find happiness.
For sure, it can be found in grand gestures too. But…
Most often, when you don't expect it, that's where it is.
Written in beloved memory of Robert "Bobby" Harold Litwin
— Suzanne Reisler Litwin