While in the canoe, I asked the Whippet Eating Wise Woman, "How do you maintain happiness, especially now with so many restrictions and limitations in the world? What is your secret to being happy?"
Her answer was crystal clear, "Passions my dear! You must find passion in life. I have so many passions or rather I'm passionate about so many things. My list is long. Just to name a few, I am passionate about: art, museums, flowers – oh how I love flowers, walking, my family, ballet, opera, theatre, golf, playing cards, the beach, and especially canoeing. There are so many things I love to do. Not just love, but passionate about."
Noonie (My Mother, also the Whippet Eating Wise Woman) added more, "I see beauty everywhere. If I go for a walk, I look for the beauty in the environment. I take photos of the beautiful things I find. So far, this year I see many more beautiful snails than butterflies. I see beauty in the day, even when it's raining. Rain makes a sound which is tranquilizing and restful. There's beauty everywhere. You need to take the time to look for it. Taking a walk is not only about exercise, it's a quest to find beauty."
I completely understand her last statement. This is why no one wants to go biking with me. I like to go on long bike rides. However, the constant pedaling bores me. So I become more interested in the environment which is a very dangerous thing to do, because you need to remain focused on the road. Here's the other reason no one likes to bike ride with me, I like to stop to see interesting things and take photos. One time I was on a bike ride in Maine, I was riding by a lily pod pond. It was huge and I heard loud croaking. It was so loud I had to stop and see it. Sure enough it was a huge pond filled with huge frogs, dragon flies and lily pods flowers of every violet colour. I had to take photos and record the sounds.
That was the last time anyone wanted to ride with me in Maine. I don't understand why nobody wants to stop and listen to frogs croaking? So I ride alone and appreciate the surroundings without being a pest to anyone.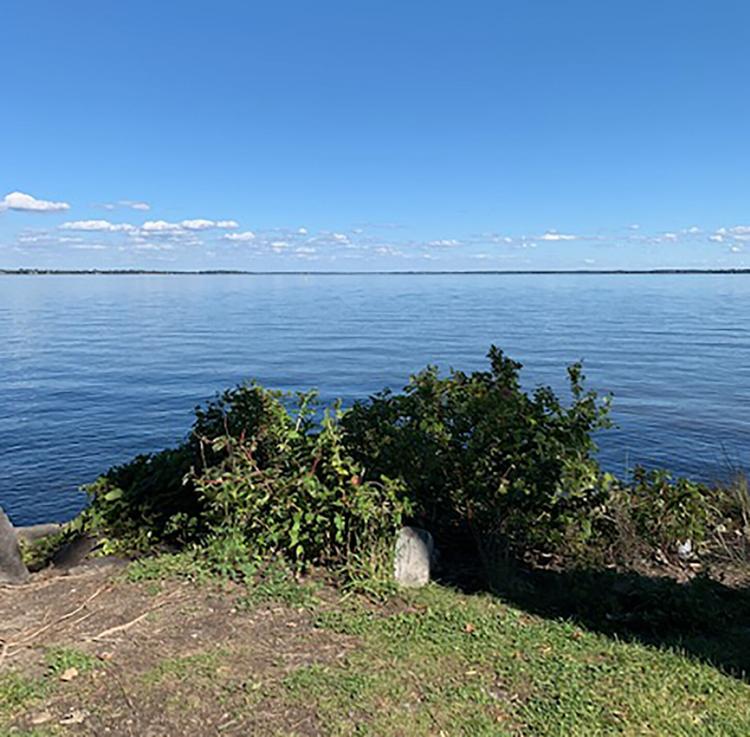 Getting back to the canoe…
The Whippet Eating Wise Woman suggested that everyone needs to have a passion. She said, "You are never lonely if you have real passions. You will always have something to do if you are passionate about something."
As we were having this conversation we paddled near the shore to dock the canoe and eat our afternoon snacks of watermelon and cherries. Next to us was a man who was fishing. He had a very long fishing rod. Actually, he made a running cast that dropped his line so far off the shore. I gave him a 10/10 for his casting. It was quite impressive. While eating our snacks we watched him fish.
As a passionate fisherman, he sat waiting for his catch. Always pulling slightly on the line to create some interest. He sat patiently with his rod firmly in the ground, until the top sharply bent towards the water.
"OH YA!" he screamed. We watched him slowly pull in, pull back, pull in, pull back his catch. He kept on saying, "It's a big one!" We were excited to see what he caught. Under her breath Noonie said, "I feel bad for the fish."
A battle royal ensued as the bass fish was brought it. It was big. The fisherman was proud of his catch. He took the fish off the hook and asked me to take a picture of him with his catch of the day. I did.
Then he did a surprising thing. He kissed the fish, walked to the water and put it back in.
We were shocked. I asked, "I thought you were going to eat it."
He said, "I don't like the taste of fish. I just love to catch fish. I love it with all my body and soul. If you want, I will give you the next fish I catch."
We thanked him for the offer, but declined. While we were docked, he caught another fish, this time a sturgeon fish. We got a lesson on fishing and fish!
What we also witnessed was a passionate fisherman. This inspired our conversation further.
So the theory is, if you are passionate about something you will find happiness in it. Happiness will happen when engaging in your passion.
The objective is to find a passion in something and/or be passionate about something.
Noonie asked me what I'm passionate about. At that point, I realized my list was long too. In no particular order, I'm passionate about: My family, writing, gardening, skiing, walking, running, baking, canoeing, teaching, ballet, opera, and theatre, flowers, and my pets. And… Elvis Presley! Oh, don't get me started. I think I will devote another article, or series, about that surreal passion.
Then Noonie asked me, "When you're not feeling happy, what do you do?" I said I write or run, garden or ski, and play Elvis music. Running and listening to Elvis is a guarantee lift! Truthfully, I become happier from doing any of my passions. Talking about happiness helps too, as we were doing in the canoe.
My questions for my beautiful readers are what are your passions? Do they make you so happy? Share with us your passions and your happiness.
I just thought of a few more passions: Eating ice cream, chocolates, and candy, in no particular order, but all at once would be AMAZING!
A Hunka Hunka, Lot of Passion!
— Suzanne Reisler Litwin