LOVE, LOVE ME DO… YOU KNOW I LOVE YOU!... I'll always be true to JDRF... So, please... LOVE ME DO!
It's Spring and you know what that means? It's time to launch the annual…..
2021 JDRF WALK TO CURE DIABETES CAMPAIGN!!!
WOOOO, HOOOO!
How exciting is this news? It's thrilling for me. We get to send emails, mail letters, and passionately pester people everywhere for the next two months!!! It's crazy fun!!
Please help the Juvenile Diabetes Research Foundation raise funds to support research in curing Type One Diabetes.
It's seriously a lot of fun. Especially, when the donations start to appear. It feels like happy little gifts for us. This year, I really look forward to getting our campaign out into the world and into the hands of my amazingly generous sponsors.
But I will be honest…
I wasn't feeling so sexy last year at this time. I was in the middle of stuffing my sponsors' envelopes when I got an email from JDRF Head Office. STOP THE PRESSES… Do not send any materials; our Walk event has been cancelled! Stay tuned for more information about the new online event. My stomach sunk. An online event??? Ugh… NOOOOOOO! I want to WALK and have FUN… YUCK. CRAP. SH*T!
I just stared into space. Numb. I looked at my table filled with beautiful sponsor letters, happy stickers, info sheets, colourful envelopes, labels, and lovely gifts. Not this year. Not now. I stomped, left the room and pouted for about a week. Then I packed up all the hopeful materials and stored them in a bin. The bin went into a storage room. I slammed the door closed and screamed, F***********KKKK!
Now what was I going to do?
JDRF Head office told us to do everything online, which was a new learning curve. I resisted for a very long time, still pouting. I don't want to do anything online. I want to WALK! I want to have fun with my team and community…
A week later, darling Jessica Carter from JDRF suggested I send out a few emails. "No harm in doing that." She said. I guess, so I sent some.
I sent out around 10 fun emails. They were received well, donations were coming in and it slowly started to feel good again. And…I was really surprised to reach so many more people through social media. Considering, it really wasn't so bad. Actually, in time it went quite well. Along with my other incredible team member Gayle Fransham, we raised over $40,000!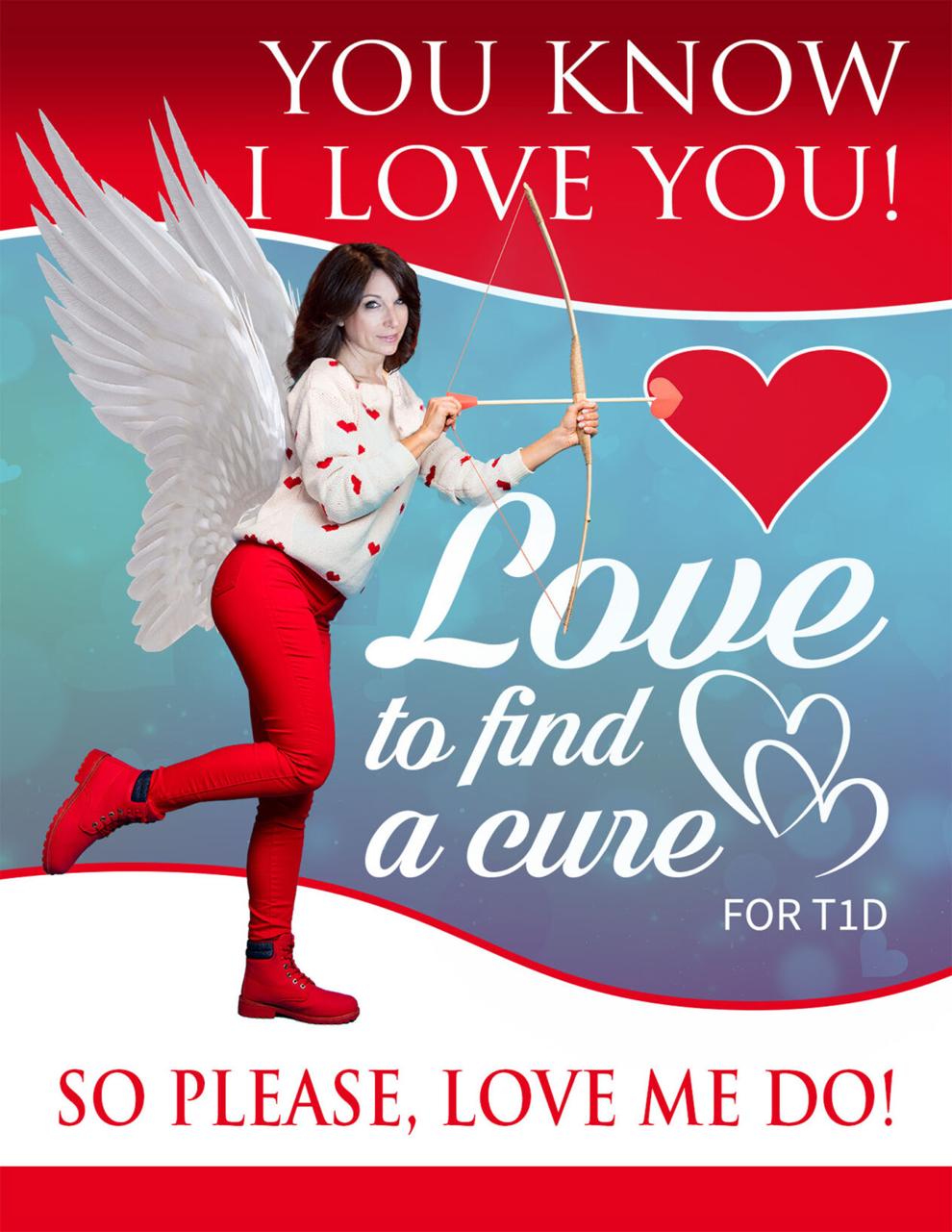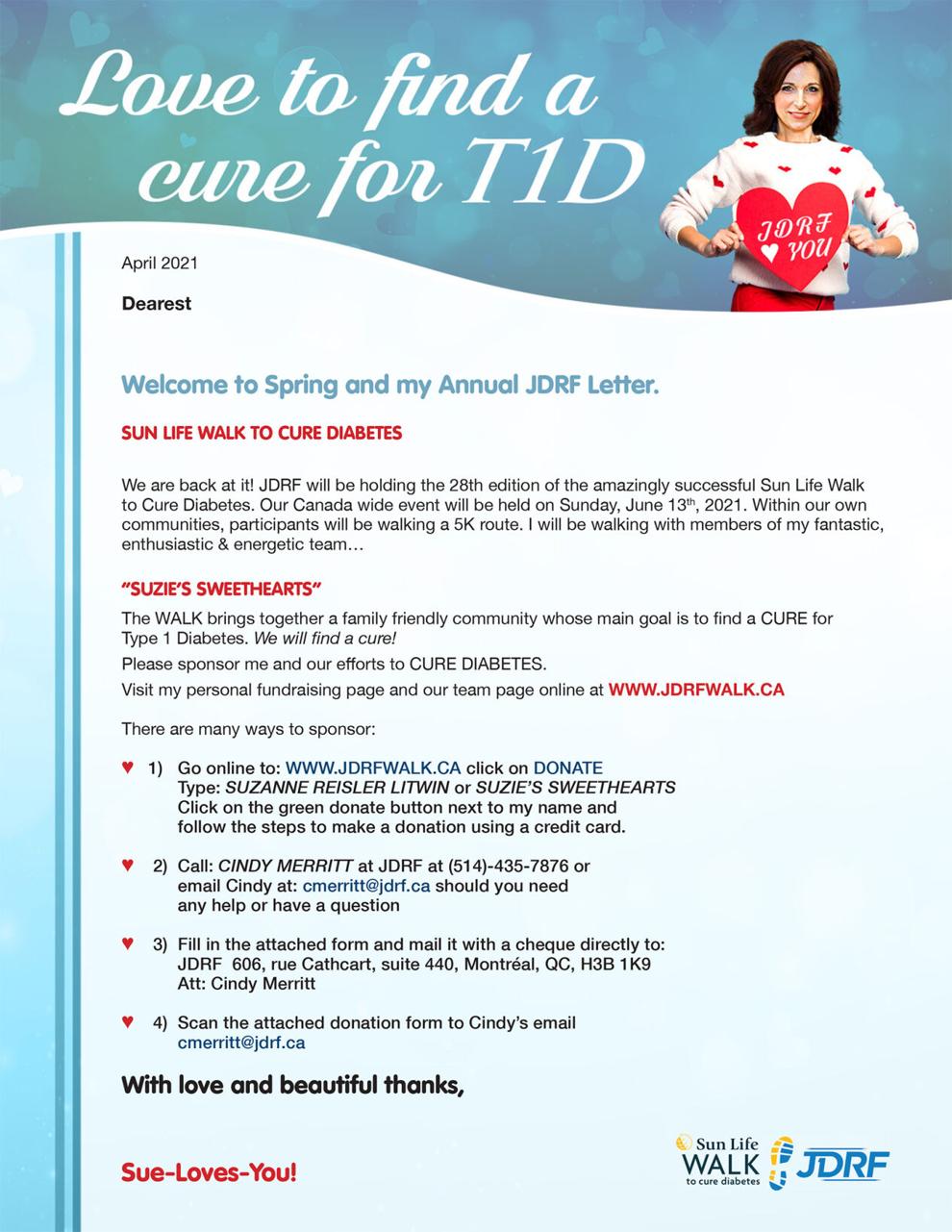 BUT…. I WAS STILL GOING TO WALK!!!!
On the morning of June 14, 2020, I walked with members of my Team Suzie's Sweethearts. It was a glorious sunny morning. We walked 5 kilometers around the neighbourhood. It was a great walk and it felt even better than we anticipated.
Although, we did not hit up Dic Ann's for lunch after, we did experience the joy of walking together as a community to help cure diabetes.
This year we will be doing the same. Members of Team Suzie's Sweethearts will walk 5 kilometers around the neighbourhood. We will be doing this on Sunday, June 13th in the morning, rain or shine. We walk in all kinds of weather. This will be our 28th WALK TO CURE DIABETES event. Dic Ann's is definitely on the agenda for lunch this year!
This year's slogan is, "Love to Find a Cure". It's set to the tune of the Beatles song,
Love Me Do
Love, love me do
You know I love you
I'll always be true to JDRF
So please, love me do
Help us spread the JDRF love. Please consider donating to our LOVE TO FIND A CURE campaign. If you are interested, please click on the link below to make a sweetheart donation:
This is going to be the best JDRF Walk Campaign ever. You can never go wrong with LOVE.
As in one of my favourtie books, Tuesdays with Morrie by Mitch Albom – Morrie states, "Love wins, love always wins".
I'll put my money down on LOVE. I hope you will too.
Enjoy The Beatles! Love Me Do
— Suzanne Reisler Litwin