Over a dozen PJ Library Kindness Boards were created in April in honour of Good Deeds Day 2021! Through the project, and thanks to a collaboration involving nearly 20 organizations, over 350 children of all abilities and backgrounds aged two to nine years from daycares and schools across Montreal created beautiful Kindness Boards for residents of assisted-living homes, senior homes, and organizations around Montreal that support persons living with disabilities and their families, as well as other vulnerable members of the community. These boards helped brighten the day of over 3,175 individuals who are isolated in these challenging times through messages of kindness, love and compassion.
Organizations involved in creating Kindness Boards were: CPE Maïmonide CSL, Garderie Imagination West, CPE Maïmonide VSL, Childcare Centre of Hebrew Foundation, K.I.D.S. Daycare Westmount, Garderie K.I.D.S. Fielding, Garderie OrSheli & OlamSheli and Summit School. Organizations that received Kindness Boards were: Auberge Shalom pour femmes, Benjamin & Vanda Treiser Maison Shalom, Caldwell Senior Residences, Donald Berman Maimonides Geriatric Centre & Jewish Eldercare, Friendship Circle of Montreal, JEM Workshop Inc, Miriam Home & Services, Promo 21 and Zera Café.
Stated Chelsea Sculnick, Director of the Childcare Center of Hebrew Foundation: "We are so happy to have been able to participate in this incredible initiative. Our children felt very proud knowing they were doing a great mitzvah of spreading kindness and joy through their art work. Thank you for including us!"
Added Nicole Acoca , Director of CPE Maimonide St. Laurent: "The children were so excited to be able to make a rainbow with their hand prints. This bright board should bring some smiles!"
Stu Guttman from Summit School said: "It was wonderful participating in this program - the students were honoured to have been selected to help share such a powerful message with the community."
PJ (short for pajamas) Library program is designed to help families explore core values of Judaism and pass them on to their children. PJ Library is a program of the Harold Grinspoon Foundation in the United States, made possible in Montreal through a partnership with Federation CJA and generous donors. For more information about the PJ Library program, contact Judy Kremer (Director, PJ Library and GenMTL Young Adult Engagement) at judy.kremer@federationcja.org.
To learn more about Federation CJA's inclusion initiative, contact Carly Goodman (Manager, Community Inclusion) at carly.goodman@federationcja.org.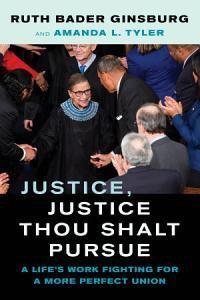 RUTH BADER GINSBURG: I recently finished reading the fascinating book Justice, Justice Thou Shalt Pursue: A Life's Work Fighting For A More Perfect Union. It is all about the legendary Ruth Bader Ginsburg, who along with her co-author Amanda L. Tyler, submitted the manuscript three weeks before she died last fall.
Ginsburg was a prominent Jewish American lawyer and jurist who served as an associate justice of the Supreme Court of the United States from 1993 until her death. I saw the motion picture based on her life, so getting the book was a no brainer.
The book includes a conversation in which Bader Ginsburg tells her life story in her own words, transcribed from a 2019 on-stage conversation with Tyler when Ginsburg gave the first annual Herma Hill Kay Memorial Lecture.
There are Ginsburg's favorite opinions she wrote while on the Supreme Court, many in dissent as well as bench statements she read when cases were handed down, some of her final speeches (including a gorgeous one in which she talks about her own family's immigration story, the American dream, and her hopes for the future) and an outline of her strategy in litigating to dismantle gender discrimination in the 1970s. The book includes the very first brief she filed in a gender discrimination case, which has never been published before.
"Ruth Bader Ginsburg was a feminist icon, a legal titan, and an inspiration to so many, including me," commented Hillary Rodham Clinton. "Her final work gives readers a glimpse at the person behind the accomplishments and shines a light on her life and legacy as she saw it, from her earliest efforts to dismantle gender discrimination to her unwavering commitment as Supreme Court Justice to fight for equality and a Constitution that leaves no one behind. Justice, Justice Thou Shalt Pursue is a gift to readers and a stirring call to continue the fights she waged."
Tyler is the Shannon Cecil Turn Professor of Law at the University of California, Berkeley School of Law, where she teaches and writes about the Supreme Court, the federal courts, and constitutional law. Professor Tyler has taught at several law schools and served as a Visiting Senior Fellow in the Law Department of the London School of Economics. She holds a degree in Public Policy, with honors and distinction, from Stanford University, and a J.D., magna cum laude, from Harvard Law School.
"I think back in particular to the events at the heart of this book," said Tyler. "When I telephoned 'the Justice' to invite her to deliver the first Herma Hill Kay Memorial Lecture in her friend's honor, she instantly accepted and suggested that we make it a conversation between the two of us. As originally scheduled, we would have held the event in January 2019. But in light of the Justice's December 2018 surgery to address lung cancer her doctors had discovered, we had to postpone. I recall trying to talk her into canceling the event well before we actually did. She was so committed to honoring her friend that she resisted. When, under the advice of her doctors, she finally relented, she insisted that we immediately set a new date. When that date arrived nine months later, she made the trip despite not being back at full speed. During her visit, I witnessed first-hand the Justice's awe-inspiring resilience. Nothing—not even cancer—was going to keep her from honoring her dear friend. That is who Justice Ruth Bader Ginsburg was."
On writing and editing with Justice Ginsburg she stated:"Over the spring and summer of this year, as Justice Ginsburg and I assembled this book, I had the special privilege of working closely with her one last time. She was excited about this project as well as the forthcoming publication of her dear friend Herma Hill Kay's important work chronicling the lives of the first women law professors in the United States. As we exchanged drafts of various parts of this book, the Justice was every bit as rigorous an editor as she had been 20 years ago when I clerked for her. Right up until the end, she was still teaching me about the craft of writing, how important precision is, and to never use four words when three will do."
BLUE METROPOLIS: The spring programming of the 23rd Blue Metropolis International Literary Festival continues, with events are added daily for this online presentation at bluemetropolis.org/2021festival.
Some Jewish authors are on the agenda. The popular Jerusalem of the Mind roundtable will again break with engrained divisions of the Middle East to bring together Palestinian and Israeli writers. "Now in its fourth year, this April's event features authors Ayelet Gundar-Goshen, Ayelet Waldman and Ala Hlehel and journalist Amjad Iraqi, with host Joseph Rosen, in a must-see highly challenging and stimulating discussion. In past years, this event drew a packed house. This year, since it's online, there won't be a seating problem!" said program curator Shelley Pomerance (who is also hosting a number of events). That is on Sun. May 2 at 1 pm.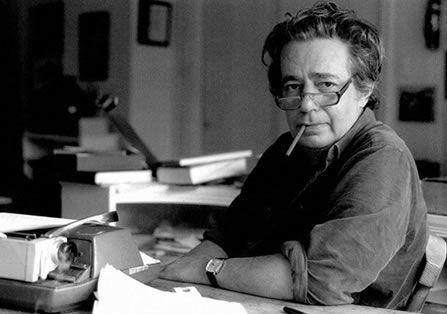 A Literary walking tour of the Yiddish Circuit sounds like fun. While Mordecai Richler and Leonard Cohen are household names in Montreal and beyond, there's an earlier generation of acclaimed Yiddish writers who lived in this city: Rochl Korn, Ida Maze, J.I. Segal, Yaacov Zipper, Chava Rosenfarb and others. Join translator-editor Goldie Morgentaler and writers Norman Ravvin and Sherry Simon, with host Shelley Pomerance, as they take you on a virtual visit of Montreal's Yiddish literary past on Thursday, May 20 at 9 am.
Ingrid Bejerman, curator of Azul, the festival's Spanish and Portuguese-language programming, is also hosting a number of events .
Do you have an item for SJN? Email mcohen@thesuburban.com