Montreal businessman and philanthropist Mitch Garber took the opportunity on Canada Day to talk a little bit about why he agreed to co-chair the special two year Combined Jewish Appeal Community Recovery and Resilience Campaign with Jonathan Wener.
"In 2016 I raised $55 million for Montreal's most vulnerable, which represent more than 25 percent of our population," Garber stated. "Today I am co-chairing a two year, $100 million campaign in support of Montreal's most vulnerable in the Jewish community, which also number around 25 percent, despite stereotypes and perception."
Garber noted that he and his wife Anne-Marie Boucher had every type of privilege, some that they worked hard to earn and some that come for all the wrong reasons, and one that comes by pure fluke; being born in Canada. "Today, we are in fact privileged to spend close to half of our time on philanthropy in order simply to acknowledge our good fortune and to inspire others to recognize theirs," he said. "If that sounds self-serving, it's fine. We need to communicate about philanthropy in the same way we show vacation pictures, or carry expensive branded possessions. All of our Instagram pictures and public branding,show our best looking selves, and I include myself in all of these behaviours. Making the world more fair and making other's lives more livable is showing our actual best selves."
Garber continued: "I mention the large sums I am raising, because, in raising that money, I've learned more about people than about anything else. I've learned what makes people uncomfortable what makes people feel great, and I've learned things about people I love, that I wish I could unlearn. And I've learned that asking people for money is not something I like to do or want to do and in fact I have never, or almost never told someone what amount of money I believe they should give. Instead,  I've developed a philosophy which requires no explanation and can give every person and especially every person of means, a benchmark for their own look in the mirror, and the basis for their own introspection."
ABRACADABRA: The fabulous Abracadabra Virtual Magic show, performed by "Monsieur Magic" (aka Jonathan Levey), will entertain families who registered with the Ometz Immigration Department, on  July 30 (4 pm).
To find out more about the services and support that Ometz offers to newly arrived immigrants, please click on this link.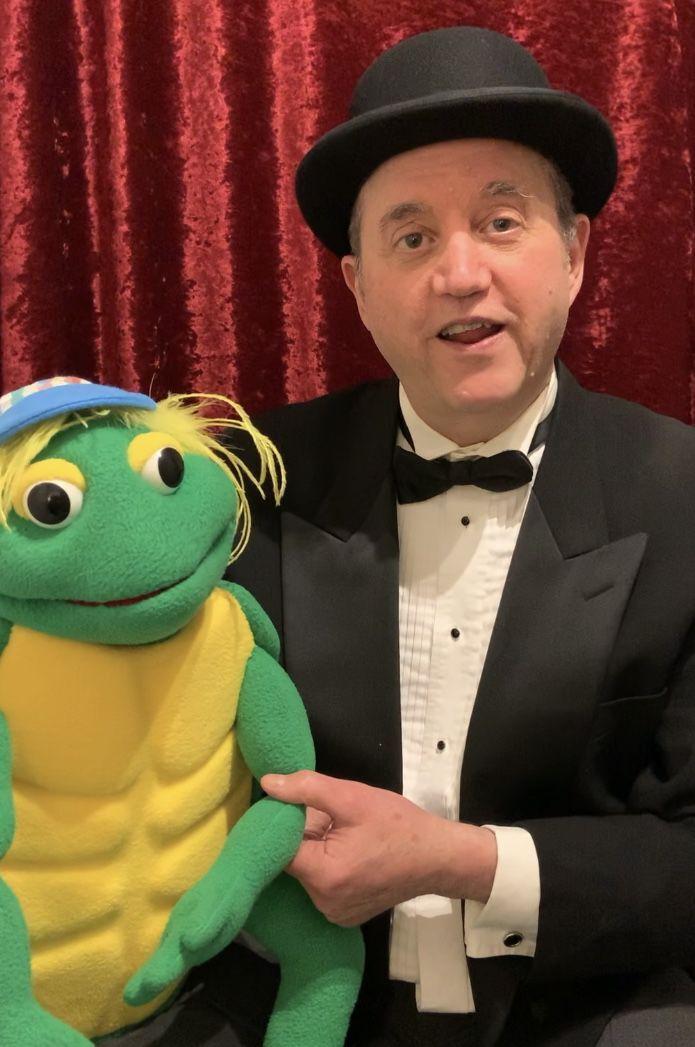 This Abracadabra Virtual Magic show remains one of the best kept secrets in town. Follow its story on Facebook.
If you want to see more videos showing kids having fun with this show  just go here.
To help adults celebrate an anniversary, or birthday of their own, or simply to take a refreshing "fun-break" from their remote stay-at-home job, Virtual Magic shows by  Levey's other alter-ego, Max the Magician, are also  available and include tricks with: cards, rings, rope and other sleight-of-hand tricks, as well as interactive Mind-Reading demonstrations. For more info visit: www.MaxMagician.com
CHABAD LIFELINE: In the last Chabad Lifeline newsletter, Karen Schwartz wrote a fascinating article about Amber, a young Canadian mother who has spent much of her life dealing with the wreckage caused by alcohol and drugs. After residing in an in-patient rehabilitation center during the first part of 2019, she was connected with Chabad Lifeline,a Montreal-based center that provides services to people in recovery from addictions of every kind. She started going to meetings and participating in drug and alcohol testing with the help of the organization, expressing her gratitude to Chabad Lifeline for giving her a source of structure as she heals and works to get her children back.
When the coronavirus pandemic hit, Amber was confident that Chabad would still be there to support her in her efforts, even if there wasn't a physical meeting space they could access to be together. "I wasn't worried they were going to vanish because you just know that they care too much about people's well-being; we knew they would find some way," she said.
And so, it went from phone calls the first week to check in to meetings on Zoom, where her regular meetings are now available to her. "The great thing about Chabad Lifeline," she says, "is they really keep tabs on you. They make you become accountable."
Chabad centers around the world—particularly those that primarily serve the most vulnerable populations—have had to adapt to serve their communities during the coronavirus pandemic, and Chabad Lifeline, which is located on the grounds of  the Jewish General Hospital in Montreal, has been an exemplar of such proactive flexibility.The center has pivoted from working with clients in-house—they've worked out of a 100-year-old home in collaboration with the hospital for about a decade now—to using the phone and online resources such as Zoom to make sure that people can continue being connected and uplifted during these times of social distancing. Thanks to a recent decision to go paperless, the center was able to operate without missing a beat. Instead of interruption, Chabad Lifeline has become even busier in a sense, said Rabbi Benyamin Bresinger, director of Chabad Lifeline, as people who wouldn't normally make it to physical meetings attend via Zoom, Skype or by phone.
The rabbi and his wife, Karen, who serves as Chabad Lifeline's clinical director and family counselor, have offered a slew of services to the community since 2010, from drug awareness and prevention programs in area high schools to meetings and outreach for adults. Now, they're reaching their current client base and also reaching out proactively to past clients who might need additional support.
"It's extraordinary times now," he said, adding that reconnecting with past clients has been a way to remind them that they're not alone. "With addiction, the window of someone who's going to come in for help or accept help is very short. Today, it seems like the window of windows because people are at home; they're having to face the reality of the chaos they're bringing to their families. Now everyone's there, so there's that window where people are really ripe for help, coming for help."
Chabad Lifeline transitioned its files online with the help of philanthropist Mike Flinker, who learned about the organization when his daughter was volunteering at the facility. A successful businessman who sold his company in March 2016, he met with the rabbi at his daughter's urging, and six months later, they had a system up and running to manage intake and records. Though it had previously been cost prohibitive, with Flinker's support and help from a nearby professor at McGill University, therapists now have access to all of the information they need to connect with clients remotely. The project was completed about a year ago, and its timing couldn't have been better, noted Flinker.
"By digitizing the whole process, the [clients] never lost contact with the therapist during this crisis," he said. "And they've been able to see more patients than ever as a result of their efficiencies. It's one of the best projects I've ever done." Flinker, who was originally motivated by the idea of improving efficiencies to better connect therapists and clients, as well as reducing paper files to give clients more anonymity, said he and wife, Dr. Marcia Gillman, never imagined a scenario like COVID-19, but that they are relieved that the center has the software in place.
"They've got access to all of the files. All of the files are online now, and they've got all the information on the clients, and they can remain in contact with them," he said. "They've done some tremendous work, and continue to do some tremendous work as a result of having a system in place."
Bresinger, co-director of Chabad Lifeline, says he is busier than ever, as people who wouldn't normally make it to physical meetings attend via Zoom, Skype or by phone.
Amber, who is attending Chabad's Zoom meetings at noon on Tuesdays with an option to attend on Thursdays as well, said she likes being in a space that's so comfortable and relatable. Chabad keeps the room open after the meeting so people who joined can chat.She said she's heard experts explaining what a trying time it is for people who suffer from addiction because there aren't meetings they can just choose to attend; instead, they're stuck at home, have access to alcohol and can start drinking earlier, she said. "With Chabad, you can just contact them; they guide you where to go, what meetings to go to. Sometimes, you just need that simple reminder and someone to talk to, and it's always available."
Though she acknowledged that she's not "so tech-savvy," staying sober is important enough that she's willing to go online to help maintain it, she said. Having a recovery program supporting her at home is meaningful, adding "it's not just about waking up and staying sober; you have to do the work," she said. Even after the pandemic eventually passes, she said, she wouldn't be surprised to see the online element of support continue. "I am sure a lot of people are enjoying Zoom more. It's easier, transportation is easier—I'm sure they're going to stick around."
Thank again to Karen Schwartz, who is responsible for the content of this section.
MADA CLOTHING DRIVE:  Chaim Cohen and Yosef Drihem from MADA Community Services sent out a letter last week thanking the community for its constant support. "Since the start of the COVID-19 pandemic, we have doubled down on our efforts to ensure that our community gets the help they need and we could not have done it without your support," they stated.
In these uncertain times, MADA has stepped up to provide the  community with essential goods and services through its existing programs, namely the cafeteria, food bank, and Shabbat to Share, as well as through our new program, Meals à Partager, which provides vulnerable people with seven days of ready meals each week. This program was introduced in mid-April, and since then, has provided over 150,000 meals and counting.
"Even though places are starting to open up again, the crisis is still here and the MADA clients still need your help," they continued. "While we are providing all of these services, we still see the continued and evolving need for more."
A couple weeks ago MADA hosted a clothing giveaway and gave away over $200,000 worth of brand new donated items including clothing, footwear, household items, and children's toys to almost 900 members of the community. Appointment times filled up so quickly and they were overwhelmed with need. They will therefore be hosting another one this week.