As a huge fan of the Netflix hit show Fauda, I was very excited last week to access a special Zoom broadcast featuring Alaa Daka. He played the key role of Bashar in the third season, which is still streaming.
Fauda depicts the two-sided story of the Israeli-Palestinian conflict. Lior Raz is the lead in the role of Doron, a commander of an undercover Israeli unit operating inside Palestinian territories. In season three Doron gets inside a West Bank village posing as a boxing instructor in order to get close to Bashar's terrorist cousin. We watch as Bashar goes from an innocent young man to a terrorist.
The broadcast was organized by Hillel Montreal, the Slifka Center and the Union of Jewish Students of the United Kingdom and Ireland. Daka shared his story and talked about his experience in the new season. It was presented in collaboration with the Jewish Agency Israel Fellows of Montreal, Yale University and the UK. A big thanks to Ben Ravid, the Israel Fellow at Federation CJA- Gen MTL and Hillel Montreal for providing me access.
There were 158 people from Montreal on the call (265 in all).
Daka, an Israeli Arab, said his first attempt to make a name for himself on stage was a singer. In 2016 he graduated from The Goodman Acting School of the Negev  and got work in theatre in Beer Sheva, where he grew up. He appeared in a number of TV shows and movies.
What was it like for him to get this huge role? "It was January 2019 and I was sitting in a room. I was in a restaurant eating breakfast," he said. "It was a very happy day. I saw the opportunity and the role when I got the script. In every moment of the season,  Bashar wants things to go back to normal until the last two episodes when he's losing it. And that's it. He doesn't want it to go back. He wants it to go all the way down."
On the relationship between the characters of Doron and Bashar, he said: "They're both locked in situations that they both can't get out of. Both of their lives are ruined and they're trying to find a way together out of it."
Daka said that playing such a role was difficult. "I take a lot of feelings back home," he noted. "I started taking therapy when we started shooting. You know, I needed to talk to somebody."
Asked how he speaks such good English, Daka shared that he fell in love with an American when he visited the United States in 2009. "We had a long distance relationship for a year and she didn't know any language but English, so I had to learn."
Yes, he is being recognized wherever he goes in Israel now. "Since it came out things changed for me dramatically," he said. "People know me in the streets. It's been insane."
GARBER TALKS ECONOMICS: The State of Israel Bonds New Leadership Committee presented a fascinating webinar last Wednesday via Zoom with business and philanthropist Mitch Garber as the special guest speaker. Garber is the chairman of the Cirque du Soleil and the chairman of the 2020 Combined Jewish Appeal campaign. His topic was Entrepreneurship in this time of Covid: Navigating the New Reality. Izzie Steckler and Matthew Azrieli are the chairs of the committee. Gilda Abdulezer, executive director for Montreal & Quebec Region, explained that an Israel bond is a loan you can make to the State of Israel. Once you make the loan, the State of Israel issues a bond to you. Israel uses the loaned money to help strengthen almost every part of its modern, innovative and diverse economy. In return for the loan, the State of Israel agrees to pay interest to you, the bondholder, and repay the loan at the end of its term.
Garber confessed that he did not know anything about Israel Bonds until he was invited to speak at a Young Leadership event in 2018. "Why does any Jew not own some?" Garber asked himself. "If you have cash in the bank it is earning zero interest. If you buy an Israel Bond you will get a return and support the State of Israel. I bought $1 million (of bonds) after that event. To me it is a no brainer."
Garber spoke about how this pandemic is affecting every aspect of our lives. "I think we will feel the impact of this for a long time," he said. "And it will have quite an impact on the Jewish community. A lot of our community is in retail and real estate."
What is the future for business? "If there is no vaccine for a year to a year and a half, you can only imagine the lack of business travel and tourism," he said. "It is going to be horrible."
Regarding entrepreneurs, the key he said will be "invention and reinvention."
TAPPING THE EXPERTISE OF OLDER ADULTS: In July 2019, Esther Hershcovich was living abroad and looking for a way to keep her parents, Montrealers in their 70s and 80s, active and to create something that could be a meaningful way for them to spend their extra time, and bring in supplemental income at the same time. She wondered about the gig marketplace and the flexibility it offered, and tried to think of ways to give the 60-plus community an opportunity to tap into it. In her research, she noticed one immediate commonality: most were targeted towards millennials or those currently in the workforce. Meanwhile, retirees with an entire career's worth of wisdom to dispense were seeking ways to remain productive but felt excluded from existing online platforms or subtly discriminated against based on their age.
Spotting an opportunity to connect the two demographics and solve a problem, Esther started building a platform that would connect retirees and their community, with the goal of bridging the generation gap, the only rule: those offering classes would need to be more than 60 years old upon registration. The idea was that any given user can set a radius, and find sāges in their community who they can meet up with to learn a new skill. When she was put into quarantine a month ago, she realized her platform would have to be put on hold because of social distancing, unless she could change it. Esther saw she had a product that can help so many older adults who were temporarily homebound and immediately took the platform online. The marketplace is seeing "sāges" — those teaching the classes — sign up since its launch this month. They have sāges from Canada, US, Australia, New Zealand, Ireland, Israel and elsewhere.
New lessons are being added daily including hobbies sketching and illustrations, health classes taught by a chiropractor and a midwife, and business-oriented activities like public speaking, public relations, and perfecting excel skills. The only qualification for sāges, besides being more than 60 years old, is that they speak English — registration is currently open on a worldwide basis.
The lessons are currently delivered entirely online through video chats and sāges are provided with detailed guidelines to help them deliver classes in the most effective way possible and walked through the process until they feel ready to deliver — and the sāge team is on hand to help them work through any technical challenges they might face in getting set up for teaching. Although Hershcovich has been planning the venture for six months, she says that the online-friendly format will also provide a creative and professional outlet for those currently undergoing quarantine during the coronavirus pandemic.
At this point sāges are volunteering for one to two hours a week to teach their skill through "20 minute coffee break classes" to eager participants. This allows the platform to collect reviews and bring a stronger product to the market in another month or two, with fixed rates set by the sāges for their class. Hershcovich says that the platform, which is based in Tel Aviv, aims to partner those providing an array of services spanning both professional and personal topics with learners.
Hershcovich made Aliya in 2013. She is glad to see five Montrealers have signed up for thhe program , two from Toronto and one from BC.
"Montreal is such a big part of my story!" she said. "I built this platform for my parents, and until two months ago, we were set to launch with a pilot for expats in Israel with the plan to eventually bring it to Canada. COVID-19 had other plans, and within I had pivoted to launch this online and had sāges signing up from around the world."
Info: www.sage-connect.com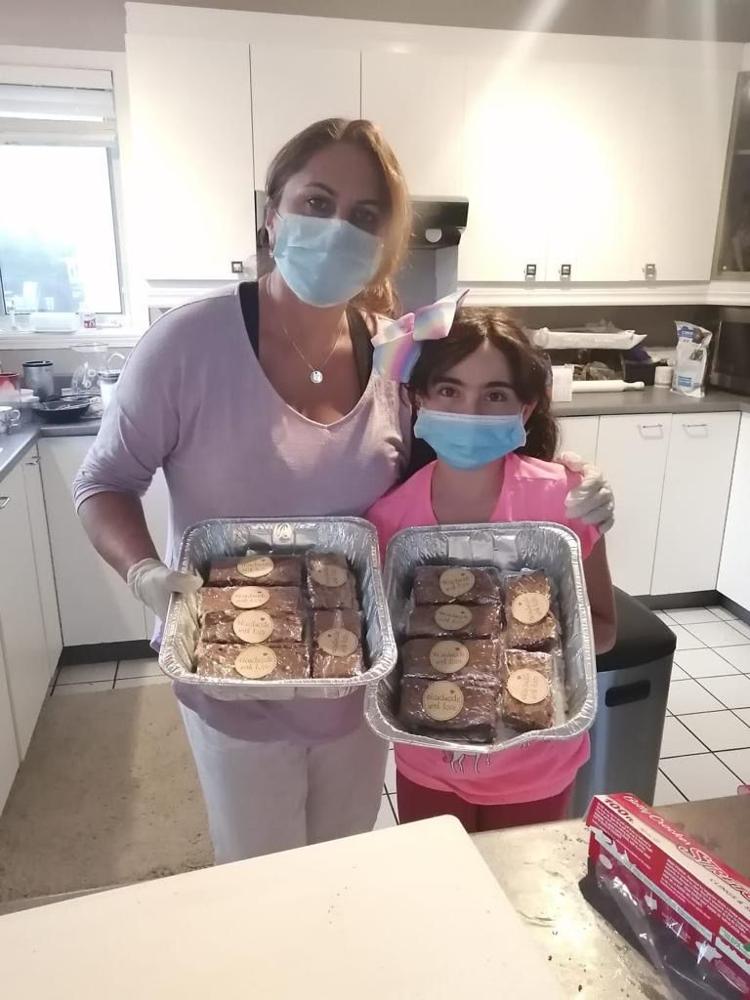 BAKE IT FORWARD: Federation CJA's Bake it Forward initiative has more than 120 volunteers who have baked upwards of 200 dozen cookies and delivered them to 26 different institutions, providing delicious care packages to almost 2,800 frontline healthcare workers, as a thank you for their tremendous efforts combatting the pandemic.