In this era of COVID-19, non-profit organizations are having a very difficult time in the area of fundraising. Gala events have been cancelled and only a select few have been able to make a successful go at "Virtual" editions. Let's give a well-deserved hand then to the team at the Canadian Associates  of Ben Gurion University of the Negev. They absolutely hit the ball out of the park last Wednesday evening with their National and Virtual Big Bang Event featuring Actress and Neuroscientist Mayim Bialik, PhD.
It is all part of BGU's Save the Class of COVID-19: S.O.S. Support Our Student Campaign.
There were more than 600 viewers and more than $1.2 million was raised. Everyone who registered was given a link and a password. The live stream went flawlessly. Before things got started some Jewish music played in the background as a continuous scroll of sponsors appeared o the screen.
From coast to coast staff and volunteers dropped off gala gift bags and dessert to the door of all patrons. I must say it was a highly impressive package, sponsored by The Linda Frum and Howard Sokolowski Charitable Foundation. The bag contained a bottle of kosher wine, wine glasses, a BGU mask, a medical mask, and some delicious chocolates, scrumptious Macaroons and a glossy program book previewing the evening, the speakers, the sponsors and talking about BGU.
The global campaign goal is $5 million in order to support over 3,000 students who have applied for financial aid will receive it and be able to continue their studies at Israel's youngest and most dynamic university.
Ben-Gurion University of the Negev is one of Israel's leading research universities and among the world leaders in many fields. It has around 20,000 students and 4,000 faculty members in the faculties of Engineering Sciences; Health Sciences; Natural Sciences; the Pinchas Sapir Faculty of Humanities and Social Sciences; the Guilford Glazer Faculty of Business and Management; the Joyce and Irving Goldman School of Medicine; the Kreitman School of Advanced Graduate Studies; and the Albert Katz International School for Desert Studies. More than 100,000 alumni play important roles in all areas of research and development, industry, health care, the economy, society, culture and education in Israel.
There were some stunning videos about BGU and an excellent address by Daniel A. Chamovitz. He was elected president of the university in August 2018 after serving as Dean of the Faculty of Life Sciences at Tel-Aviv University since 2014. It was 2:30 am Israel-time when he spoke and he was at home in self-isolation after being exposed to some possible COVID-19 positive carriers. The pandemic is not under control in the Jewish State. That day, Chamovitz said that over 3,000 cases had been reported. On a positive note he said that researchers from the university have come with some innovative projects. This includes a one-minute electro-optical test using breath samples that will identify both asymptomatic and affected carriers of the COVID-19 virus in under one minute with greater than 90 percent accuracy. It could be on the market in six months.  
Chamovitz explained what kind of impact the pandemic has had on the university and students. The latter group is generally made up of individuals who come from outside of the Negev, so they live on campus. In order to cover their expenses they work locally. Because of COVID-19 the economy is flat and jobs are scarce. The university let all students out of their dormitory contracts at a loss of $1 million. "It was clear that there was a threat of us losing a generation of students," Chamovitz said. "It was the right and moral decision to take."
Senator Linda Frum introduced the ever-so charismatic Bialik, who most recently starred in the Big Bang Theory. Many people also remember her from the show Blossom. She is a proud Jew from San Diego who resides in Los Angeles, is divorced with two kids and dating a nice Jewish boy from Toronto.
Bialik is an orthodox Jew who tries to visit Israel, where she has a lot of family, at least once a year. She says her immersion into traditional Judaism began after she enrolled at UCLA and joined the campus Hillel. It was a joy to watch her so naturally tell her life story and share her true attachment to Judaism.
As for her next TV venture, Bialik said she is excited to start filming a new comedy with Jim Parsons entitled Call Me Cat on Fox and to host a new talent series called Celebrity Show-Off on TBS.
Event Co-Chairs were Peggi Cohen Rabinovitch of Montreal, Adam Korbin of Vancouver, David Dulberg and Lianne Leboff of Toronto and Susannah Dalfen and Natalie Stern from Ottawa. CABGU CEO Mark Mendelson, Executive Director Simon Bensimon and their team did a masterful job!
SHOFARMONTREAL: With COVID-19 making it difficult or impossible for many to attend traditional High Holiday services, Chabad of Montreal has created a database of outdoor Rosh Hashanah services, centered on the sounding of the shofar — the key observance of the holiday. ShofarMontreal.com is a centralized listing of over 100 locations around the greater Montreal area where the shofar will be sounded on Rosh Hashanah - Sun., Sept. 20 — outdoors and free of charge. The site also offers the opportunity to sign up for an at-home shofar service, as hundreds of volunteers will visit people outside their homes and sound the shofar for them while maintaining distancing.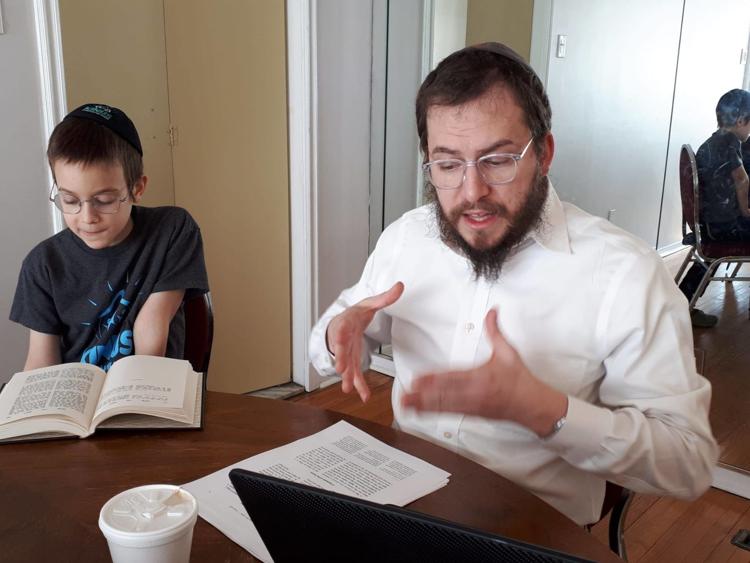 "Our goal is to make the shofar — the central mitzvah of Rosh Hashanah — accessible to everyone," said Rabbi Leibel Fine, Director of Chabad of Dollard. "Chabad of Montreal has been bringing the shofar to Montreal's Jews, wherever they may be, for many years. This year, the reality of COVID-19 means that there may be even more people who won't be able to make it to synagogue, so we'll be bringing the service to them."
While many of the holiday observances can be easily adapted to be done at home, the shofar requires the proficiency of an individual specially trained in sounding the series of notes prescribed by the Torah. Typically, the shofar is heard during the course of High Holidays prayer services, but this year, the necessary restrictions on indoor gathering has meant that many will pray at home on their own. Recognizing the challenge that this presents, Chabad of Montreal sprang into action, creating a database of locations where those unable to make it to synagogue will be able to hear the shofar and mobilizing a team of volunteers who will visit individuals who can't make it to the outdoor shofar services either. These locations include the over 30 Montreal Chabad centres — many of which are holding multiple shofar soundings in various neighbourhood spots — as well as many local synagogues who are opening their shofar services to the public.
"The Rebbe, Rabbi Menachem M. Schneerson, of righteous memory, considered the most influential rabbi in modern history, insisted that the observance of hearing the Shofar— the key observance of Rosh Hashanah—be made accessible to all Jews — even those not attending synagogue," Rabbi Shmuel Cohen, Director of Chabad of Kirkland explained. "Chabad of Montreal has always prioritized making Judaism available to all. During the COVID-19 pandemic, this has taken on a whole new meaning, but our mission to serve everyone remains the same."
As the country reels in the wake of the economic recession caused by the pandemic, and with many hurting financially, many may find the cost to attend services unaffordable. Many more are simply unaffiliated with a synagogue. Chabad of Montreal is dedicated to removing entry barriers and ensuring that all who wish to participate in a meaningful celebration of the Jewish New Year may do so. By listing and providing these shofar services free of charge, Chabad of Montreal hopes to accommodate many for whom this observance would otherwise not be possible.
"According to Jewish tradition, the gates of Heaven are open on the New Year, and G-d accepts prayers from everyone," said Rabbi Fine "That serves as our inspiration to keep our services open and accessible as well to the entire community."
Chabad-Lubavitch has brought shofar to the streets since 1953 when the Rebbe directed his followers to hit the streets between prayers on Rosh Hashanah and blow the shofar for those unable, for whatever reason, to attend synagogue. There was, from the beginning of this campaign, a special emphasis on visiting and blowing shofar for bedridden hospital patients, and on Rosh Hashanah, volunteers would spread out through New York City, Chicago and Miami, among other cities, enabling thousands of patients to hear the cry of the shofar. And this year, during the COVID-19 pandemic, ShofarMontreal.com will continue this mission, bringing the sound of the shofar to thousands.
MADA ROSH HASHANAH BASKETS: This year, COVID-19 has changed all of our lives. The effect has been devastating on most of the patrons that MADA serves and with Rosh Hashanah coming up, MADA is ensuring that everyone in the community can successfully celebrate the Jewish New Year with the warmth and spirit of the holiday.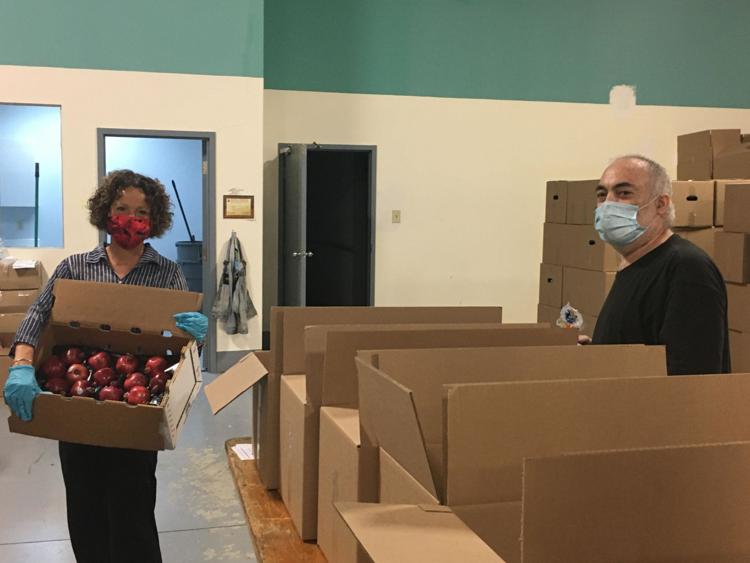 In the same spirit as MADA's Seder in a Box service they provided this past Passover, hundreds of families will be receiving Rosh Hashanah baskets straight to their door. Depending on the family's circumstances, baskets include food items in order for them to cook themselves or already cooked meals, and all of the holiday's symbolic traditional foods in order to recite the appropriate blessings.
"The High Holidays are a time for people to get together, but this year has brought on many challenges in doing so," said Rabbi Chaim Cohen, Executive Director of MADA. "At a time when many people cover their tables with delicacies, others can't afford to. At a time of spirituality and hope, some don't know where to turn. Despite not being able to physically be together at our usual community meals as we have for past Rosh Hashanah celebrations, we wanted to remind everyone that we are together in spirit."
Hundreds of MADA's dedicated volunteers have been tirelessly preparing food and packing and delivering boxes for the past two weeks and are continuing to do so up until the start of Rosh Hashanah. "Covid-19 has brought a new meaning to the word vulnerable. Myself and all of the volunteers delivering are bringing everything right to people's doors so we can provide a friendly face and the reminder to the vulnerable members of our community that we are all united, especially during these uncertain times," said Shiri Tamam, a MADA volunteer.
MADA wants to ensure that everyone feels loved. This inspiring initiative allows community members, both volunteers, and participants, to "emotionally come together in celebration of the New Year," said Yosef Drihem, MADA's Assistant Director. "MADA and our volunteers are ensuring that everyone is able to celebrate the holidays with the warmth, joy and care that expand beyond the physical items given."
Over 300 tireless volunteers have been preparing and delivering over 2,000 holiday food baskets and cooked meals. This is in addition to the over 12,000 meals prepared and delivered weekly as part of MADA's+ Meals à Partager program for COVID-19 relief and the more than one thousand meals prepared and served by the volunteers in MADA's cafeteria daily. Côte des Neiges-NDG Borough Mayor Sue Montgomery was among those who showed up last week to help pack baskets,
MADA is a volunteer-based organization dedicated to breaking the cycle of poverty in our community. As Montreal's largest kosher soup kitchen and food bank and offering a variety of services, MADA has been serving the Jewish community for 27 years and seeks to raise awareness of the plight of those in need and to expand its client base.
To volunteer or to make a donation, please call 514-342-4969, ext. 229 or visit madacenter.com.