All warnings have expired for Montreal.
UPDATE: 6AM, Wednesday, August 5: Post-Tropical storm Isaias was located 90km north, northwest of Quebec City, with 65km/h winds. Gusty winds and showers will remain over parts of southern and eastern Quebec today, as the system pulls away to the northeast and weakens. Radar estimates show between 40 and 70mm of rain fell in southern Quebec, with close to 40mm in Montreal. I will have a wrap-up on Isaias later today.
2:50PM Update: Heavy rain warnings remain in effect for metro Montreal and most of southern Quebec. Isaias will take a track a little more west, bringing the center over Burlington, Vermont by later this evening. Expect rain to develop and become heavy at times late this afternoon. Up to 50mm (2 inches) is possible in Montreal. Winds will increase as well up to 50km/h later today.
Isaias was located about 130km west of New York City at 2pm, moving north, northeast at 55km/h. Dozens of tornadoes have occurred with Isaias, with damage being reported from North Carolina to New Jersey. Over 2 million residents are without power. Two fatalities have been reported so far.
10:30AM Update: Radar is showing deep tropical moisture streaming northward into eastern Ontario and southwestern Quebec at this hour. Look for rain to continue most of the day, with 25-60mm expected across southern Quebec. Winds will increase this evening, gusting from 40-70km/h as Isaias moves northeast from Virginia into New England and across Quebec on Wednesday.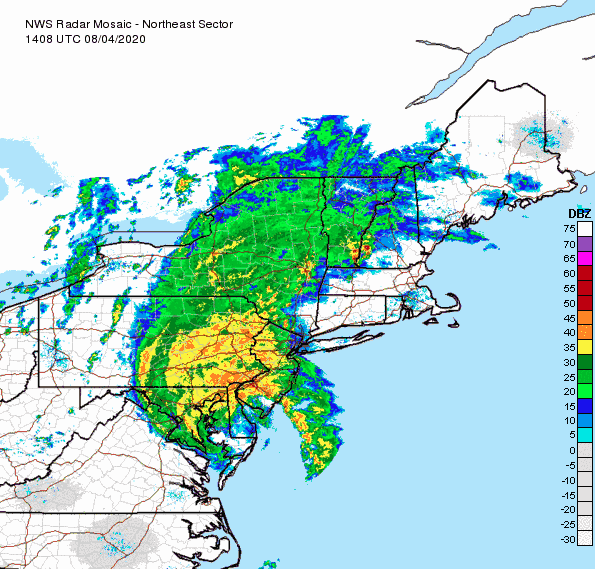 Update, Tuesday, August 4, 6:15AM: Isaias made landfall around 11:15 PM Monday night as a category 1 hurricane near Ocean Isle Beach, North Carolina. At 5am this morning, the system had been downgraded to a strong tropical storm, with 70mph (110km/h) winds. Isaias was located 135km southwest of Norfolk, Virginia, racing off to the northeast at 28km/h.
The storm will rapidly move northeast today along the middle Atlantic coast, reaching southern New England by late afternoon, and southern Quebec in the wee hours Wednesday morning. Along the track of the storm, heavy rain, strong winds and isolated tornadoes are possible.
For Montreal, the cloud deck and rain are already advancing into northern New York early this morning. Expect a showery day, with embedded thunderstorms. Rainfall amounts will be 25 to 35mm for Montreal, with up to 60mm across the Townships. The heaviest rain will fall over a few hours this evening. Rainfall warnings are in effect from Granby southeast towards the US border, as well as in Quebec City. Winds in oour region will be in the 20 to 60km/h range.
In New England, winds may gust up to 90km/h, along with 50 to 100mm (2-4 inches) of rain. Flash flood watches are in effect across a wide portion of New York, Vermont and New Hampshire.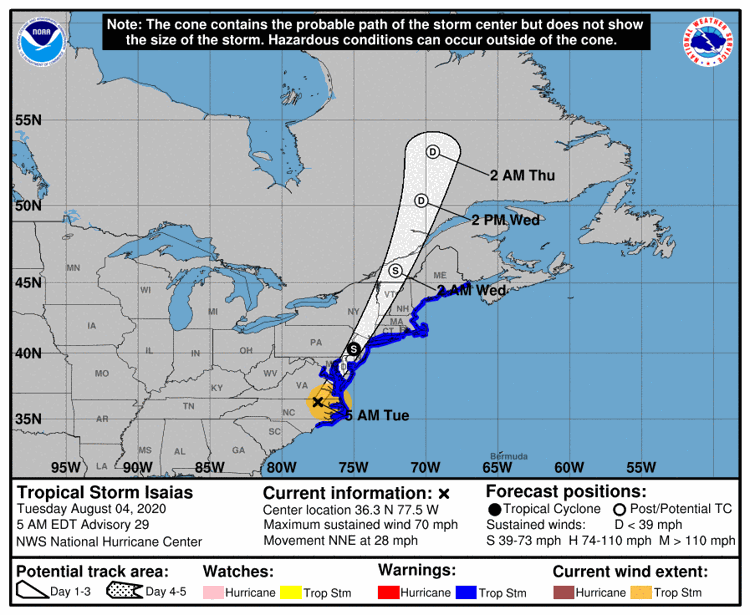 Previous Post: Tropical Storm Isaias was located 100km south, southeast of Charleston, South Carolina at 5pm Monday afternoon. The storm is forecast to make landfall late this evening very close to the North Carolina/South Carolina border, possibly as a Category 1 hurricane. Isaias is a strong tropical storm this evening, with 70mph (112km/h) winds and showing better organization that it has in some time. Heavy rain, strong winds and coastal flooding will impact a large swath of the Eastern Seaboard on Tuesday.
The system will race northeast on Tuesday along the middle Atlantic coast and into New England. Isaias will then continue across New Hampshire and Vermont and likely into southeastern Quebec by early Wednesday morning.
Widespread weather warnings are in place along the entire projected path of the storm, for strong damaging winds, heavy tropical rain and storm surge. In southern Quebec, heavy rainfall warnings have been issued by Environment Canada for the Eastern Townships and Beauce, for up to 60mm of rain. The rain will likely fall in just a few hours on Tuesday evening, so flash flooding is possible. In Vermont and eastern New York, flash flood watches have been issued, with between 50-100mm (2-4 inches) of rain expected. A tropical storm watch is in effect for all of interior New Hampshire, with warnings along the coast. Winds may reach 80 to 100km/h in southern New Hampshire and Vermont.
Storm impacts in Montreal
Montreal will be on the western edge of the storm, with showers and thunderstorms expected Tuesday, along with gusty winds of 20-40km/h. In other parts of Quebec, winds will gust up to 60km/h. In terms of rainfall, Montreal can expect another 25mm (1 inch) of rain from Isaias through early Wednesday. We can add that to the 39mm that fell in thunderstorms on Sunday. Any change in the forecast track would have an impact on the rain totals for Montreal.
Isaias managed to spare Florida, with the worst of the weather remaining offshore.
Isaias will continue to weaken slowly, while moving northeast into Labrador on Thursday.