6:45 PM Saturday, July 11: As of 6pm, between 12 and 15mm of rain had fallen in Montreal on Saturday from what was left of Tropical Storm Fay. The storm continues to weaken as it moves northeast of Montreal. More showers and thunderstorms will develop this evening as a quick moving front crosses the area. Some heavy rain is possible as the air mass remains tropical in nature, with very high relative humidity levels. Conditions will remain warm and muggy into Sunday, low tonight around 21C (70F), high Sunday around 27C (81F).
6:15 AM Saturday, July 11: The disorganized remains of tropical storm Fay are lifting northward early Saturday morning, located just south of Albany, New York. Showers and isolated thunderstorms continue to pivot around the system, the steadiest rain to the west of Montreal. Just some sprinkles have occurred in the city so far. We are still looking at 20-40mm of rain across the region, but most of that will fall in afternoon thunderstorms generated by a front to our west and not Fay. The storm will slide northeast into southern Quebec today while weakening. The weather will remain muggy and warm, with highs near 27C (81F).
On Friday, Montreal recorded a record-breaking high of 36.1C (97F), a record for the day and month of July, and the fourth warmest day in the cities history. So far 2020 has established new benchmarks for the 2nd and 4th warmest days recorded in Montreal dating back to 1881.
3:15 PM Friday, July 10: At 35.4C (95.7F), today is Montreal's hottest July 10th since records began in 1881 and only two tenths off the all-time July record.
1:30 PM: Special Weather Statement has been issued for southern Quebec for 30 to 50mm of rain from the remnants of tropical storm Fay. First we have a new record high for the date Friday, currently 34.2C (93.5F) in Montreal, surpassing the 1955 high of 33.9C. The temperature continues to rise to the forecast high of 36C. If the high is reached, this would be the warmest July day on the books for Montreal. Add in very high humidity levels, and we have a sweltering humidex reading of 43C at the airport at 1pm. 
The updated track of tropical storm Fay has the system 270km south of New York City and moving north. Fay will make landfall in northern New Jersey later today and move into Vermont and southern Quebec on Saturday. Rain and thunderstorms will develop in Montreal overnight and persist throughout Saturday.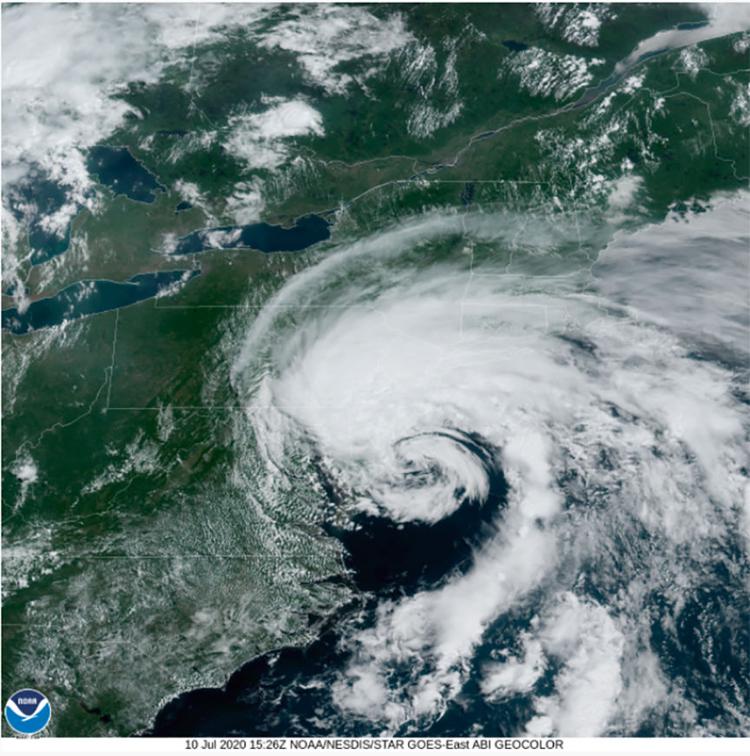 Previous Post: Another very hot and humid day is on tap for Montreal, with highs forecast into the middle 30s once again. On Thursday, the high was just shy of the record, reaching 34.1C (93.3F) at Trudeau Airport, warmer in other parts of the city and southern Quebec. It was oppressive, with very high humidity and dew points making it feel more like south Florida than southern Quebec. The humidex reading during the afternoon hours in Montreal reached an uncomfortable 43C (109F). 
Tropical Storm Fay
There is relief in sight coming from a rare July tropical storm. This has already been an active Atlantic hurricane season, so it is not much of a surprise that Fay developed off the Carolina coast on Thursday evening. What is a surprise is the path the storm will take, nearly northward into metro New York City and up the Hudson River. Early Friday morning, Fay, with 85 km/h (50 mph) winds was located 165 km south of Cape May, New Jersey, moving north at 17 km/h. Tropical storm warnings are up for the Jersey Shore, Long Island, metro New York City, Connecticut and Rhode Island. The storm is forecast to move north into the region late Friday and Saturday and move just southeast of Montreal across the Eastern Townships on Saturday.
What this means for our region is increasing clouds Friday night, and widespread showers and thunderstorms Saturday. Winds will be gusty, up to 40km/h in southern Quebec, but I am not anticipating any damage. The rain will be beneficial, with up to 30mm forecast for Montreal, perhaps more in thunderstorms. There may be some isolated urban flooding, but the region is dry, so any major flooding will be avoided.
The clouds and precipitation this weekend, will mean cooler temperatures, with highs remaining below 30C for many of us for the first time this month. Expect highs of around 26C (79F) in Montreal over the weekend.
More showers and thunderstorms along with continued muggy weather is forecast for the start of next week.