Heat Warning in effect for southern Quebec
UPDATE: Thursday, August 19, 8AM: Montreal lies under a tropical airmass on Thursday morning, with temperatures in the middle 20s along with elevated humidity levels. A heat warning has been issued for Montreal for a combination of high temperatures in the upper 20s and low 30s along with high humidity. The steamy weather is thanks to the remains of Tropical Storm Fred, located 200km west southwest of Albany, New York on Thursday morning. Fred will move across central New England today, keeping cloud cover and tropical dew points over the region.
The torrential downpours associated with Fred will remain to our south over central New York and New England, where flash flood watches and warnings are in effect. Additional rainfall of between 25 and 125mm (1 to 5 inches) is forecast for that region, with only scattered showers expected for southern Quebec. The story for Montreal and southern Quebec will be the hot sticky airmass being pushed northward, which will remain in place through the weekend. Temperatures will be either side of 30C, with humidex values close 40C.
By Monday, southern Quebec will be on the edge of another tropical system, Henri. The forecast remains tricky for tropical storm soon-to-be hurricane Henri. On Thursday morning, Henri was located 845km southeast of Cape Hatteras, North Carolina, moving west at 15km/h, with 110km/h winds. Models have pushed the storm further west around a strong ridge of high pressure. Henri may brush Cape Cod before moving towards coastal Nova Scotia early next week. The storm will have to be watched closely. For now stay cool, seek A/C and stay hydrated.
Previous Post: While we may be past the peak of the summer season, the warm weather is not showing any signs of leaving just yet. After a less humid, pleasant weekend, temperatures and humidity are on the rise again. High pressure anchored off the southeast US coast is expected to pump warm, moist air northward over the next week or so. Helping in the northward trajectory of the tropical airmass, will be the remains of Fred.
Tropical Storm Fred moved inland along the Florida Gulf Coast near Cape San Blas late Monday afternoon. The storm dumped copious amounts of rain over portions of the Florida panhandle and southern Georgia, along with isolated tornadoes. Widespread flood watches and warnings are currently in effect from Georgia to New York state. As of Tuesday afternoon, Fred has been downgraded to a depression with 45km/h winds. The broad center was located 48km southwest of Atlanta.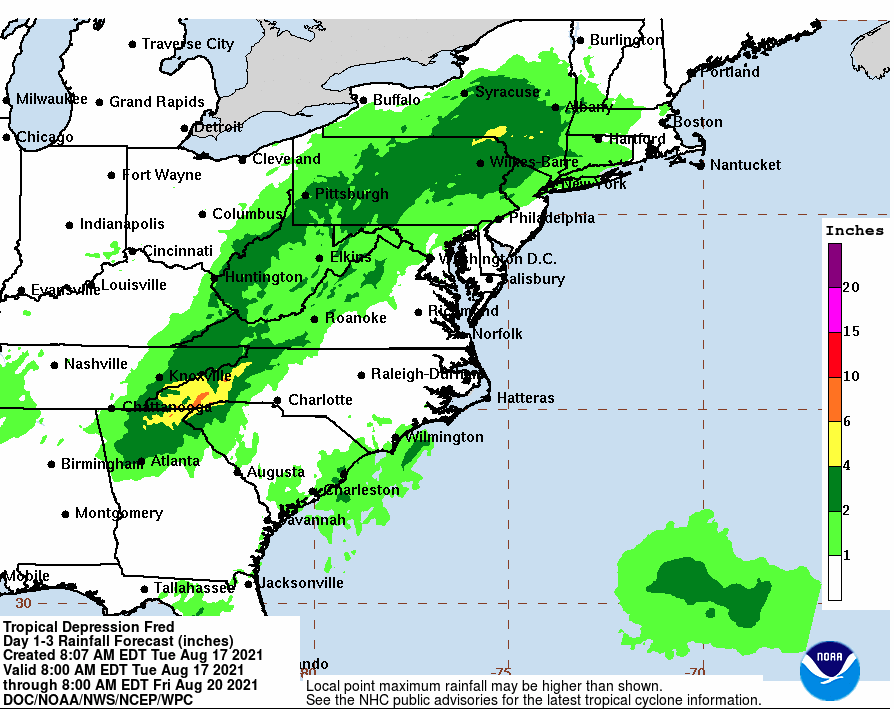 As this time it appears the bulk of the rainfall will remain south of Montreal. What we can expect is an increase in heat and humidity along with some scattered showers or thunderstorms through the weekend. High temperatures will once again approach 30C (86F), with overnight lows in the high teens and low 20s. Humidex values will reach 40C once again by Friday.
Despite all the humid weather we have experienced this August, most of the rain has avoided the metro region. To date, Montreal has received only 17.8mm of rain at Trudeau Airport on only four days in August. Hopefully some of the upcoming tropical moisture will find its way into our lakes and streams which are running exceptionally low.
Tropical Storm Grace
Two more tropical systems have developed this week, Grace and Henri. Grace was located 40 km east of Montego Bay, Jamaica midday Tuesday. The storm dumped heavy rain across earthquake ravaged Haiti over the last 24 hours, with as much as 250mm falling. Flash flooding and landslides are possible across Haiti and the Dominican Republic as well as portions of southern Cuba. 
Grace is expected to intensify and become a hurricane within the next 24 hours as the center moves just south of The Caymen Islands. The storm will then take aim at the popular beach and resorts towns of the Yucatan Peninsula in Mexico. 
Meanwhile Henri was located 215km south, southeast of Bermuda, with 95km/h winds, and no threat to land at this time.