12:45 PM Update, Wednesday, April 21: The weather is not feeling much like April in Montreal today, as the tulips and budding green trees are covered in a layer of white. Snow started falling around 7am Wednesday morning, and has been steady all day, even occasionally heavy at times. The snow has thankfully melted on paved surfaces in the city, so driving is slick but not impossible. The snow has lowered visibility to under 1 kilometre at times. Low pressure over southern New York state will move into New England later today. The snow will persist into the evening hours in Montreal, with accumulations of 5 to 10cm, especially on grassy surfaces. Up to 15cm is likely along the US border, where special weather statements and winter travel advisories are in effect.
Temperatures are cold today, currently at -2C (28F) at Trudeau Airport. The high will struggle to reach 0C (32F). Snow will taper off to flurries tonight, the weather will be breezy and cold with lows around -3C (27F) and winds up to 50m/h.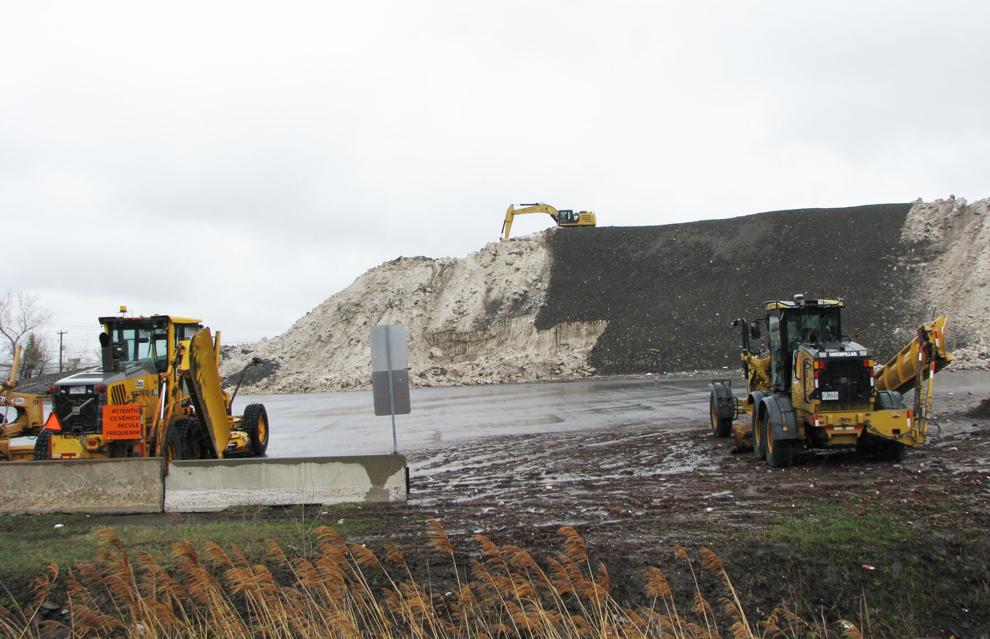 Previous Post: If you are one of the few who had hoped to see snowflakes fly just one more time in Montreal, then you are in luck. Otherwise, turn away now from this forecast. After what has been a fairly warm month, we are looking at the potential for accumulating snow this Wednesday.
A special weather statement is now in effect for portions of the region, mainly the Eastern Townships and Quebec City, for up to 15cm of wet snow from late Wednesday into Thursday. Less snow is expected at this time in Montreal, perhaps 5cm, but still enough to make travel difficult, especially for those who have removed their snow tires.
The coastal system that impacted southern Quebec and New England on Friday, produced quite a bit of wet snow across the Townships and interior New England, however precipitation remained as rain for Montreal, with 25-35mm falling across the city. Colder air settled into southern Quebec for the weekend, under partly cloudy skies.
Monday was very mild, reaching 17C (63F) in Montreal, before a frontal system arrived late in the day. Showers along with a rumble or two of thunder occurred along the front, with the rain tapering off Tuesday by noon. Cooler, windy weather is forecast for Tuesday, with highs near 10C (50F) and winds up to 60km/h.
The weather will then turn quite active on Wednesday, as low pressure approaches from the Ohio Valley. The storm is expected to move across the southern Great Lakes and into northern New England on Thursday. A narrow swath of wet snow is forecast to fall along and just north of the storms track impacting southern Ontario and Quebec. At this time, rain is expected early Wednesday in Montreal, changing to wet snow during the afternoon and evening hours and ending early Thursday. Amounts are very difficult to predict at this time of year, and will depend heavily on when the changeover occurs as well as local elevation. There is a chance of 5 to 10cm of slushy wet snow along and just north of the St. Lawrence River, with up to 15cm in the Townships and Quebec City.
While we have not had much in the way of snow since late February, it is not that unusual for Montreal to have snow in April. As a mater of fact the reverse is actually true, it has been rather rare in 2021 to not have any snowfall during March and April. A quick look at the statistics form Trudeau Airport shows that you have to go back to 2005 to find a year with no snow in Montreal in April.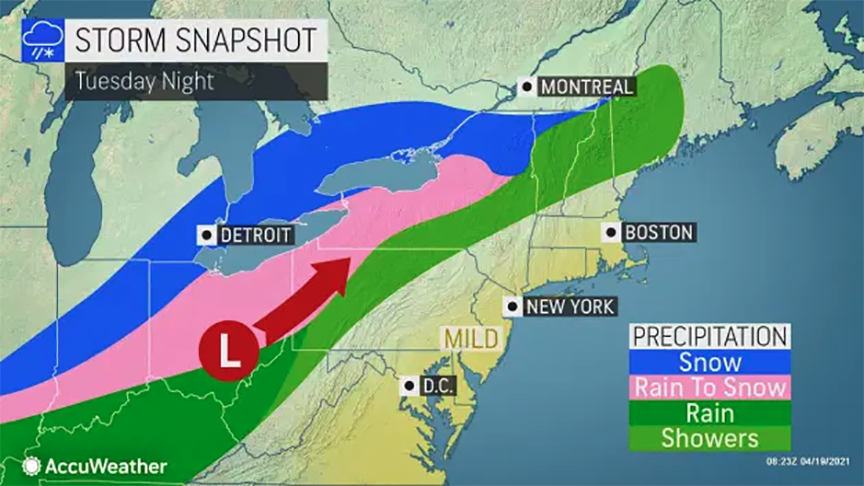 Temperatures will be cold on Wednesday and Thursday, expect highs around 2C (36F) and low temperatures at or just below the freezing point. With the very mild weather we have experienced over the last two weeks, many trees and shrubs have started to bud or flower. The wet snow, frost and cold will not be good for any flowering plants. The good news is that temperatures will warm again quickly into next weekend, with highs back into the middle teens.