Frost Advisory in effect for off-island communities of southern Quebec. There is a risk of ground frost on the next three mornings as temperatures fall to near 0C (32F). The island of Montreal is excluded at this time.
The Autumnal Equinox occurs Tuesday, September 22 at 9:31 am.
High pressure is settling into southern Quebec Friday afternoon, with the prospect of near-perfect late summer/early fall weather through the middle of next week. Along with bright sunshine will come colder-than-normal temperatures through the upcoming weekend.
There is a good chance of frost in most locations tonight and especially Saturday night. The only exception will be along the St. Lawrence River and in the urban areas of Montreal. This is quite early for the first frost, with the average date not coming until mid-October in Montreal. But such has been 2020, snow in May followed by a scorching hot summer, and now an early fall.
Overnight lows through the weekend will range from 0C (32F) to 3C (38F). Daytime highs will be in the 12C (54F) to 14C (56F) range. Those highs will rise slightly into the middle to perhaps upper teens by next Tuesday. No precipitation is forecast through at least Wednesday.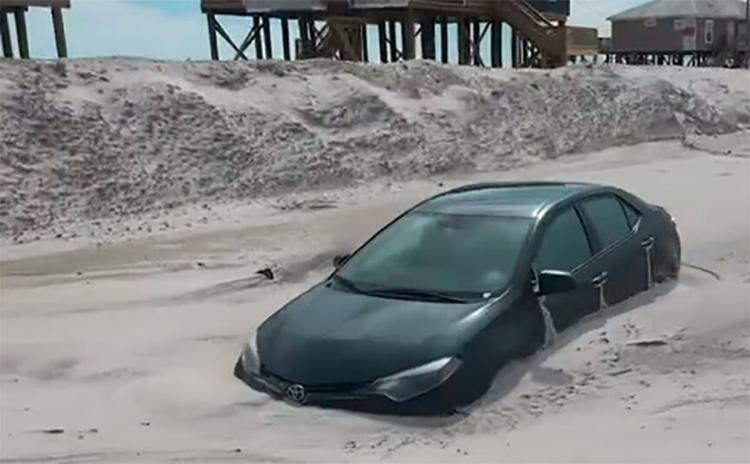 Tropical Atlantic
Early this morning, a rather high deck of stratus cloud cover moved over the southern portion of the province including Montreal. The clouds were actually associated with the remains of hurricane Sally, passing well south of our region, over the middle Atlantic states. Sally made landfall as a category 2 hurricane around 5am Wednesday morning in Gulf Shores, Alabama. The storm produced significant, widespread damage along coastal Alabama and the Florida panhandle. Top wind speed reported was at Gulf Shores at 197km/h (123 mph). Historic rainfall occurred with Sally, with 1 to 2 feet falling in many locations. The largest accumulation was at Bellview, Florida, where 760mm (30") of rain fell. Three fatalities have been associated with the hurricane, and damage is expected to run into the billions.
Sally was just one of several storms that are in the Atlantic basin currently. Powerful hurricane Teddy was located 1420km southeast of Bermuda Friday afternoon, with 215km/h winds. Teddy is forecast to brush by Bermuda this weekend, before taking aim at Nova Scotia. Teddy is expected to approach Canadian waters, still as a hurricane, by late Tuesday.
Further southwest of Teddy's location is tropical storm Wilfred. Wilfred developed on Friday, but is no threat to land at the moment.
In the Gulf of Mexico, tropical depression 22 is expected to become a tropical storm today and possibly a hurricane this weekend. The storms future may take it into the upper Texas Gulf Coast by early next week.