If you plan on getting together this weekend with family and friends as Covid-19 restrictions are eased, forget about any outdoor fires. The province is under an open fire ban according to SOPFEU, the provincial forest fire service.
Extremely dry weather has persisted across many regions of the province, particularly here in the south. Dangerous fire conditions persist, including warm temperatures, low relative humidity and gusty winds. Adding to the problem in an abundance of fuels for burning. The cold weather and late spring has meant foliage has been delayed in greening up. Therefore we have plenty of dead, dry and decaying foliage to fuel any fires that start.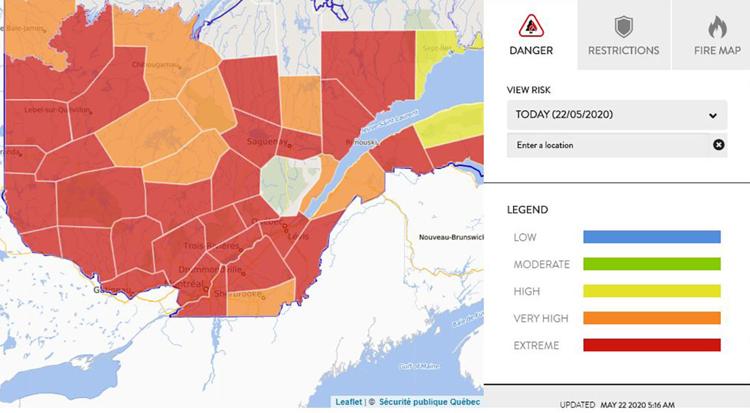 Several brush fires have occurred across the region, including one in the Quebec City region Thursday night on rue De L'Esplanade. The fire resulted in 4 alarms and an evacuation of a residential area. Another fire was burning just across the border in Clinton County, New York.
The ban includes campfires, fireworks, flame producing equipment and lanterns. Use common sense, even here within the city limits. Be extremely careful with cigarettes, that includes tossing them from your car.
The extended forecast calls for more dry, warm and windy weather. SOPFEU has reported 260 fires this year to date. The 10 year average for the same time frame is 142. The burn ban will remain in effect until further notice. More information can be found on the SOPFEU website.