Poor air quality in Montreal will improve somewhat later today as afternoon thunderstorms develop.
Very poor air quality will greet you as you head out the door on Monday morning. The smoke is drifting southeast for wildfires in northwest Ontario and Manitoba. The Air Quality Index (AQI) is in the moderate range already in Montreal, with Cornwall, Ontario unhealthy with and AQI of 154 at 6AM. The smoke will be most dense through the middle portion of the day before a cold front arrives late afternoon. Smog warnings are in effect for the southwestern portion of Quebec, with Air Quality Advisories for eastern Ontario.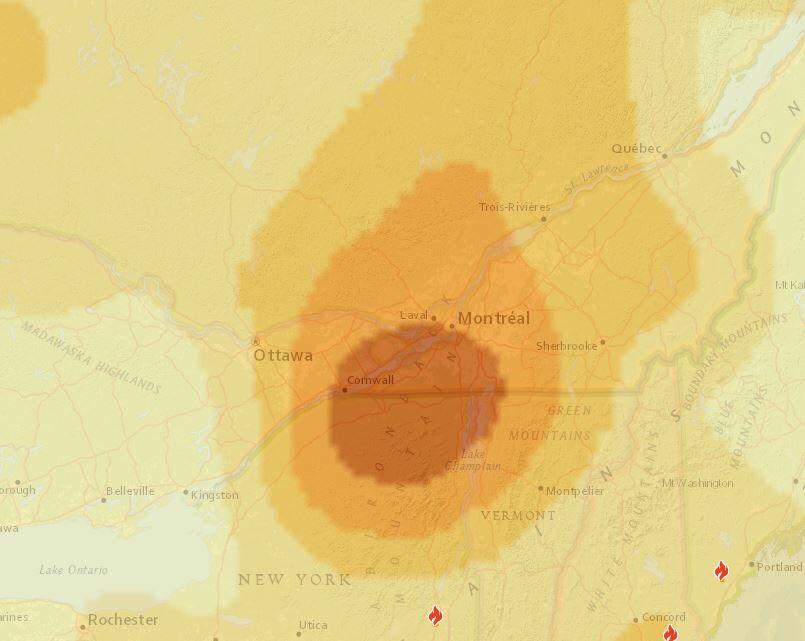 On Sunday, several rounds of thunderstorms produced a vivid lightning display to our southwest in the late evening, but little else in Montreal. Earlier in the day the warm front dropped 10-15mm of rain across southern Quebec. 
Today's frontal boundary will likely produce more scattered showers and thunderstorms, before cooler air arrives for Tuesday. The smoke will also be forced southeast of Montreal, with much better air quality expected on Tuesday.
Temperatures have been cooler than normal this month, and that trend will persist. We have only had one day at Trudeau Airport over 30C this month, rare for July, especially in 2021 when so much of the country is sweltering. The high on Tuesday will only be 21C (70F), well-below the normal high 26C (79F). The balance of the week look similar, with highs ranging from 21 to 24C (70 to 75F) and low temperatures close to 16C (60F).