With the latest COVID-19 variant moving at a rapid pace, members of the Montreal Jewish Community are stepping forward to help those facing significant challenges.
"Uncertainty and anxiety have returned for many, and we must reach out to our vulnerable population and most importantly, those over the age of 70, who are most at risk," said Yair Szlak, CEO of Federation CJA. "As we move our way through this crisis, our sense of Community and our values of Tikun Olam need to remain strong. Members of our Community will face unprecedented challenges and concerns and we at Federation CJA are here to help."
Federation CJA is working closely with Agence Ometz, the Communauté Sépharade Unifiée du Québec and The Cummings Centre and to coordinate the response. A Community Helpline is available weekdays to identify those at particular risk. Members of the Jewish community who need assistance are encouraged to call 514-734-1411.
"We are coordinating efforts to support individuals and families who are again experiencing increased hardship—but we can only do that with the generous help of our community," said Joel Segal, President of Federation CJA. "We are updating our list of volunteers to be ready to offer a helping hand. Last year we filled grocery orders, packed isolation kits for the vulnerable and delivered groceries, meals and more. This time we will do whatever is needed. If you can, please sign up to volunteer at FederationCJA.org."
 Federation CJA is the central community organization that raises and distributes funds by facilitating and overseeing the delivery of services and programs. Our commitment is to secure and mobilize human and financial resources, to promote Jewish Values, and to exercise leadership in service of our mission and as an investment in our future.
DR. KALIN RECOGNIZED: Dr. Michael Kalin was presented with an award of recognition by Chabad on Call, Chabad's global medical organization, for his efforts during the COVID-19 pandemic. Chabad on Call hosted an eight day nomination period during the holiday of Chanukah, where any person nationwide could submit a form to nominate a local healthcare hero.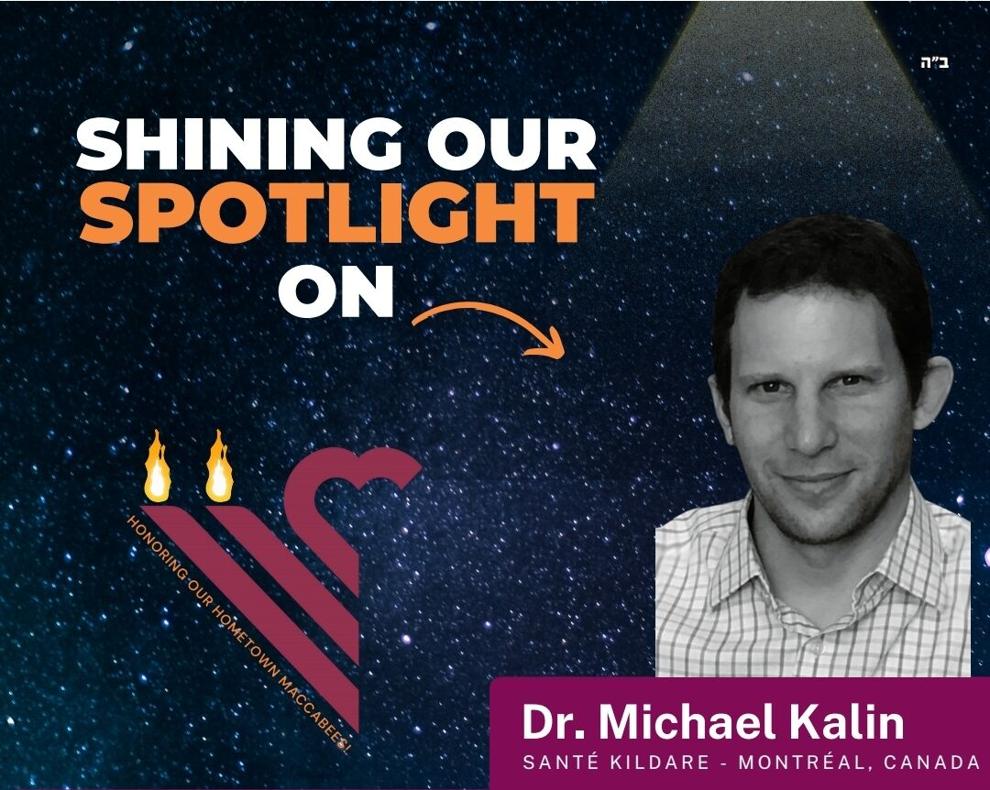 Dr. Kalin is a family physician and Medical Director of Santé Kildare in Côte Saint-Luc.
Throughout the past two years of the pandemic, Dr. Kalin has served the community with patience, compassion, skill, and courage. He ensured care was available to all through the medical center he directs, Sante Kildare, and the hot clinics.
"Chanukah celebrates the victory of the few over the many, the battle of the valiant Maccabees," explained Rabbi Mendy Kotlarsky, executive director of Chabad on Call. "Dr. Kalin is a shining example of a modern-day Maccabee. We are privileged to have heroes like him in our community."
Chabad on Call  is an organization committed to creating a warm Jewish community within the hospital environment.
COHEN-RABINOVITCH SUCCEEDS ALTMAN AT CABGU: Earlier this month, just before we went back into a semi-COVID lockdown, leaders from the Canadian Associates of Ben Gurion University (CABGU) of the Negev put their masks away and a held a good old fashioned cocktail party. The reason for celebration was the culmination of Jack Altman's tenure as president of the Montreal Chapter. Family, board members, long-time supporters and friends gathered for an in-person event to pay tribute to Altman's accomplishments and celebrate Ben-Gurion Unversity of the Negev.
Special Guest, Senator Tony Loffreda spoke eloquently of his friendship with Altman and his admiration for the research conducted at BGU. Paul Hirschson, Consul General of Israel for Quebec and the Atlantic Provinces, shared highlights of his career in the United Arab Emirates and West Africa.
The evening culminated with the installation of Peggi Cohen-Rabinovitch as the incoming president of the Montreal Chapter. See the full photo display here.