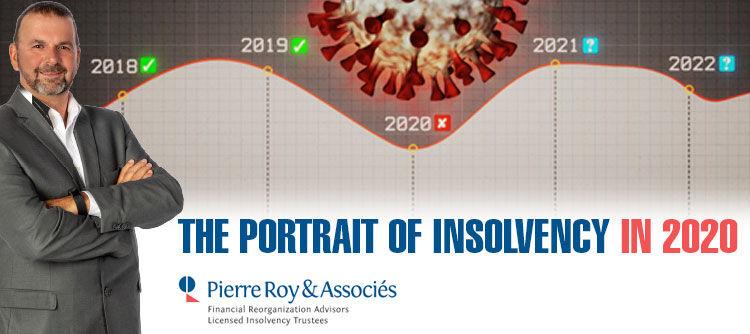 2020 is definitely a year we all want to put behind us. However, in hindsight it has been more difficult for certain people than others. Many have lost their jobs, or even worse, a love one. This year has outlined how many inequalities we have in our society as some fare much better than others.
I would like to take this opportunity to talk about insolvencies and bankruptcies in the context of the pandemic. Thanks to many government programs – and contrary to what many would believe at first – there has been a decline in the number of Quebecers filing for bankruptcy this year.
While between March and October 2019, there has 29,639 filings, for the same period in 2020 there has been 15,691. That is a decrease of 47%.
That change is interesting when we break it down by segments because it shows who have been the forgotten ones of the pandemic.
Retirees with Debt
When we take a look at the data from 2019, our seniors (those above the age of 65), accounted for 11.2% of all filings. In 2020 they accounted for 13.3%. When we include the people above the age of 55, the numbers go from 26.2% in 2019 to 29.8%.
The change is not astonishing by itself, but it shows that the trend of retirees with financial problems is growing. When we take a look at the numbers from 2010, the rate of insolvency in the people above 55 was much lower: it was at 23.6%. We can now see that the rate has climbed quite a lot over the last 10 years, despite a hot housing market and a good economy overall.
| | | | |
| --- | --- | --- | --- |
| Age Group | 2020 | 2019 | 2010 |
| 55-64 | 16.5% | 15.0% | 14.3% |
| 65+ | 13.3% | 11.2% | 9.3% |
| Combined | 29.8% | 26.2% | 23.6% |
Fragile Renters
The second breakdown which brings light to the inequities we have in our society is when we take a look at the rate of bankruptcies for renters.
Historically, renters have always been more prone to having financial difficulties leading them to bankruptcy. The portion of bankruptcies filed by tenants hovered around 80% for many years. However, during the current pandemic, this portion climbed to 88%.
This phenomenon can be explained by the fact that homeowners who suffered job loss or income reduction were able to refinance their home to pay the bills. Renters did not have the same safety cushion.
The rising real estate prices and the ridiculously low mortgage rates have definitely been a source of cash for homeowners going through difficult times. What must be outlined is that if those line of credits managed to help many Canadians, they have made many of them also more fragile. What would happen to them if the real estate prices went through a correction or if the rates were to go up?
Note: all statistics originate from our company records or from the Office of the Superintendent of Bankruptcy Canada
- Pierre Roy, Licensed Insolvency Trustee and founder of Pierre Roy & Associés
For over 30 years, the Pierre Roy & Associés team has been helping Quebecers to free themselves from their financial problems and make a new start, free of debt. Our financial reorganization advisors and licensed insolvency trustees are available to advise you. Bankruptcy is not the only solution, alternatives such as the consumer proposal exist. Get a free consultation today.