I still remember when all-sports English radio was born in Montreal just over 21 years ago, with the legendary Ted Blackman hosting the morning show with Mitch Melnick on the then TEAM 990.
To say this station was a huge gift to Montreal sports fans is an understatement. They carried the Expos games until the team left our city and of course carried the Habs, Alouettes, Impact (now CF Montreal), the former Montreal Juniors (hockey) and most recently the Laval Rocket and the Montreal Alliance (basketball).
We have seen personalities come and go. Ted Blackman died on October 2, 2002. He was only 60 years old and barely got to enjoy this new experience, co-hosting with his pal Melnick. There was Elliot Price, Ron Francis, Rod Francis, the late Randy Tieman, the late Ted Tevan, Ted Bird, PJ Stock, Rick Moffat, Denis Cassavant, Joey Elias, Brian Wilde, Joey Alfieri, Picard, Gabriel Morency and others gracing the airwaves.
Tony Marinaro was a rock as host of the Montreal Forum. He left the station recently to focus on his "Sick Podcast" and some opportunities in French media. Former Habs enforcer Chris "Knuckles" Nilan was dismissed by Bell Media last winter because he refused to get vaccinated. He now has his own podcast, a pretty darn good one I might add.
Wayne Bews was one great station manager, someone who reached out to me on so many occasions and always included me in TEAM 990 special events. Chris Bury, who heads the news operations at CTV, CJAD and TSN 690, has lent his steady hand with Mathew Wood having also steered the ship.
When Bell Media acquired the station, it was renamed TSN 990 and eventually TSN 690. The latter only occurred after an ill-fated attempt by Bell Media to wipe English all-sports radio off the map and create an RDS 690 in its place. There was such a protest over this move that it was shelved.
What a loss that would have been. Sports fans have become accustomed to tuning in to the station and when there is breaking news or an important press conference you just have to turn your dial to TSN 690 or log on via the web (as listeners from around the world do) and they will bring it to you live.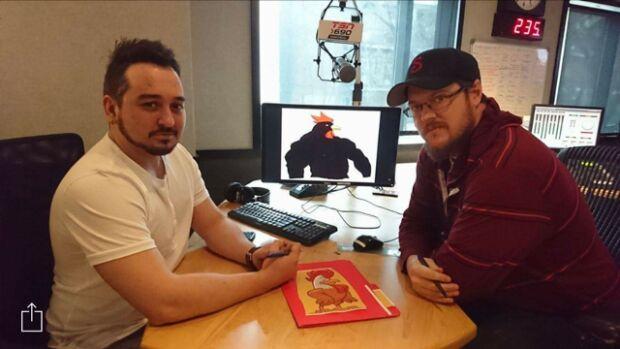 Today's TSN 690 has Conor McKenna and Shaun Starr hosting the morning show; Campbell and Gallo on from 10 am to 2 pm and Melnick, flanked by Jon Still and Andie Bennett on from 2 pm to 6 pm. Dan Robertson and Sergio Momesso are the Canadiens play by play and colour team; Still, Grant Needham, Amy Walsh and Noel Butler handle CF Montreal; Campbell and Marc Oliver Brouillette the Alouettes; Campbell and JP O'Connor  the Laval Rocket; and Moe Khan, Dwight Walton and Gabriela Hebert on the court for the Alliance.
Melnick is the master, always marvelous to listen to. Regardless of whom his studio team is, he makes us feel like we are all part of the conversation. Nobody does a better sports interview in Montreal than him.  And oh the contacts he has and the passion for the Expos he shares.
Let us not forgot Matthew Ross and Dave Trentadue with Weekend Game Plan.
One of my favorite aspects of the different shows are marquee guests they bring us, from Darren Dreger and Marc Denis in the mornings to Aaron Ward and Michael Farber on the drive home. I miss Pierre McGuire with Melnick. Now that he is no longer with the Ottawa Senators organization, I would love to see his return (although he appears headed for Sportsnet).
There is lots to celebrate. A planned bash for the spring of 2021 had to be postponed due to COVID-19. However, Melnick's event promotional company Billy Bob Productions (with partners Lloyd Fischler and Gary Silverman) will indeed present a belated 20th anniversary celebration on Thursday evening September 8 at the Fairmount Theatre at 5240 Parc Avenue.
Current and former show hosts, broadcast teams, anchors, reporters, insiders, sports legends and other special guests will be on hand. A press release promises surprises "as we trace the growth of what was THE TEAM 990 when it all began on Greene Avenue in May of 2001."
Originally planned as invitation only, a select number of tickets are available to the public but they won't last.
Proceeds from the sale of the tickets – at $49.90 – will go to ALS Quebec and TEAM STOCK to honour Dean Stock, younger brother of former NHL player and former host at the station PJ Stock. Dean died of ALS in 2016. He was just 39 years old, survived by his wife Paula and three young children.
Purchasers will get a tax receipt.
Tickets are available at teamstock.ca.
Doors open at 7 and lights down at 7:30. There will be multiple live acts and guaranteed laughs for most of the night.
Let's hope that in four years time we will be able to celebrate a 25th anniversary and that a then 67 year old Melnick remains in the chair.