Bravo to the Quebec government and their implementation of the COVID-19 vaccine passport.
In the last few days I have seen it being implemented and I hope it convinces those who are either vaccine hesitant or anti-vaxxers to get the jab. It is these individuals across the globe we must blame for the pandemic remaining a threat to our everyday lives. Unless someone has a very significant and valid reason for not getting the vaccine, then I remain deeply disturbed by the selfishness of these individuals.
I must admit that I know very few people who refuse to take the vaccine. But those in this category make absolutely no sense. "I had COVID, so I am immune," said one person. Not at all!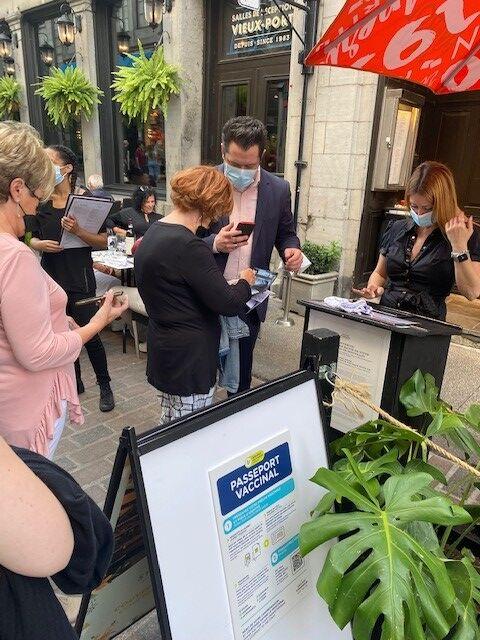 So, on Saturday night I ate at a Montreal restaurant with my wife and daughter for the first time in 18 months. We ventured to a packed Old Montreal and our favorite spot Vieux-Port Steakhouse, home of one of the finest outdoor terrasses. This has always been our "go to" restaurant in Old Montreal and I am happy to report that they have mastered the vaccine passport protocol. We got into a socially distanced line, got our Vaxicode apps and photo IDs ready and went inside. One of the managers told me that the night before he greeted a party of eight; two had no proof of being double vaxxed and they were sent away. (A shout out by the way to our fantastic server Josh Lerner whom I had met in his younger days and I still recognized under his mask.)
I was also at Petros Taverna in Westmount a few days ago just for a pickup. Server Cosmo nonetheless asked to scan my QR code and proudly noted that he indeed did have to prohibit entry to some potential customers. Owner Ted Dranias has gone the extra mile, insisting that all his staff have two shots as well.
See my video interview with Cosmo here.
Now I have heard from friends who went to some fast food restaurants where all they had to do was flash the QR code, with no further request to show ID. Not to worry. This is the law. People will start reporting businesses that do not get with the system.
With a vaccine passport, people age 13 and up who are adequately protected or who have a clinical contraindication to COVID-19 vaccination can gain admittance to certain locations and certain non-essential activities where the risk of transmission is high. Besides restaurants these include events and festivals, performance halls and sports arenas, casinos, cinemas, fitness centres, team sports, bars and certain extracurricular activities.
When two synagogues in Chomedey initiated their own vaccine-passport system in July, a story I broke, one of the individuals who refused to get the shot contacted me. "I am being treated like I have the plague," he said to me.
Exactly!
We went to some car dealers in July. When the sales rep offered to take us for a test drive I asked him if he had received two shots. "No," he said sheepishly.
We asked for another rep.
I do believe that no matter how high the COVID-19 infection rate climbs in Quebec, the Health Minister will try to hold off on any lockdowns. The government needs to push these passport rules to the limit and even expand it to grocery stores, pharmacies and other businesses. The threat of exclusion should force the anti-vaxxers to get their act together and do the right thing.
Just wait till Joe Fan gets two tickets to an Alouettes, Impact or Canadiens game and cannot get into the building. Perhaps that will be a proper wakeup call!
It is true that being double vaccinated does not prevent you from getting COVID-19. You can still catch it from someone who hasn't received the jab. But your symptoms will be far less serious because of the protection you do have.
If we were all double vaccinated, COVID-19 would disappear.
As I have shared in past articles, I was home with COVID all of January. This was the pre-variant version and it was not fun. A friend of mine had it last November and he has still not regained  his taste and smell. I know people who have lost loved ones to the virus.
COVID-19 may never disappear. But as we walked around Old Montreal, seeing droves of people lined up at different restaurants I felt like I was surrounded by believers in the need to have two vaccines - and soon more as a booster shots become readily available.