A feature film on the illustrious  hockey career of Habs legend Guy Lafleur is being developed into a motion picture.
Christal Films Productions  announced that it is currently developing a film on the life of Lafleur. Producer Christian Larouche has been given the green light from the Lafleur family and has their full collaboration for this project. The script will be written by Luc Picard. For the moment, no director is attached to the project.
"It's obvious that I'm very happy to be able to bring the life of my youthful idol to the screen'' said Larouche. " It's an ambitious and stimulating project. I've worn the number 10 myself!"
This is not Larouche's first autobiographical film, having produced Gerry (2011), Louis Cyr (2013) and Gallant: Confessions of a Hitman, which Picard is currently completing for a 2021 release. He has also produced two field hockey films, Les Pee-wee (2012) and Junior Majeur (2017), and several other hits such as Le Mirage (2015) and Les trois p'tits cochons 2 (2016). One of his latest productions, the feature film Tu reviendras de moi, will be released in February 2021.
I have had the good fortune of meeting Lafleur on many occasions over the years, dating back to his playing days and my presence as a reporter. He was always a classy gentleman. During his retirement days I would often ask what he thought his salary would be in this era and he just rolls his eyes. Clearly folks he would be in the $12 million a year category.
In 2005 a movie called The Rocket, about another Habs legend Maurice Richard, was released in theatre. It starred Roy Dupuis, was directed by Charles Binamé and featured appearances by NHL players Mike Ricci, Sean Avery, Vincent Lecavalier, Philippe Sauvé, Stéphane Quintal, Ian Laperrière and Pascal Dupuis.
Lafleur's story on and off the ice is indeed made for a movie.
The 68-year-old native of Thurso, Que., played in 1,126 career NHL games from 1971 to 1991, registering 1,353 points (560 goals and 793 assists). He spent the first 14 years of his career with the Canadiens, followed by a three-year retirement. He then played with the New York Rangers for one season and the Quebec Nordiques for two. I can't wait to see how those moves will be depicted.  I was at the dramatic night he returned to The Montreal Forum wearing a Rangers uniform. Here is Dick Irvin's television coverage of what will certainly be a good film sequence.
A member of the Hockey Hall of Fame, Lafleur became the first player in NHL history to score at least 50 goals and 100 points in six consecutive seasons. He holds the record for most points as a Canadien and helped the club win the Stanley Cup five times. Named one of the NHL's top 100 players of all time in 2017 by the league,  he was the sixth Canadien to have his number (No. 10) retired.
Last December  Lafleur underwent lung surgery, just two months removed from a quadruple bypass heart surger, He is good health.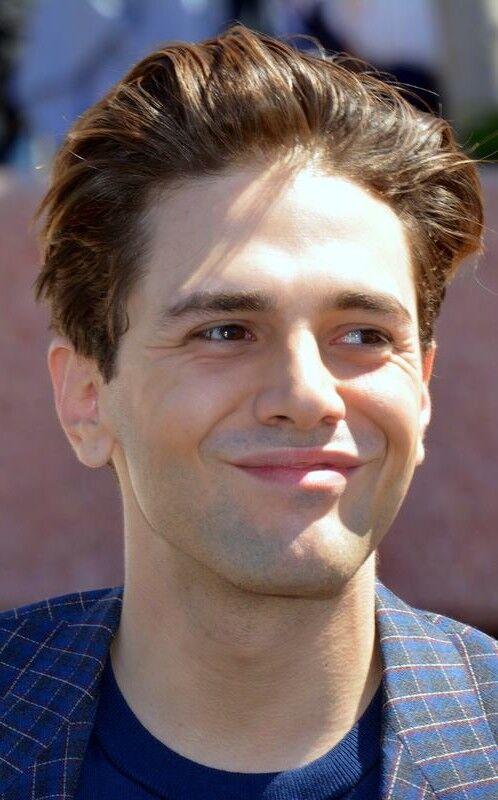 How about the still youthful looking Xavier Dolan in the lead role?
Unlike The Rocket, which had English and French versions, this film will likely be the latter.