The last time my wife and I went on a vacation was a full 19 months ago when we were in New York CIty. COVID-19 soon hit and before long a trip to the grocery store or pharmacy became highlights in terms of activities.
Both double-vaccinated, we just came back from what I would categorize as a most logical getaway destination for Montrealers: the nation's capital in Ottawa.
We did not go the museum route. The weather was mostly nice. I enjoyed many solo walks along the Rideau Canal. We loved Westboro Beach and Dow's Lake. There are some excellent shopping centres and stores we do not have in Montreal like Bed, Bath and Beyond and Nordstrom rack. I was fascinated with the Farm Boy Grocery store. Wow, we do not have anything that even remotely measures up to this place.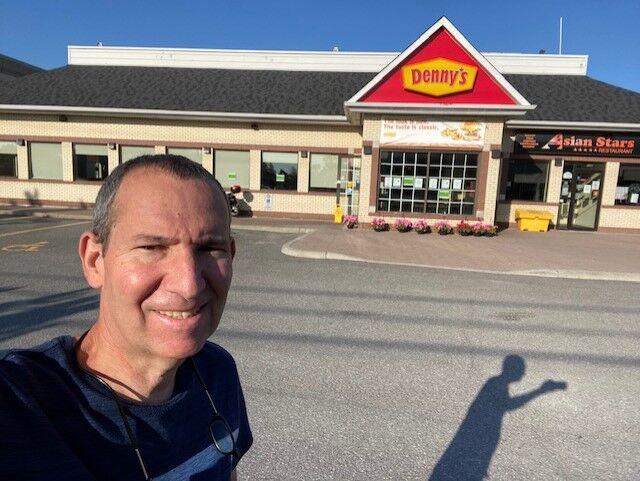 Ottawa also marked the first time we returned to dining at restaurants, all of which are booming here. I was thrilled to have my Grand Slam breakfast at Denny's, a favorite of mine which for reasons I will never understand has never landed in Montreal. There are two Red Lobster locations. We did not get there on this trip. Perkin's also has a franchise here. A couple of other local chains are worth noting – The Work's hamburger spot with some creative options and Heart and Crown Pub, home of one of the best club sandwiches I have ever had (next to the Table 51 version). The Byward Market is a fun place to dine. One restaurant did not honour our reservation so they moved to our dark list. On the way back to the car we discovered E18hteen Restaurant on York Street and booked it for another night. Preston Street, in the heart of Little Italy, has winners such as Mati, Giovanni's and a whole lot more.
Restaurants here are so busy, on the terrace and indoors, that many do not even answer the phone, respond to emails or Facebook messages.
At the St. Laurent Mall, the food court was jam-packed the day I was there. Every second table was taped off and people respected the spacing in lines.
I would like to commend the restaurants we went to for how well they are respecting COVID restrictions. When you arrive each dining establishment asks you to write down your name, phone number and in some cases respond to a COVID survey. It is a great way to handle contact tracing. Staff dutifully wear their masks. I studied the diners carefully and clearly like anywhere else, COVID fatigue has set in. At one place I saw a gentleman who had removed his mask walk over to another table (when in motion the mask is supposed to be back on), shake three hands, go back to his table, touch his phone and then start eating his meal. That, folks, is how the pandemic will spread.
While we were in Ottawa, COVID cases were averaging about eight a day in a city of one million people.
#Invite2 Campaign
Ottawa Tourism recently launched its #Invite2 campaign, encouraging local residents to #Invite2 colleagues, neighbours, besties, family members, or friends to safely join in the many activities in and around the region and—in turn—reinvigorate the Ottawa economy and reignite fun!
"We've done the math," says Michael Crockatt, President and CEO of Ottawa Tourism, "and if each household in Ottawa invites two people for a three-night stay in Ottawa sometime in 2021, that would inject more than half a billion dollars of visitor spending into our local economy and support the equivalent of 1,500 full-time jobs."
It is a great idea for Tourism Montreal to follow.
If people book at least a two-night stay in Ottawa via https://ottawatourism.ca/en/visitus before October 9, 2021, they will have access to the Ottawa Experience Pass worth up to $200 with which they can redeem four separate coupons worth up to $50 each for attractions, tours, restaurants, and museums.
#Invite2 highlights returning favourites such as boat and bike tours, national and local museums, vibrant neighbourhoods, rural hidden gems, and cycling and paddling options but will also highlight some of these new attractions over the coming months:
• The world's first interprovincial zipline: Interzip Rogers sends visitors soaring from Ottawa to Gatineau on twinned ziplines 1,400 feet (425 metres) long and 120 feet (37 metres) high. Situated on Zibi properties on either side of the Ottawa River, the zipline offers spectacular views of the Ottawa and Gatineau skylines.
• An innovative live outdoor theatre performance called C-O-N-T-A-C-T comes to Lansdowne Park in the Glebe neighbourhood until September 5, 2021. The audience downloads an app and wears headphones to hear the inner thoughts of the live actors, who move through the neighbourhood without speaking during the performance.
• Beyond Van Gogh: The Immersive Experience offers an intimate experience of the Dutch painter's works inside the gorgeous Aberdeen Pavilion at Lansdowne until September 16, 2021.
• Ten nights of fireworks mixed with musical accompaniment are offered between August 7 and 21, 2021 at the Casino Lac-Leamy Sound of Light show located outside the Canadian Museum of History. It's their 25th anniversary this year!
• The Chef's Table pairs local and guest chefs with Chef Kenton Leier of 1 Elgin at the National Arts Centre while the Festival of Small Halls programs live music, played on a boat moored in the Rideau Canal, for unforgettable evenings on weekends between August 13-14 and September 17-18, 2021.
• The ByWard Market launched the York Street Farmers' Market, a new farmers-only market each Saturday until October 9, 2021; and the Parkdale Market debuted a Night Market each Wednesday from 4:00 to 8:00pm.
• Summer 2021 sees the opening of Pangishimo Park, a new space located on Chaudière Island behind the Canadian War Museum, along the Ottawa River. Meaning "sunset" in Algonquin, the park was developed in close collaboration with Algonquin partners.
• August 28, 2021 marks the 50th anniversary of the "We Demand" protest on Parliament Hill, the first of its kind in Canada for gay rights. The event is commemorated with a mural on the corner of Bank and Gilmour Streets in downtown Ottawa and will be recognized during Ottawa's Capital Pride festival in August (August 22-29, 2021).
• The largest equestrian event in Ontario, the Trillium Championships Show, takes place at Wesley Clover Parks September 1-5, 2021.
• Things get spooky this October at The Sawmill at Lansdowne, as Saunders Farm brings its signature brand of scary experiences to the Glebe neighbourhood. Wander through the creepy remnants of a logging operation and meet scary characters along the way (postponed from 2020).
• Crave Food & Wine Festival brings gourmet food and great wine to the Shaw Centre November 19-21, 2021.
• Ottawa's first European-style Christmas Market returns for its second season at Lansdowne, Friday nights through Sundays between November 26 and December 19, 2021, as well as Monday to Wednesday, December 20-22, 2021.
Personally I cannot wait to return when our country beats COVID for good!