Gabrielle Fahmy is the newest member of the CTV Montreal team. She joined them as video journalist last week.
A native of the West Island, Gabrielle attended elementary and high school at Collège Sainte-Marcelline, studied science at John Abbott College and then pursued Occupational Therapy at McGill and Medicine at the Université de Montréal.
"I was on my way to becoming a doctor, when I realized I needed to do what I was passionate about," she explains. "I'd wanted to be a reporter since high school, but hadn't been brave enough to go into it right away. So I applied to get into the  Journalism Graduate Diploma program at Concordia, and I guess that was the start of what's so far been a very exciting career."
Gabrielle worked as a video journalist for CBC in New Brunswick for the past four years. So she has already done it all - shooting, editing, reporting. "It was a great experience because I covered a region that went from Moncton and the surrounding communities, to the Acadian Peninsula in the north of the province," she notes. "It's taught me to find stories wherever I go, and connect with people to help bring to light some of the issues they're facing. We were pitching almost daily, so it's taught me to stay sharp and always keep my eyes and ears open for things that need to be told. In a small region, you end up doing everything pretty quickly.
"I've done some investigative stories where we'd work as a small team of journalists and comb through sometimes thousands of pages of documents from right to information requests we'd filed, I've done breaking news, live elections, provincial politics, court, crime, environmental and health stories. I was reporting on all platforms - television, radio, online and have done videos for social media. I'm grateful for my time there, it's brought me great depth of experience."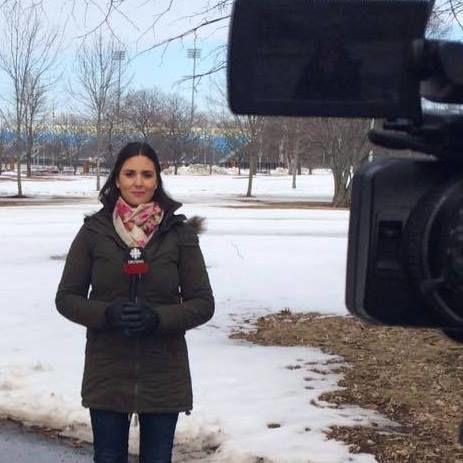 During Gabrielle's first winter in New Brunswick, a major ice storm devastated the province. They said it was the worst natural disaster in its history, and the Acadian Peninsula was the region worst hit. Many places were without power for two weeks. "I spent those two weeks covering the aftermath," she recalls. "The Acadian Peninsula is made up of several small fishing towns and villages, most jobs are seasonal, and some people there don't have a lot. When that hit, many were struggling, and from a human standpoint, that was difficult to see. But I've also never seen communities come together like I did then, with strangers checking up on one another and helping each other."
Another big story for her was the trial of the RCMP stemming from the 2014 Moncton shooting, which left three officers dead and two others wounded. The national police force was facing labour code charges for failing to properly equip and train its frontline officers. "I covered the three month trial," she said. "The question at the heart of the hearings was whether the officers having access to carbine rifles would have changed the outcome of that night. Back then, they only had duty pistols to respond to calls. It was hard hearing all the details of that horrific night, and seeing how it was still affecting people today. The shooter had pleaded guilty after the incident, thereby avoiding trial, and some of the details had never been heard publicly. I was one of the only media to cover the trial in its entirety, and was often getting messages from members sharing their experience, or thanking me for covering the trial. That last part, that made it worth it. Because at the end of the day that's why we do this job, for the people who watch, listen or read us."
Gabrielle says she is very excited to be starting at CTV Montreal. She grew up watching the newscast, "and it's an honour to be joining such a talented team. Montreal is a unique place, and I'm excited to be back home and help tell its stories."
News Director Jed Kahane had an opening in the ranks when Amanda Kline was named the weekend anchor.