Like most avid listeners of CJAD Radio, I was saddened to learn about the massive purge of their newsroom on Monday.
For me it was a double loss, as my work as the communications and marketing specialist at the English Montreal School Board kept me in regular touch with most of the individuals who lost their jobs.
Sadly, the writing was on the wall in 2013 when Bell Media formally took over the four Montreal English language radio properties - CJAD, Virgin Radio, CHOM and TSN 690. Now under the same ownership as CTV Montreal and located directly across the street, it did not take long before CJAD newscasts included abbreviated reports from CTV. Lori Graham started to do weather forecasts on the Aaron Rand Show in the afternoon and the weekend CTV Montreal newscasts were simulcasted on CJAD.
Nobody is safe in the broadcast business. It is why my mom begged me not to follow in my dad's footsteps and seek a full-time career in radio or TV.  I feel badly for the management at CJAD,  which worked so hard to build a fantastic newsroom. They were merely following orders from head office in Toronto.
As for the "nobody is safe" comment,  in January the big boss of the four stations Martin Spalding was cut loose.
So now we say good-bye to veteran reporter of 28 years Shuyee Lee, the dynamic and talented Elizabeth Zogalis and anchors Richard Deschamps, Kelly Lapare and Luciano Pipia. Hosts Jon Pole and Dr. Laurie Betito are out to.
In their places, CTV reporters will file more detailed stories for CJAD. In the evening, whomever is anchoring the CTV newscast (soon to be Maya Johnson and Amanda Kline on weekends) will handle the CJAD news updates.
Will CJAD lose any of its audience or advertising as a result of this? The answer is "no."  They have no talk radio competition in this city. CBC Radio One has a morning, lunch hour and drive home shows and a weekend morning show. They have their devoted listeners, as does CJAD.
The fact that CJAD will air reruns of the Elias Makos and Evan Solomon Shows in the evenings still beats whatever CBC airs. If AM 600 had actually surfaced  after years and years of rumours, Bell Media might have resisted such a purge. AM 600 does exist on the dial and for the past few years it has been playing oldies music 24/7. If the owners do decide to go for it, well there are plenty of talented personnel to choose from.
While CTV Montreal is out as a potential home for the victims of the purge, there is still CBC Radio and TV, City TV and Global TV. Any one of those stations should grab a star like Lee, a budding star in Zogalis and vets like Deschamps, Pipia and Lapare.
Ditto for Dr. Laurie, who will surely be back with her own podcast. She was with the station for 22 years and had a very loyal following. Besides being a program that its own loyal following, what she did as well was a public service. She opened her lines every night and so many people in need who no doubt could not afford therapy, got theirs on the air. Laurie is very involved in the community and was a terrific ambassador for CJAD. Yes, this is another great loss.
"Yes, I lost my job today," Zogalis said on Facebook.  "And it's not easy when it's full public knowledge. But I'm not surprised at all. I will land on my feet. I just don't know where and when!"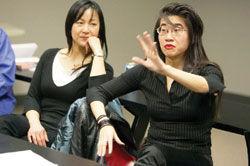 Shuyee Lee and I got along great. She was so devoted to the station, handling assignment duties and then going out to cover an event. This lady has a sparkling personality that just wants to make you smile. I cannot recall how many times she would call or email well past her shift to check on a story development related to the school board.
My mom is heartbroken. To her, Jon Pole was an evening companion. She listened to his show religiously, laughed non-stop and could not wait to discuss his various themes  with me.
I do have one final suggestion. Since CTV Montreal will take over the news reports and some anchoring, how about TSN 690 becoming part of the suppertime and  late night newscasts with sportscasts or live remotes?