When veteran Montreal Gazette editorial cartoonist Terry Mosher (Aislin) decided to devote his latest book, Professional Heckler: The Life and Art of Duncan Macpherson, to the career of another cartoonist, he not only infused it with his passion and encyclopedic knowledge of the art form, but his profound admiration for his subject.
Born in Toronto in 1924, Duncan Macpherson began as an illustrator for the Montreal Standard and Weekend Magazine, before joining the ranks of Maclean's magazine and finally the Toronto Star in 1958, winning six National Newspaper Awards and a Molson Prize, among other honours.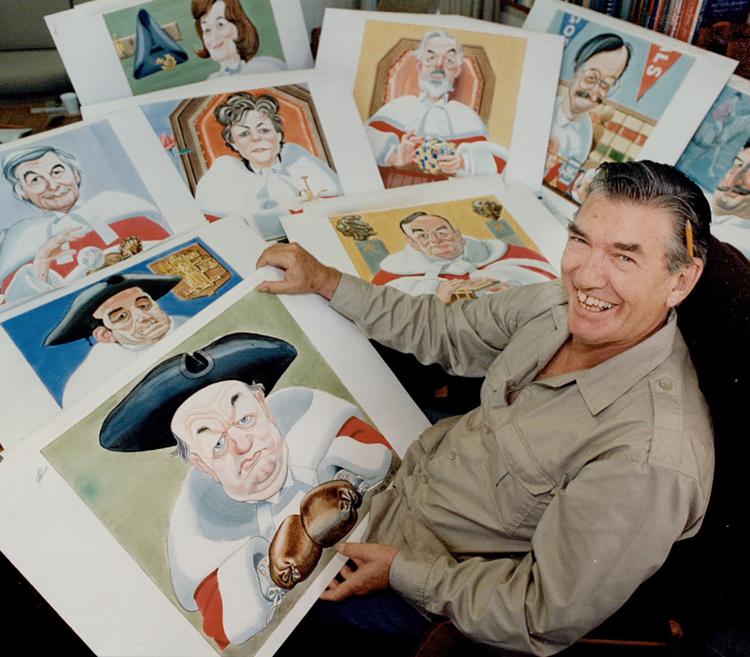 The seeds of the book project were planted about three years ago when Mosher learned from Macpherson's widow, Dorothy, and his son, Ian Macpherson, of the existence of a 350-page journal that the late cartoonist had written, but that no one had ever read. When he was offered the chance to read it, Mosher said it indicated that the family not only trusted him, but that they were probably interested in something happening with it.
Mosher, who has written or collaborated on over 50 books, said that at the time, he was actually itching to write a book that was not a collection of his own cartoons — and he loved the process.
"It was very satisfying and also a little bit like a jigsaw puzzle, pulling all these little bits of information together — what was important, what was not, having to confirm things," said Mosher during a recent telephone interview. "I mean, there were so many stories about the guy, half of which may have been true."
Macpherson developed his ability to draw when he was overseas during World War II, working as an artist for the Air Force. While in England, he was impressed with the work of cartoonist David Low. Back in North America, he studied at the Boston Museum of Fine Arts and then at the Ontario College of Art, graduating in 1951.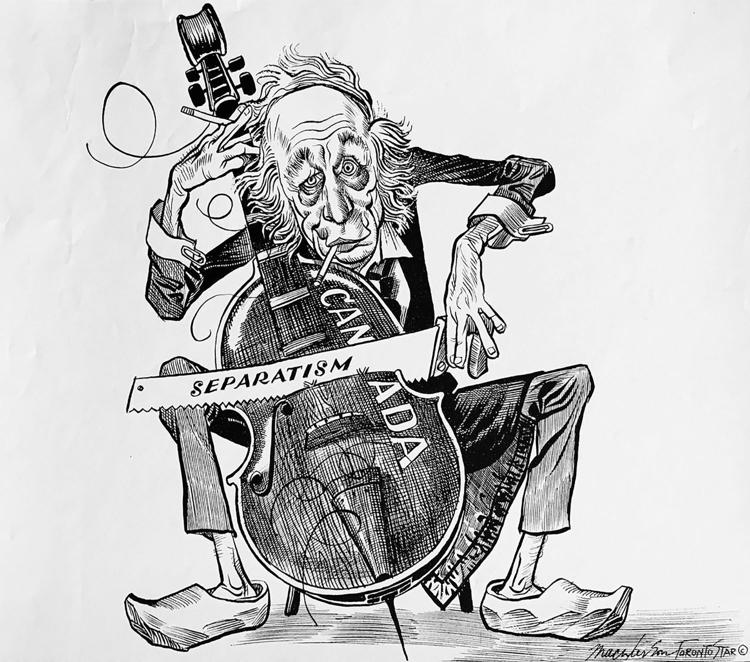 Before the Toronto Star, Macpherson spent almost 14 years illustrating for magazines and having to deliver at a time when there was no instant cameras… or Google. "He had to do his own research. He had to go and travel and see things and see how they looked."
For example, in the winter of 1957, when Maclean's wanted a last-minute Christmas cover of Montreal's Mount Royal Cross, Macpherson took a train into the city and wandered up the mountain with his sketchbooks, looking for a tall spot. After giving up on the newly built Radio-Canada tower, he eventually climbed to the top of the equally new Montreal General Hospital.
"He got what he wanted," said Mosher. "Then headed back down to the station, did the whole illustration while on the train and delivered it to Maclean's the next day. The paint was still wet. Now, is that a professional or what?"
Although Macpherson had the talent for cartooning, he was happy in the 1950s making good money as an illustrator. It was really Pierre Berton — the late author, journalist, television personality and Canadian icon — who initiated the move. "Berton, who had an eye for cartooning because he had wanted to be a cartoonist himself, coaxed then-Toronto Star publisher Beland Honderich into talking to Duncan."
A disinterested Macpherson, said Mosher, asked for all kinds of money, thought that was that and went back to his studio. A week later they called. "Berton must have said, 'Pay the guy. Take a chance here. I have a feeling.'"
The hiring proved to be a great move. Macpherson's third cartoon — of Prime Minister John Diefenbaker adorned in jewels and feathers as Marie Antoinette — became an instant classic.
"It became the best known cartoon in Canadian history," said Mosher. "And he drew it three cartoons in."
Macpherson's tough stance with his publishers — he quit again, which gained him more money, more freedom, and the ability to draw fewer cartoons — was never lost on Mosher.
"Fifteen years later he gave me the same advice. He said, 'Terry, you're establishing a presence in Québec. Quit The Gazette and they will come running back to you asking, 'What's the problem?'" remembered Mosher, adding, "Best advice I ever got in my life. That allowed me to be independent, to own my own originals, to not have to attend meetings, and it upped the money considerably."
Macpherson loved Canada, often travelling the country with his sketchbook in hand. He also loved jumping on a train and coming down to Montreal and travelling around the countryside in Québec. But he held a paternalistic view of the French-speaking province. "He had old attitudes that most people had at the time," said Mosher.
Not surprisingly, he was hostile to the emergence of Qnationalism, which was reflected in his cartoons of Premier René Lévesque, his portrayal of nationalists as French revolutionaries, or of his animal-like depictions of the Rose brothers of FLQ fame. Although Mosher said he did not always agree with Macpherson's cartoons, he always admired the artistry. "The thing is, the man could draw beautifully, and I love a person who draws well."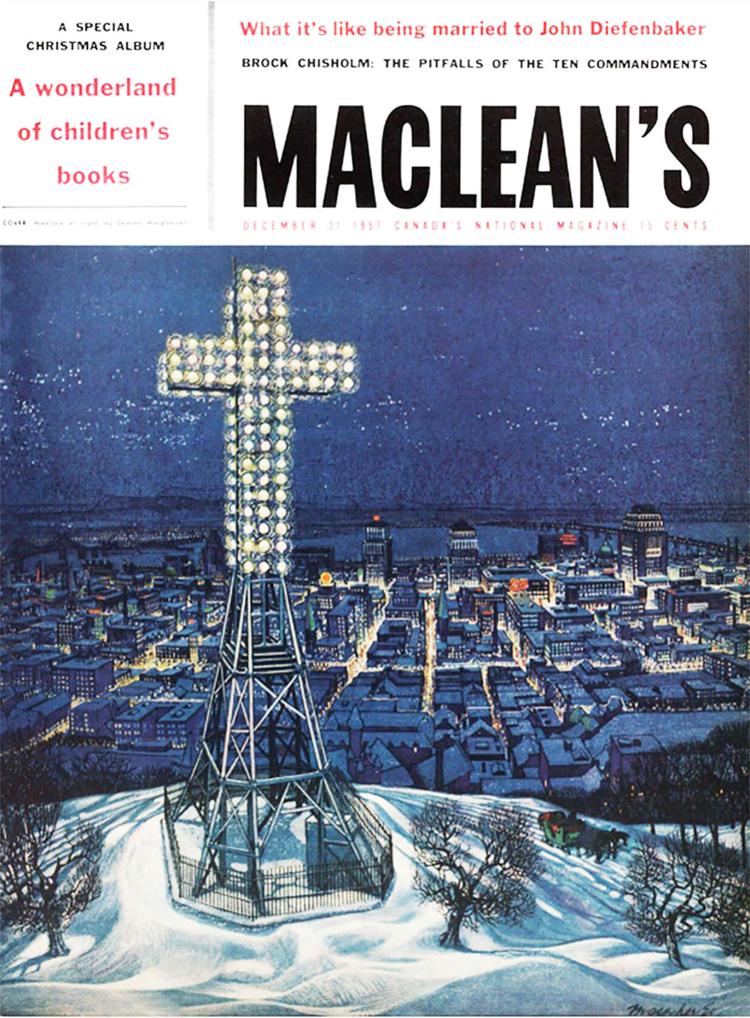 Mosher first met Macpherson in 1971 during the FLQ trials when the two served as courtroom sketch artists for their respective newspapers.
"At the end of a day we fell into a taxi," Mosher recalled. "There were very few cabs so a bunch of us got in and a crime reporter from the Montreal Star said, 'Duncan, have you met our new guy, Aislin?' Duncan was in the back and I was in the front and I'll never forget him leaning over and saying, 'Oh, well, do you drink?' I said, 'Yeah,' and about 14 scotches later I rolled out of the Montreal Press Club."
The pair would meet regularly for more than a decade until Mosher gave up drinking in the mid-1980s. Macpherson died in 1993.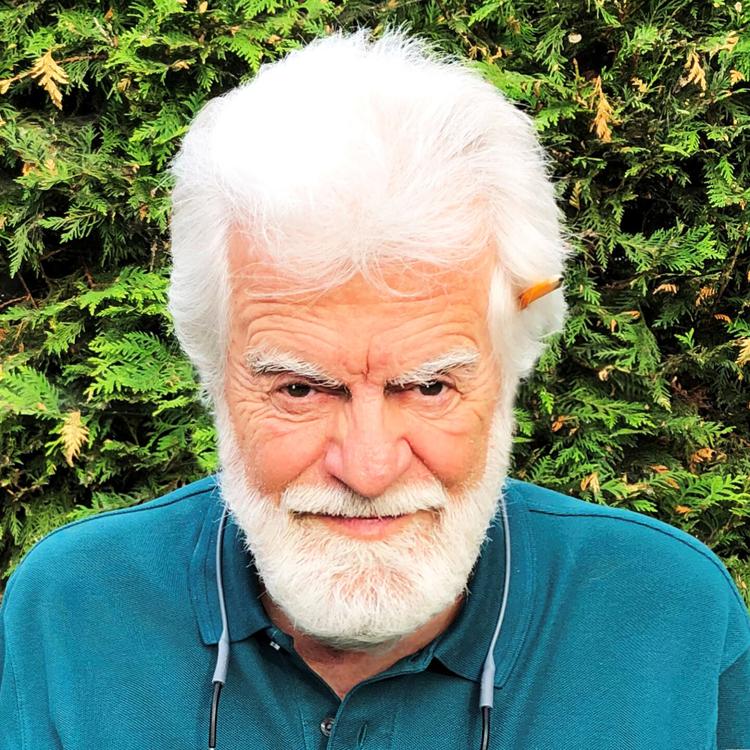 Mosher's main goal in writing the book was to not only revive Macpherson's reputation, but to make sure his work, and his name, are never forgotten.
"Remember, he was the king in the 1960s and '70s… Everybody looked to see what Macpherson was doing and to see his reputation start to sort of fade really bothered me."
More important to Mosher was to get this book into libraries and archives.
"If you want to have something remembered, if I want to have Duncan remembered, get some books into archives and into libraries because 100 years from now when some sun spot has wiped out all our JPEGs, those good quality books will still be in a dusty way lying somewhere," said Mosher. "Yes he was eccentric, he was a drunk, his marriage kept breaking up, but my God he could draw good cartoons."
Professional Heckler: The Life and Art of Duncan Macpherson, McGill-Queen's University Press, is available in bookstores as well as online.