This Week's Print Editions
Montreal council approved a resolution Thursday condemning the recent anti-Semitic incidents that took place throughout the city, physically and via social media, during the recent Israel-Hamas conflict.
Many Canadiens supporters and hockey fans in general are outraged at the seemingly one-sided officiating taking place during the ongoing Montreal-Vegas Golden Knights NHL semifinals series.
On Thursday evening at Kirkland's Harris Park St. Laurent Green Crush took a road win with a 9-2 score over the Lakeshore Greys in Lac St. Louis U11 B baseball action.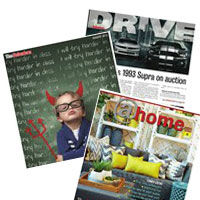 Read our latest special section!
The latest issues of @Homes, Drive, Back To School, and more! To get the latest, just Click here!