This Week's Print Editions
Côte St. Luc resident David Lisbona announced that his Nellie Philanthropy charitable public foundation will be holding a "Drop Off a Difference" event, Sunday, Dec. 6 from 9 am to 1 pm at the Madison's parking lot, 7977 Décarie Blvd near Ferrier.
For a week before and a week after a four-day span surrounding the Christmas holiday, Quebecers were asked by its secular-minded government to isolate in order to curb the spread of COVID-19, leaving other religious celebrations by Jews, Muslims and others out in the cold.
The Quebec Foundation for Athletic Excellence and Golf Québec recently awarded $ 75,000 in bursaries to 32 student athletes during the annual Golf Quebec Bursary Program. A twist in the proceedings this year is that the awards were presented on Facebook where the recipients were announced. T…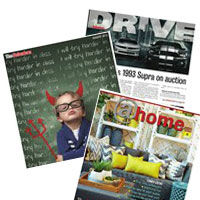 Read our latest special section!
The latest issues of @Homes, Drive, Back To School, and more! To get the latest, just Click here!