On the occasion of its 75th anniversary, Chalet Bar-B-Q on Sherbrooke Street West in NDG continues to cater to a loyal clientele. "We have a very loyal clientele and we wish to thank them for their support," says General Manager Danny Colantonio, who has been at the helm for 30 years now.
Chalet Bar-B-Q opened its doors in August 1944. Over the years the iconic restaurant has built a legendary reputation for some of the best charcoal barbequed chicken anywhere and that is because they have never tampered with a winning formula. Each day they buy fresh plump chickens, which are slowly roasted over hardwood charcoal in custom built brick ovens. The staff makes sure every chicken is crispy and golden on the outside and tender and juicy in the inside. Add some mouthwatering French fries or baked potato, a toasted bun and their famous dipping sauce and you will be in heaven.
Service here is lightning fast. The dining room features 42 tables while a party room can accommodate 40 people. There are eight delivery vehicles out on the road at any given time while pickup service is quick and easy. They have also started working with Uber Eats, the online food ordering operation.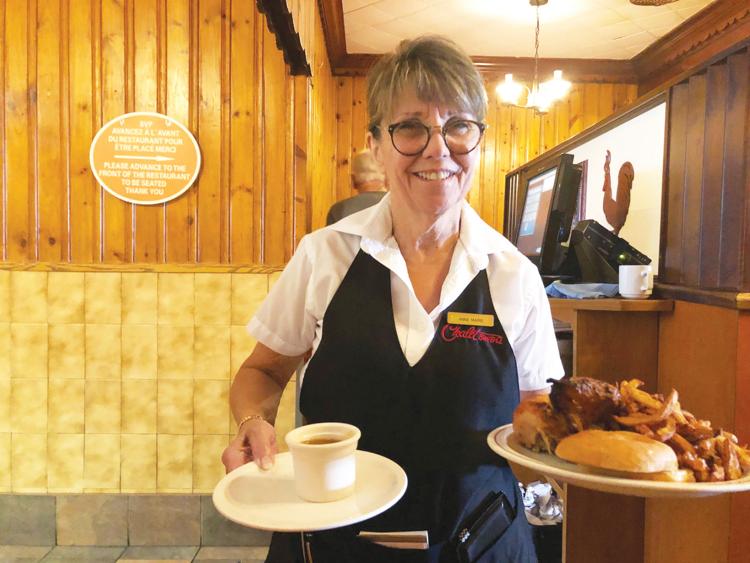 Many of the staff, like 27-year veteran server Louise Goedike and Nella Gianforte, with 24 years of service, are so familiar with customers they greet them on a first name basis. "For us it is a surprise when we see a new face," said Nella.
Anne Marie Carpini, who served this reporter a delicious quarter breast meal, has only been on staff for five years.
"I used to come here with my grandmother after seeing a movie at the old Kent Theatre when I was a kid," she says. "It is such an honour to work at a place like this."
Chalet Bar-B-Q has some fantastic lunch specials from 11 a.m. to 3 p.m., with full course meals starting as low as $9.55.
Marcel Mauron was the original owner and today his daughter Louise McConnell oversees the spacious venue. Colantonio works hand in hand with David T. (like Mr. T.), who has managed the locale for the past 17 years. "We order close to 3,000 chickens a week," said David, who like Colantonio can often be found packing orders in the kitchen.
Besides the standard chicken dinners, you can order chicken soup, coleslaw, salads and a BBQ chicken sandwich on a Kaiser bun. A children's meal for kids 10 and under costs only $6.95. Beer and wine is available and they offer some delicious desserts, from chocolate or carrot cake to apple, coconut cream or lemon meringue pie.
In the past year Colantonio added poutine to the offerings, despite the owner wishing to take a wait and see attitude.
"It been extremely successful — especially with the younger demographic," he said. "Louise did not want us to place it on the actual menu, so we have it on a card at each table. We said it would be there for a limited time and that was a year ago."
Chalet Bar-B-Q is located at 5456 Sherbrooke Street West. There is free parking in the rear. Reservations are accepted for parties of five or more. For more information call 514-489-7235 or log on to www.chaletbbq.com