There is great interest being shown in the much-anticipated Adamus Relaxed Living project in Beaconsfield, which will be built in four phases. The first of an expected 24 units will be ready for occupancy by August and September.
Located on land that that previously housed the Club West Island Fitness facility on Alton Drive near Elm Avenue, this will become Beaconsfield's only four-storey building.
Chloé Nadeau-Guillemette, a residential real estate broker and advisor for Engels & Völkers, which is overseeing the sales, notes that 65 per cent of the Phase One units have been purchased. When the project is completed by 2021, there will be about 180 units. Nadeau-Guillemette notes that the numbers can change because of the unique opportunity buyers have to customize their own units. "We sit down with clients in our sales office on site, review the layout of the unit they are interested in and try to modify the design to their preferences," she explained. 
The one-, two- and three-bedroom living spaces will range from 699 to 1,692 square feet. The project is located close to all amenities including shops, restaurants, a recreation centre, a library, medical centres, schools, swimming pools, fitness centres and yacht clubs. Its proximity to several highways and a commuter train station offers quick access to a variety of destinations. As for prices, a one-bedroom condo with interior parking garage locker starts at $260,900 plus taxes and there is a one-bedroom penthouse available for $379,900 plus taxes and a three-bedroom condo at $465,900 plus taxes. The latter is sold out for Phase One. "We would have to customize a unit," Nadeau-Guillemette said.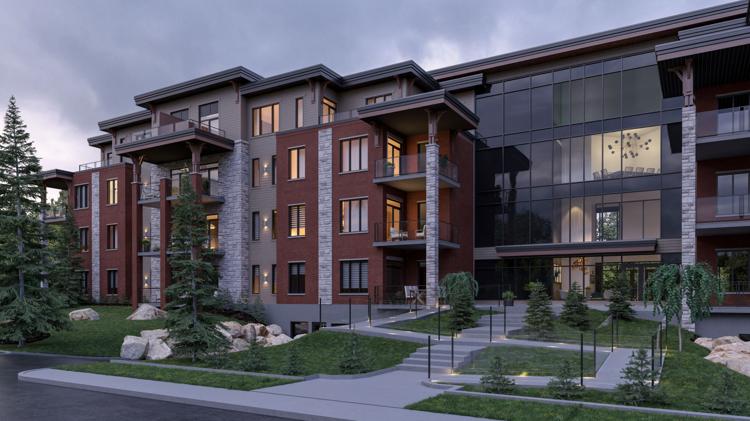 The former Club West Island utilized 100 per cent of the land with building and asphalt whereas Adamus' 65 per cent green space represents Beaconsfield's first ever TOD (Transit Oriented Development). This focuses on walkable, mixed-use communities centered around high quality train systems, making it possible to live a lower-stress life without complete dependence on a car for mobility and survival.  
The building will feature floors, columns, and beams of steel and concrete, a masonry and metal exterior. Each unit will have an air exchanger unit and a balcony or terrace. There will also be a common area in the atrium.  Units will have a ceiling height of nine feet.  There will be full indoor parking, even for visitors and no asphalt views from balconies, superior soundproofing. Sixty percent of the site is reserved for landscaping such as trees and gardens. "The idea in creating this project was to provide that up north cottage kind of feeling," Nadeau-Guillemette said.
Officials from KF Construction, the promoters of the project, emphasize how it is also close to major highways, commuter rail transit and public transportation.  
Adamus has unveiled carefully conceived layouts and quality interiors crafted with great attention to detail: highly durable flooring, quartz kitchen countertops, walk-in closets in most units, quality windows and special consideration to sound proofing, and gas outlets for penthouse units are just a few of the highlights. Because accessibility and security are always primary concerns, amenities such as controlled access, a fire sprinkler system and an elevator have been included.
The Beaconsfield city council believe the developers went the extra mile to ensure everything was done properly and it is their wish for people to stay in Beaconsfield when they decide to downsize and sell their homes. Adamus also expects to attract young professionals wanting to live in Beaconsfield without the responsibilities that come with owning a detached house.
Showroom hours are Monday to Thursday from noon to 7 p.m. and Saturday and Sunday from noon to 5 p.m. For more information call 514-505-6554 or log on to www.adamus.ca