The most important part of your home's structural integrity is the roof. It must be able to withstand all of the elements while keeping your home perfectly covered as well as dry — which is no easy feat in Quebec's fluctuating climate. When homeowners invest in a roof, they want to ensure that they are going to get the longest, most reliable lifespan out of that roof – and nothing compares to Les Toits Permanents du Québec.
This permanent residential roof solution is made from an aluminum material that has a protective layer of Teflon. It is not made of steel since steel will rust over time with repeated snow and rainfalls. There is literally no maintenance required of these permanent roofs, and the colour will never fade. These aluminum roofs are guaranteed for 50 years, and they prevent the build-up of snow in the winter, since it just slides right off. The product is also extremely light, so it doesn't add any extra weight to the structure of the house.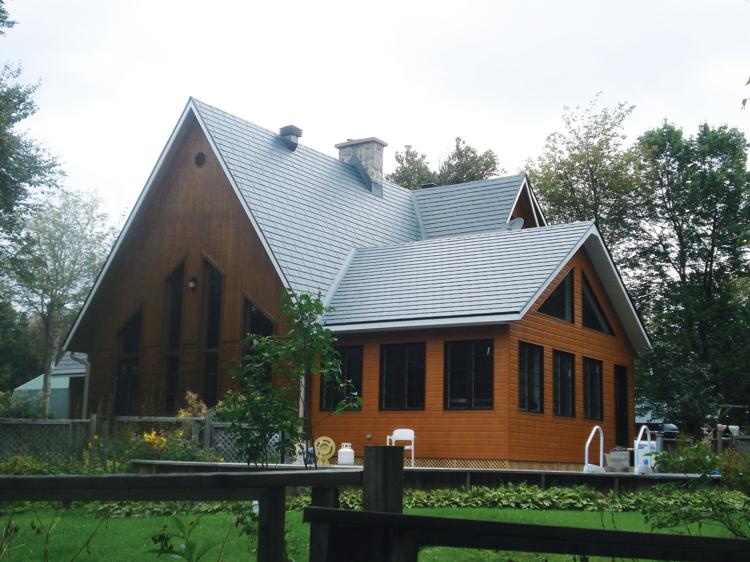 Like a "super roof," it can withstand mixed precipitation, high winds (up to 190 km/h thanks to its unique four-direction locking system), and the heat of the sun's UV rays, along with acid rain, pollution, bird droppings, tree resin, moisture, mildew, or salt spray. They come in two finishes and a wide range of different colours so that they can blend stylishly and seamlessly with your home.
"It's been a product since 1969 so this is nothing that is new to the market. It has been around for a while. And Les Toits Permanents du Québec is the exclusive distributor and installer of these Interlock® aluminum roofs," explained Samyr Mehailia, who is one of three owners and manages the company with partners Frédéric Verreault and Mathieu Bertrand. Since they have exclusivity over Interlock® in the province, they are able to offer professional installation and provide expert know-how on their products, as well as properly train those who work with them.
This cannot necessarily be said of DIY roofing projects, where you buy the materials off the shelf yourself and install them on your own. Their roofs are a Canadian-made product and come with a lifetime warranty. In fact, homeowners will also receive a 10-year installation warranty, one of the highest that can be found on the market.
These types of roofs are also a huge draw if you plan on selling your home. Potential buyers will have peace of mind knowing that they not only have a strong, durable new roof in place, but one that won't require any maintenance whatsoever. Plus, those product and installation guarantees make the added benefits even more attractive. 
Les Toits Permanents du Québec is proud to announce a major milestone this year: they're celebrating their 20th anniversary. Founded in 1998, the company's reputation now stands firmly on 20 years of expertise, and they continue to grow exponentially every year, with offices both in Montreal as well as Quebec City. In fact, they have more than 7,000 projects under their belts. They are members of the APCHQ (L'Association des professionnels de la construction et de l'habitation du Québec), and Elite Plus, which grants certification to companies respecting the highest standards of safety on construction sites.
Contact Les Toits Permanents du Québec today to discuss their incredible permanent roofing options or to get a quote.
Les Toits Permanents du Québec is located at 2082 Avenue Chartier in Dorval. Call 514-631-6333 or visit http://www.toitspermanents.com/