The Rib 'N Reef Steakhouse did not gain its reputation as a Montreal landmark for nothing. From the moment you valet park your vehicle, it is first class service all the way. First opened in 1960, Peter Katsoudas assumed the ownership 28 years ago and took this Decarie Boulevard establishment to a new level .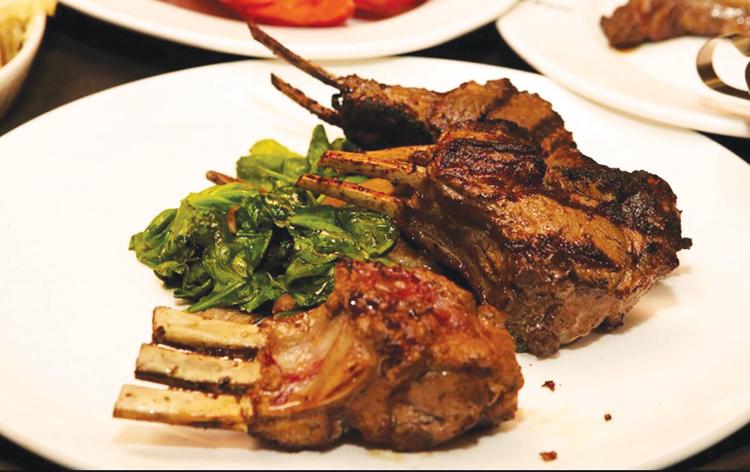 Featuring two dining rooms, one seating 100 and the other accommodating 60, there is also an award-winning wine cellar with its own distinct dining room for up to 30 people surrounded by more than 8,000 bottles of wine. After a meal, cigar aficionados can enjoy a stogie and a single malt scotch in a private lounge. It is equipped with a state-of-the-art air filtration system, satellite TV, full bar service and wireless Internet access. Then there is the rooftop terrace for those summer days and evenings when you want to dine al fresco.
The moment you are seated at your table you are welcomed with a bread basket, bread sticks, pickles and coleslaw. Katsoudas, his managers and the sommelier, circle the restaurant continuously and make sure all of the customers are happy. Rib'N Reef is known for serving the finest grilled dry-aged meats, fresh fish and seafood from around the globe and premium wines in Montreal. There is a custom butchery on the premises.
Salads are made for you at the table and servers act as a team to ensure all of your requests are taken care of. Rib "N Reef is known for its spectacular Caesar Salad.
We were a party of four the evening we dined there. Our server, Youssef, was superb. I started off with clam chowder while my father in law ordered his favourite pea soup. I shared two appetizers with my wife — the tuna tartar and a half dozen fresh shucked oysters. When it came to the main course, there were so many excellent choices. My wife and father in law opted to share the lobster; my wife asking for her portion to be completely cut up. My father in law was happy to eat it from the shell. As for my mother in law, she had her eye on the salmon. However, she happily took Yossef up on his suggestion and ordered the Branzino — a silver-skinned fish found in European sea and saltwater lakes. All along I had my eye on the signature plate, the 12-ounce regular cut roast beef, slowly roasted and seasoned. It was exceptional, served with Yorkshire pudding. We shared sides of rice and mashed potato.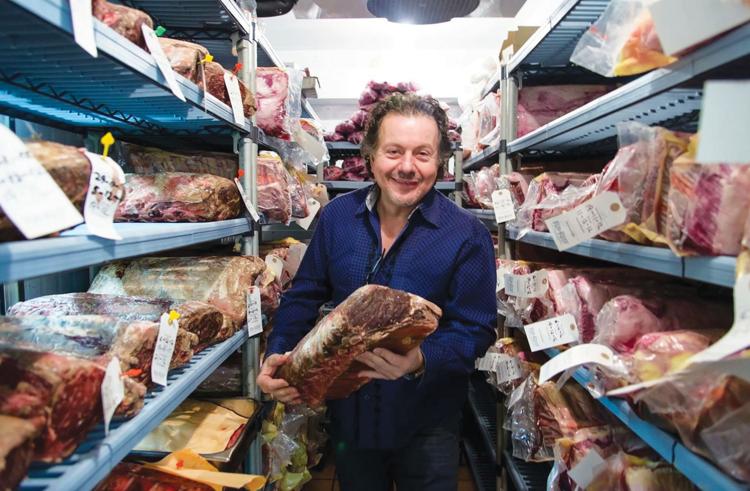 For dessert we enjoyed the extraordinary homemade mille-feuille maison as well as berries with whip cream.
"We do not dabble in haute cuisine," says Katsoudas. "Our focus is meticulous cuisine. For decades we have been known for consistency in terms of the quality of our product. Excellent service has been the cornerstone of our success."
Beef here is properly aged on the premises for optimal tenderness and flavour and done so in two ways — the traditional wet-aging and the "Old World" dry-aging. Seafood is wild or sustainably harvested. On the grill menu, this Montreal steakhouse restaurant boasts a wide variety of beef dishes approved by the USDA, ranging from rib steak — PK's cut or junior, to sirloin — New York cut, and even pepper steak (served with a pepper sauce flambéed at the table), as well as the famously delicious filet mignon and mignonette, the T-bone, the chateaubriand, milk-fed veal chops, double-cut lamb chops, the parmigiana veal cutlet, and the excellent Manchon des Voltigeurs chicken breast.  There are also amazingly tasty sauces to accompany their cuts of beef, so that every bite is pleasurable. These include flambéed pepper, mushroom or béarnaise, herb butter, Gorgonzola or even truffle.
Rib'N Reef is located at 8105 Decarie Blvd. in Montreal. Open for lunch, afternoon meals and dinner. Reservations are commended. Call 514-735-1601 or log on to www.ribnreef.com