A year ago, Honda Île Perrot owner Mario Bourbonnais told us that the high quality of what his dealership has to offer was signified by it having the highest rate of retention of customers with Honda in his area, as indicated by the Customer Service Index (CSI) survey. The CSI is given to customers as they visit the dealership to buy a car or receive service for their existing vehicle. The dealership owner credited his staff, including service personnel who have worked at Honda Île Perrot for decades.
Now, Bourbonnais, who has owned the 36-year-old dealership for 10 years, proudly pointed out that Honda Île Perrot was recently recognized by Honda Canada as being, for the year 2017, among the top-10 Honda dealers in the entire country, again based on the CSI.
"We're the only dealership in the area to win that prize," he explained. "We're very happy about that. We don't receive the surveys, it's Honda Canada and they are the ones classifying the dealers."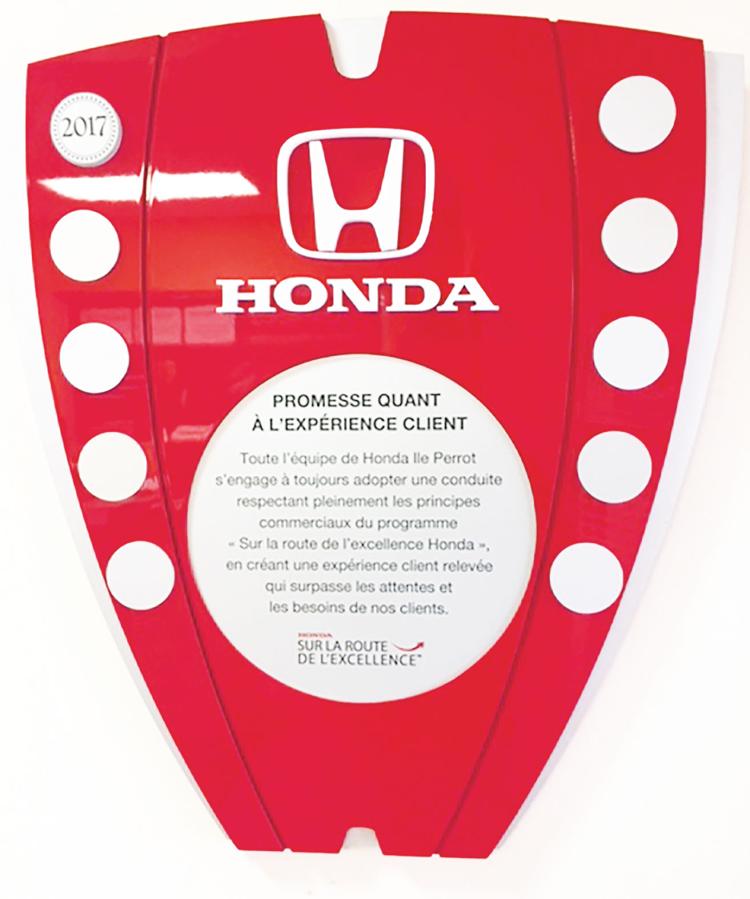 On a plaque the dealership received from Honda Canada, the Honda Île Perrot team was recognized for its approach to its clientele, in "creating an experience that exceeds the expectations and needs of our customers."
"And of course, it's not only me, it's my team," Bourbonnais says. "They are doing the job. They take care of people."
He also pointed out that his dealership, which will undergo a major renovation at the end of this year, sold the biggest volume of vehicles in the area last year. "We have the numbers, and I invite people to come and see why. It's very easy to say things, but doing it is a whole other story."
Bourbonnais also highlighted three vehicles that Honda Île Perrot has to offer.
"We have the HR-V, the CR-V and the Civic —  they are the most recommended vehicles by the magazine Protégez-Vous and I'm always looking at what's going on with our products. When you buy a Honda, you're sure that you're going to own it for 10 years and will cost you less for maintenance."
"That's why we're selling more and more vehicles. People are getting to know us. And 67 per cent of the people who own a Honda buy another one — that's a very high number for retention."
A newer model is the Honda Clarity, a plug-in hybrid that uses electricity and gasoline.
"We're selling those like crazy, and Honda did a good job in terms of innovation,"
Bourbonnais explains. "They put the battery under the seat, so you still have a big trunk. It's really well-designed. And because it's a plug-in hybrid, if ever you mischarge, you get 100 km on 4.2 litres of gas. That's very good. And the Clarity is a beauty, they really did something nice. We just got them, and they're getting very good reviews from customers."
The Honda Prelude will also be making a comeback in 2019, but information is so far preliminary. "We've got a few designs of it at this point."
When we spoke, Bourbonnais said he was getting ready to jet to Japan as part of the commemoration of Honda Canada's 50th anniversary.
"We're going to have presentations of the new models," he explained. "Honda has the biggest market share of all the imported cars in Quebec. They did the job, because of their innovations, and the quality of their cars. They really build them well. "
Honda Île Perrot is located at 40 Boulevard Don-Quichotte in Île Perrot. For more information, visit www.hondaileperrot.com or call 1 866 743-5248.