Established in 1982, the Au Vieux Duluth restaurant chain has grown to 32 franchises across Quebec and one in Cornwall.
Each restaurant offers the finest Greek grilled specialties and seafood dishes, generous servings, great value and the Bring Your Own Wine/Beer concept. The menu offers famous butterfly shrimps, tender chicken breast and brochettes, as well as their signature certified AAA Angus Beef filet mignon served with their very own wine sauce.
Of the 32 locations, there are seven in the Greater Suburban Montreal area — St. Laurent, Dollard des Ormeaux, Laval, Hochelaga-Maisonneuve (Sherbrooke Street East), Pointe-aux-Trembles, Repentigny and Vaudreuil-Dorion.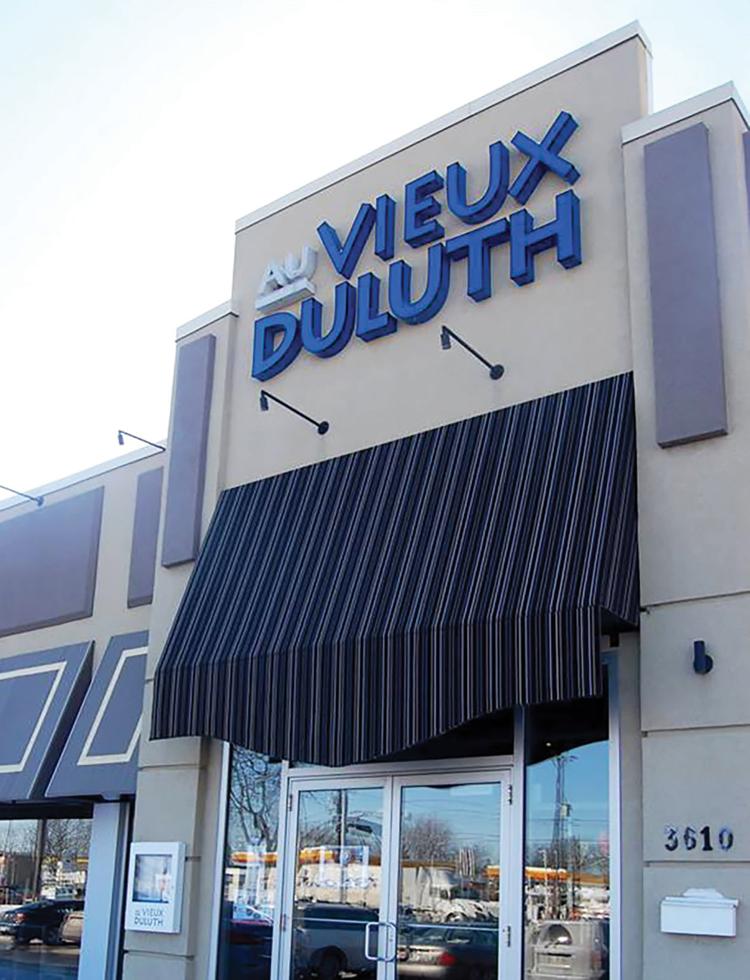 I recently stopped by the St. Laurent location on Marcel Laurin Boulevard for a great meal with a friend and was greeted by brothers Tony and Peter Antonopoulos who have owned the franchise for the past decade.
"Au Vieux Duluth is a terrific brand to be part of," said Tony. "We all offer the same food items and customers know that whichever location they choose, they can count on the same consistency from our menus."
Vicky Bourdakos from the head office notes that everything is prepared and packaged in a main central kitchen warehouse in Laval and sent to the franchises.
Daily specials, from appetizers, to main courses and desserts, are displayed on a placemat and change throughout the year.
My friend and I carefully reviewed the menu before giving our order to Maria, the charming server who has been on the job for 10 years. We decided to share two favourites of ours from previous visits: the tarama, a creamy blend of carp eggs, with pita bread ($4.95) and the calamari, lightly breaded fried calamari, served with cocktail sauce ($10.95).
Before ordering my main meal I started off with a Greek salad, containing feta cheese, tomatoes, Greek olives, cucumbers, olive oil, red peppers and oregano on a bed of salad and home-made vinaigrette (16.95), while my friend went for the soup of the day ($3.95), which was spinach, rice and vegetables.
For the main course I ordered the eight-piece scampi special of the day ($17.95), while my friend opted for one of the house favourites — the chicken brochette; skewered marinated chicken with onions, green peppers, served with pepper sauce ($18.95). All main dishes are served with home-fried potatoes, rice and a house salad. You can replace the latter with a Caesar salad for $3 extra per person.
We reserved just enough time for dessert. I ordered the absolutely decadent double chocolate cake ($5.50) while my friend went for Maria's suggestion of the Crème caramel $5.25. 
For children under 12, there are kids meals such as chicken and beef burgers, tortellini, and honey grilled chicken for $6.95 including ice cream and a drink. The five choices from the kids' menu are now available for adults with small and medium appetites at $14.95 each, served with fries and house salad, with the exception of the tortellini dish (fries and house salad not included).
Au Vieux Duluth Restaurants are proud to sponsor the Expos Fest events dedicated to raising money to fight DIPG (an aggressive brain tumour) in the name of Catherine "Kat" Demes. "We believe good people can do amazing things. Remember, every child deserves a chance at life. We thank you all for your support. 
For more information log on to auvieuxduluth.com