BURLINGTON- Are you headed to the Toronto area this summer and looking for some place quieter and more sedate to stay? Perhaps you should consider Burlington.
We had a family function to attend in Hamilton recently and after failing to find accommodations there that met with our approval, we turned to the neighbouring city of Burlington.
Burlington is conveniently located between Toronto and Niagara Falls, at the centre of southern Ontario's "Golden Horseshoe" and has a population of 175,000. It is a mere 45 minute drive from Pearson International Airport.
Spring, summer, fall, winter, Burlington is a city for all seasons with plenty to see and do. Whether you're a new or returning visitor, a local resident with visiting friends or family, or perhaps here on business, there's always a wealth of activities to make your stay enjoyable. Burlington is close to the urban buzz of Toronto, yet surrounded by the tranquil beauty of parks, gardens and its downtown waterfront.
The Royal Botanical Gardens are a draw, so is hiking on the nature trails, bird watching, museums, and the galleries at the Burlington Art Centre and presentations at the Burlington Performing Arts Centre. Spencer Smith Park is the large waterfront park where the pier, discovery landing (pond, rink, and restaurant) and major festivals are held.
In the summer the waterfront and downtown come to life with the annual Sound of Music Festival. Canada's largest free music festival kicks off summer festivities the week leading up to Father's Day. Stroll the downtown streets, lakeside boardwalk or Waterfront Trail; enjoy an invigorating mix of acclaimed Canadian and international performers, and emerging performers on bistro patios and the waterfront stages. There is also rock, jazz, folk, roots, pop, blues, Celtic, country and children's entertainment – musically something for everyone. And there are many other festivals: water sports, boating, golf and outdoor activities to enjoy at local parks and beaches. Burlington also has a swimmable and sandy beach. It was closed when we visited due to high water levels. The Beachway Park Pavilion provides change rooms, outdoor showers, seasonal concession facilities featuring the snack shack and year round washrooms. Amenities at the beach include the pavilion, parking, a pay phone, a playground, and lots of sun, sand and water.
For the outdoor adventurers, you can hike the Bruce Trail, scale the limestone cliffs of the Niagara Escarpment, or cycle through our scenic rural or city routes. If you're looking for a more leisurely pace, window shop in Burlington's quaint downtown boutiques and shops, get pampered at a one of our local spas, or take a walk through the challenging Central Park Labyrinth.
Winter is an exhilarating time of the year in Burlington. You can bring the family out for a day of downhill skiing and snowboarding on the slopes at Glen Eden Ski Centre. Hike, trek or stroll the Bruce Trail, Canada's oldest footpath with over 890 km of nature waiting to be explored. Lace-up a pair of skates at one of our indoor or outdoor skating rinks and celebrate the holiday season and sip hot chocolate as you walk through the Festival of Lights in Spencer Smith Park on the downtown waterfront.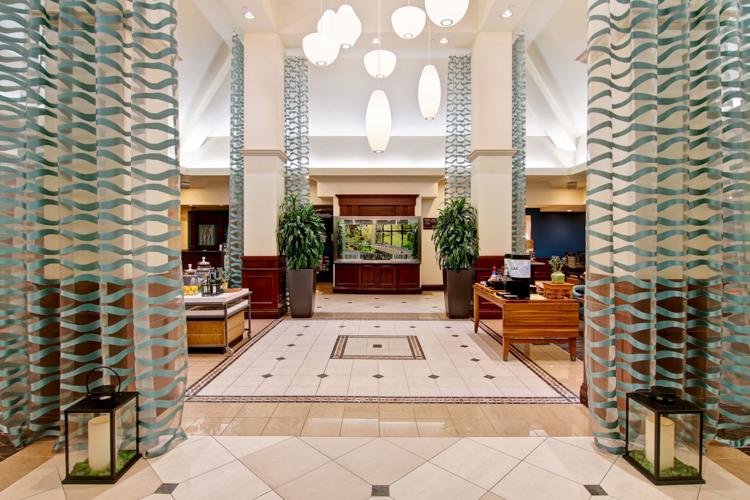 Where to Stay
The Hilton Garden Inn was indeed the deciding factor in us basing ourselves in Burlington, even though it meant a 20 to 30 minute commute each day. We flew to Montreal from Toronto and rented a car from Enterprise (great customer service from Mandy) and headed to the hotel, which is right next door to a Homewood Suites, where we stayed a number of years ago. Nozer Doctor is the general manager of both facilities and his staff are wonderful to deal with.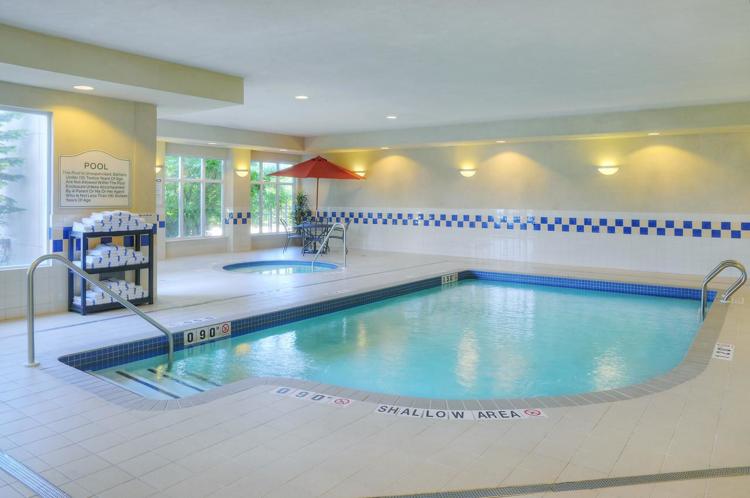 Parking is free and the hotel is located very close to a number of fun restaurants (Denny's, Milestones, Swiss Chalet, Harvey's, Kelsey's and Montana's). The hotel also has a nice restaurant, the Garden Grille & Bar, which serves three meals a day and provides room service. I had a nice warm buffet breakfast there each morning. The chef also prepares made to order omelettes. There is a fitness center, pool and whirlpool as well.
Each room has a mini-fridge, a microwave and a Keurig coffeemaker. A large Longo's supermarket is a few minutes away so we purchased a small order and had many of the essentials available.
The rooms are spacious with nice comfortable sitting chairs, a fabulously comfortable working desk, plenty of light, a 37-inch flat-screen television, free Wi-Fi and generous drawer space. King suites are available for those who seek more space and you can also request connecting rooms. The prices are excellent here, significantly lower than what certain two star hotels in Hamilton charge.
Burlington is also a good spot to stop en route to Niagara Falls and Buffalo. We have stayed there in the past in order to arrive early at our destination in the morning.