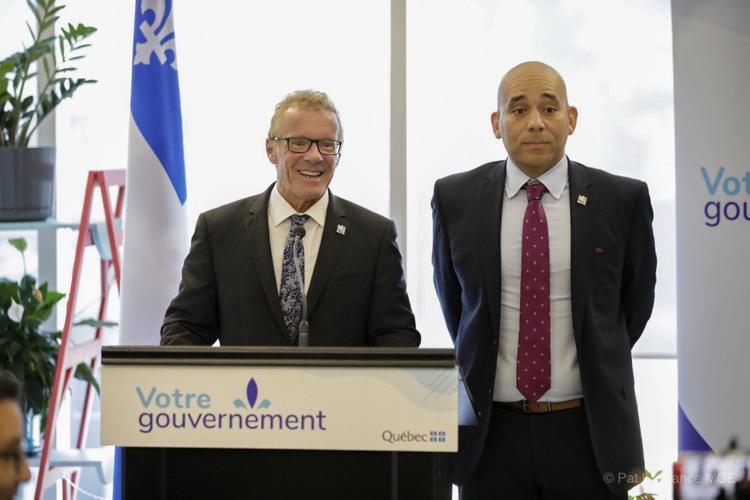 Last Monday, Quebec's Labour, Employment and Social Solidarity Minister Jean Boulet spoke to West Islanders about a $1.5 million investment in PME MTL, a business resource organization that helps with employment.
"It is important for [the government] to keep implementing concrete actions in the English community," Boulet told the media. "We need to find jobs for all Quebecers. It is important for business. Right now, we have 116,000 jobs to be filled."
Boulet said the rate of unemployment in Quebec's English-speaking community is higher than its French counterpart. He hopes that the investment will help to correct the situation. The event was held at the PME MTL West Island offices in Dorval.
PME MTL provides counselling and job-matching services for individuals looking for employment, as well as financing, coaching and training for entrepreneurs. It occupies six different locations around Montreal and works with the employment agency Services Québec to provide effective services to its providers.
Parliamentary Secretary to Premier Legault Christopher Skeete said that he spoke to the English-speaking community in the Gaspé region to assess the issues related to employment that need to be addressed. "Government programs have not been adapted to the English community's needs, tweaking needs to be done," Skeete told the media.
Skeete has been visiting English-speaking Quebecers to find out the unemployment-related issues that people in that community are facing.
Some of these issues include a lack of French skills. Boulet and Skeete both agreed that adding French programs in the workplace and within the English communities could be a solution. "Maybe you need to retool your French skills," Skeete told the media. "You'll need access to French programs. We do it for immigrants, why not for the English community?"
Boulet said that people who seek to be part of this program would need to first stop at Services Québec where an evaluation of the person is done. After the person's education and language abilities are assessed, they go to PME MTL where the next step is looked into depending on the person's circumstances.
Nicolas Roy, the PME MTL West Island executive director, said the councillors at the organization first help with improving one's resumé and interview techniques. Then, they would move onto matching certain jobs that fit their backgrounds and needs. "Not everybody out there is aware that there may be 10 job openings at such and such a business and 15 opening at some other business," Roy told the media. "We know who is looking. We consult our lists and see what would be the best fit."