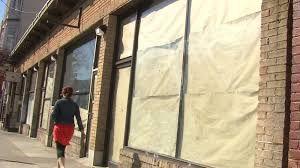 The city of Montreal's standing committee on economic and urban development and housing has been holding public consultations throughout various boroughs to address the growing empty storefronts and try and solutions on how to improve the situation.
Next Wednesday, January 22nd the committee will be holding a public event at the Pierrefonds-Roxboro Borough Hall from 7 to 9 p.m.
The objective of the public meetings is to discuss and to come up with concrete solutions in order to augment Montreal's economy. Once the visits are completed, the committee will forward a report with recommendations to go ahead.
A public information meeting on the subject was held prior to the winter holiday break as well as the hearing of briefs being held this week and various borough consolations are being held, with Pierrefonds-Roxboro being held on January 22nd.
Residents, property owners and business owners are all invited to take part in the discourse in order to improve the commercial district of the boroughs.
"This consultation will be an opportunity to get informed, share your opinions and help identify promising solutions to revitalize these commercial streets that are at the heart of your neighbourhood in Pierrefonds-Roxboro," noted the borough's website.
Three aspects that will be covered during the evening will be the identity and issues of commercial arteries, the evolution of commerce in the last few years as well as solutions for the future.
"The city of Montreal has received many reports so far from the public with at least 300 from people who reported online," Pierrefonds-Roxboro Mayor Jim Beis told The Suburban.
Beis noted that there is an average of four to seven precent vacancy in the island of Montreal and about four percent for the borough currently. The mayor also noted that one primary reason for the increase in vacant storefronts has been "construction delays on the island." On same major arteries in the centre city commercial vacancy rates have hit 15% and higher.
Beis also said that "once the public consultations are completed, a report will be released within the next several months."