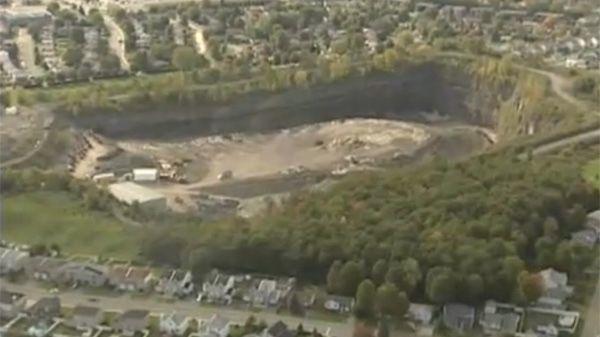 The old Meloche quarry, that has been spewing malodorous smells to nearby residents for years, is finally being covered thanks to a certificate of authorization granted recently by the provincial government for the company that owns the site.
"It is with great enthusiasm that my Borough Council and I welcome this excellent news, which represents a turning point for residents living near the quarry," said Mayor Jim Beis. With this mandate, the company that owns the site, GFL, will ensure that the quarry will be completely sealed, having become a landfill for dry materials 20 years ago.
The work to cover the site began this August and GFL Vice-President Daniel Brien said that the work should "be completed by the end of 2020." The provincial MECCC (Ministry of Environment and Climate Change Control) edicted a similar certificate in 2007 but the borough noted that "the volume of materials accumulated on the site since the issuance of this authorization and the volume of biogas produced by the landfilled materials, the current system was no longer sufficient for the task."
The work will involve installing 35 vertical wells to capture the biomasses that have been causing the foul odours in the neighbourhood for years and eventually the land area will be covered in sand as well as a membrane to prevent gas to escape. Future plans include placing soil on the surface in the old quarry site to grow vegetation. The estimated timeframe for the work is roughly a year and a half from now.
"Thanks to our perseverance with the various stakeholders involved in the project, our citizens will finally be able to enjoy a better quality of life and reclaim the full enjoyment of their property. " said Beis.